'Remembering Being' – Still your mind with Dan Peppiatt
Sunday 23rd May – 10am-12pm
'At the end of the day we are all simply seeking happiness but we are looking in entirely the wrong places. In fact we are already awake, we have just overlooked the fact because it is so unremarkable.'
Are you feeling overwhelmed? Consumed by your thoughts? Or simply seeking some peace in your life?
Dan Peppiatt will guide us in exploring movement, the breath and the mind to help wean us off the addictive and exhausting 'thinking mind' and back to our natural state – the transparent, still and untouchable state of simply being. This state is actually already present within us, but we simply overlook it.
Often, we use physical movement, the breath, mantra or concentration practices to uncover this blissful state, but these tools can be yet another passing distraction. We have pulled off the leaves of the weeds but not pulled up the roots.
In this workshop we will explore the paradoxical practices of 'not doing' but simply being present to our experience. This shouldn't be confused with mindfulness which is awareness of whatever object is present. Such teachings are certainly integral to yoga but are often more clearly expounded in the teachings of Taoism, Dzogchen and Advaita Vedanta amongst others.
During the workshop, we will:
Explore the magical yet simple 'sky gazing' practice of Dzogchen buddhism to rest the mind
Experience the physical body rather than our mental image of it through subtle and gentle movement as taught in Kashmiri yoga
Discover the non-practise of 'perfect or natural' Taoist breathing
Attempt to melt our awareness over all sensations rather than focusing it on one – a practice of de-concentration of awareness
Investigate one's true self through 'non-meditation' or Atma vichara of Advaita Vedanta
Expect a fun, but mind expanding morning!
This live online workshop is suitable for all abilities. It will take place on Zoom and you will receive the link the day before the workshop.
Dan believes that you can't teach yoga; you can only facilitate other peoples' journey to find a perfectly organic way of practicing for them, something that he calls 'Yoga Like Water'. He is just as likely to be found experimenting with these concepts free-diving; surfing; on a slack-line or rock face as in yoga.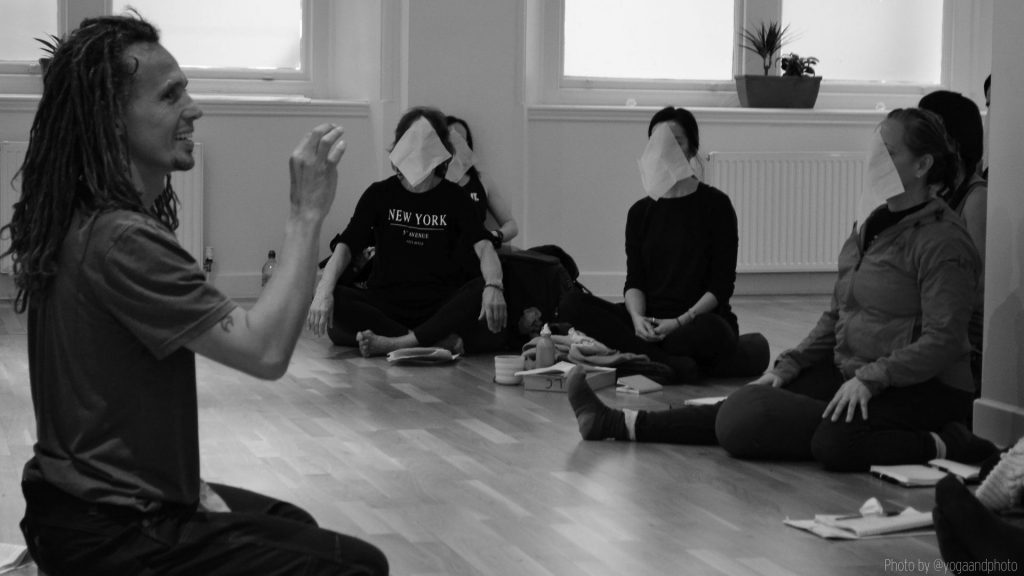 Can't make it live?
We will be offering a on-demand playback of the workshop for 7 days afterwards, so you don't have to miss out!
Cost
£15 for subscribers
£20 for non-subscribers
---
BOOKINGS FOR THIS WORKSHOP ARE NOW CLOSED
---
Questions
If you have any questions about this online workshop with Dan, drop us a message on support@movementformodernlife.com
---
Terns & Conditions
Practicing safely
The live online workshops are for your education and your enjoyment only. You are participating in the live classes at your own risk. You are encouraged to to take breaks when needed and/or when in doubt, don't do sequences that you are even a little concerned about. If you have any health condition, please seek medical advice before taking any form of exercise. If you have any concerns, please let us know before the workshop starts.
If you feel unwell in any way or if you experience any discomfort during class, please stop the class and consult your health practitioner immediately. Remember that yoga is mostly a journey off the mat and into life, and it is a journey about taking responsibility for our own actions and cultivating self-knowledge. Only choose exercises which will nurture and support you, and please take responsibility for yourself and your current abilities during your practice. Remember that each day is different, and even if yesterday you were able to perform a movement, that is no indicator that the same exercise is possible today. Please move within your comfortable limits and if you're in any doubt whatsoever, please seek medical advice.
We are not medical practitioners and we do not seek to offer medical advice. Please consult your healthcare practitioner before starting any new exercise. This is particularly important if you have any limiting condition or are, pregnant, nursing, regularly taking medications, or have any existing medical conditions. We do not accept any liability whatsoever for any injury or damage, either during or after this retreat. Your participation in this retreat is entirely voluntary and at your own risk, and you agree to abide by the T&Cs of Movement for Modern Life.
Payment
Your secure payment will reserve your place on this very intimate, special online retreat. No refunds will be made.
Your Data
By signing up to the online retreat, you consent to us adding your name and email address to our marketing database. If you do not wish to receive emails from us outside of this retreat, please do let us know and we will be sure to remove you from our database.