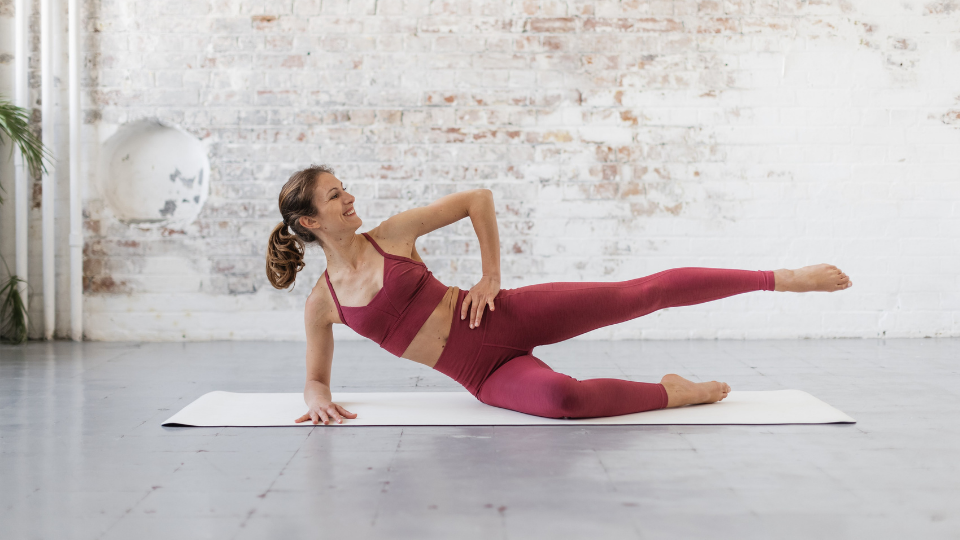 6 Weeks to a Healthier Spine and Stronger Mind
17th May – 21st June 2022
This 6 week Pilates course with yoga and Pilates teacher, Vanessa Michielon, is designed to help you improve your core stability and spinal mobility, and learn the fundamentals of Pilates with correct technique and smart variations. It will also help to build a stronger mind through cultivating resilience and concentration.
Pilates is a system that focuses on postural alignment, motor awareness and on deep abdominal muscles engagement to keep your body strong and flexible.
It is not only one of the most effective therapeutic forms of exercise for those suffering with back pain, but also an empowering way of moving which helps increase our resilience, self-esteem and concentration, and support our mental health.
According to a series of studies, practicing Pilates has been associated with decreased depression[1]and anxiety[2] symptoms, and improved mood and sleep[3].
When practicing Pilates, a clear understanding of the technique is key in moving efficiently and maintaining muscular balance.
Therefore, during this course we will explore different exercises in detail, focusing first on on posture, breathing patterns and deep internal muscles activation, then on spinal articulation, and back and side body strength. At the end you will be able to step into any other class with confidence and clarity.
Vanessa will also share tips to help you adapt each movement and safely progress in your practice, so that you can achieve greater benefits while keeping injury risk low.
This course is open to everyone and modifications will be offered. If you've never tried Pilates before, we recommend you check out Vanessa's classes.
---
The one hour sessions will run every Tuesday at 7pm (GMT) for six weeks from 17th May 2022.
All sessions will take place live on Zoom and you can access the recording for 14 days afterwards.
---
The Schedule
Week 1: Posture Check and Breath Focus
17 May
How to create a natural alignment in your spine and pelvis
How to practice lateral thoracic breathing
How to activate your pelvic floor
How to perform preparatory exercises to activate your core
Week 2: Core Stability
24 May
How to maintain a strong centre and improve balance
How to perform the One Hundreds, side kick preparation, the bridge, single leg stretch, corkscrew preparation, planks and other stability focused exercises
Week 3: Spine Mobility
31 May
How to articulate your spine and unlock tight areas in your back
How to perform the roll up, the roll down, the saw, spine stretch, the roll over and other exercises involving the sequencing of the spine
Week 4: Side Body Focus
7 June
How to activate your obliques, lats, inner and outer thighs
How to practice lateral flexion and rotation of the spine in an effective and safe way
How to perform the side bend, the criss cross, clams, the full corkscrew and other exercises involving twisting around the waistline
Week 5: Back Body Focus
14 June
How to safely activate your back muscles
How to use a resistance band to improve your upper back strength
How to perform the swan, swimming, reverse plank, hamstrings activation from table top, standing low arabesque and other exercises targeting our back body
Week 6: Moving Forward
21 June
How to solidify your foundations and build stamina with more challenging options
How to smoothly transition between sets
How to improve balance and bone density with standing Pilates exercises
---
Vanessa Michielon is the founder of the Transformative Movement Method which helps improve physical health and achieves a balanced state of mind with Yoga, Pilates and Dance. She offers students a unique perspective on how moving mindfully with grace and becoming aware of our habitual holding patterns can help break the stress loop we are often stuck-in and allow our bodies to be more available, joyous and free of tension.
---
BOOKINGS ARE NOW CLOSED
---
Questions?
If you have any questions about this online course with Vanessa, drop us a message on support@movementformodernlife.com
---
Terms & Conditions
Practicing safely
The live online workshops are for your education and your enjoyment only. You are participating in the live classes at your own risk. You are encouraged to to take breaks when needed and/or when in doubt, don't do sequences that you are even a little concerned about. If you have any health condition, please seek medical advice before taking any form of exercise. If you have any concerns, please let us know before the workshop starts.
If you feel unwell in any way or if you experience any discomfort during class, please stop the class and consult your health practitioner immediately. Remember that yoga is mostly a journey off the mat and into life, and it is a journey about taking responsibility for our own actions and cultivating self-knowledge. Only choose exercises which will nurture and support you, and please take responsibility for yourself and your current abilities during your practice. Remember that each day is different, and even if yesterday you were able to perform a movement, that is no indicator that the same exercise is possible today. Please move within your comfortable limits and if you're in any doubt whatsoever, please seek medical advice.
We are not medical practitioners and we do not seek to offer medical advice. Please consult your healthcare practitioner before starting any new exercise. This is particularly important if you have any limiting condition or are, pregnant, nursing, regularly taking medications, or have any existing medical conditions. We do not accept any liability whatsoever for any injury or damage, either during or after this retreat. Your participation in this retreat is entirely voluntary and at your own risk, and you agree to abide by the T&Cs of Movement for Modern Life.
Payment
Your secure payment will reserve your place on this very intimate, special online retreat. No refunds will be made.
Your data
By signing up to the online retreat, you consent to us adding your name and email address to our marketing database. If you do not wish to receive emails from us outside of this retreat, please do let us know and we will be sure to remove you from our database.