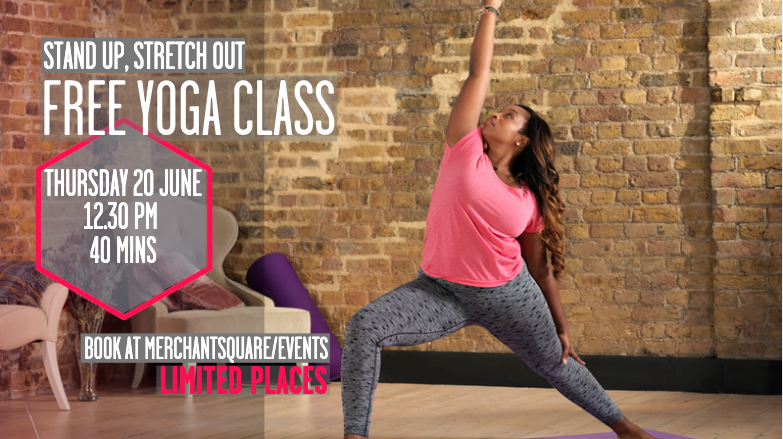 Be Brave, Be Fierce, Be Free. Stand up and stretch with dynamic and inspiring teacher Jonelle Lewis at a pop up yoga class. Jonelle's inspiring motto is rooted in courage and freedom.
Join Movement for Modern Life for live Pop Up yoga in Merchant Square, Paddington Basin, for the run up to International Yoga Day 2019.

What's happening?

On Thursday 20th June at 12.30 you can feel the benefits of yoga for yourself, with a FREE lunch time class in Merchant Square with Movement for Modern Life – "The Netflix of Yoga" (Vogue) celebrating International Yoga Day 2019.
Why?
As part of Summer of fun, Movement for Modern Life is live in Merchant Square, Paddington, London with a 40-minute FREE yoga class with top London based teacher Jonelle Lewis. Come along for an outdoor class at the big screen, with an incredible teacher.
Midsummer is the perfect time to take a break from your desk, stand up and stretch out. You'll be joining the UK's leading online yoga and well-being website.
Who's teaching?
Jonelle Lewis is an American living in London. Jonelle first dipped into classes at university in Washington DC and later when she was pregnant with her daughter. It wasn't till she was going through a painful divorce that she began practicing with a purpose and discovered yoga's healing, liberating and invigorating properties. She is trained in Ashtanga, Hatha, Vinyasa, Yin, Hot, Mandala and Rocket Yoga as well as Qi Gong.
Jonelle combines her natural effervescence with easy laughter in a class that is fun and accessible. Jonelle's central belief is that Yoga is for EVERYBODY. Don't worry if you've never tried yoga before, this is your chance. You can read more about Jonelle's journey to self-love through yoga in a blog post.
What's the advantage of doing a class with MFML?
Movement for Modern Life believes in making yoga simple and accessible, and that when you move more, you live more. You'll enjoy a 40 minute yoga class with Jonelle who will have you flowing through sun salutes in no time and you will leave feeling energised for your afternoon.

Where?
The Lawns, Merchant Square, Paddington Basin, London, W2 1JS

What to expect from this Pop Up yoga class in Merchant Square?
This is an all levels class.
You'll really enjoy a 40 minute yoga class with Jonelle – her classes are real, edgy and filled with a lot laughter and joy.
Feel refreshed and de-stressed, a taster of the benefits of yoga – everyone is welcome – what are you waiting for?
Tell Me More
We think that a yoga break in the middle of the day is just the refreshment you need. We'd love to know how you feel after your yoga celebration. Our movers tell us that they feel the following benefits after a lunchtime yoga session:
Increased focus
Improved breathing
Morale boost
Reduced stress and increased relaxation
Feeling easeful in your body
And, there's time to grab some lunch and a drink afterwards. It's a win win situation. Why not share your thoughts in our movers group.
How to book a place
The class is free, but you need to book. Booking is at Merchant Square's website: https://merchantsquare.co.uk/event-booking/
*Only a limited number of mats are provided – please bring your own mat.

If you can't make it:
Try one of Jonelle's classes online and join our Movers group to ask any questions or share your thoughts!