Yoga Teacher Training. For some, the most natural step to take in the world. For others, a huge decision to deliberate and pontificate over. For those of you still wondering, here is what some of our top teachers have to say on the matter…
---
First up, here is a video we made of our founder, Kat Farrants, chatting to Vidya Heisel, founder of Frog Lotus Yoga, on the subject of Teacher Training:
---
And now for the questions…
---
What do you need to consider if you're thinking about Teacher Training?
Catherine Annis replies with a question for you!
Do you like the teacher/s?
I know this sounds kind of superficial, but really, it matters.You'll be spending a lot of time listening to and practicing with your teacher trainers, so it makes sense that you should like them, or at least have respect for their approach.If you don't already know them, take the time to attend a few of their classes so you get a feel for the way they relate to their students. If you feel a connection, then that's a great indication that you're in the right place.
Focus and style
Similarly, it helps if your personal yoga style and approach coincide.  Which aspect of yoga do you enjoy the most?  Ideally, we end up teaching from our own practice, so make sure that the course you choose resonates with you and covers the specific areas you enjoy, so that you can teach with passion.  If you're fascinated by the way we move and want to learn about the anatomy and how yoga affects us as living, moving beings, then it makes sense to join a course that focuses on that rather than, say, philosophy.
Teaching practice
How much teaching practice is included?  Many newly qualified teachers find they still lack the confidence to get up in front of a roomful of students.  If you're taking the course to deepen your personal understanding of yoga, then this may not be such an important consideration, but if you want to teach, then the more practice you get, the better.  Standing up in front of a group of expectant students can feel daunting, but practicing repeatedly will help you learn how to manage your nerves and hone your skills, to enable you to become a confident and knowledgeable teacher.
Find out about Catherine's teacher trainings here.
---
If someone's thinking about teacher training – how long should they have been practicing yoga?
Dylan Ayaloo replies: It depends on how much body awareness the person has. For someone who has had other disciplines where they've practiced being in their body (eg dance or martial arts) for many years, then 1 year of yoga practice may suffice. For most people at least 2 years of practice. Ideally I'd like to see the person's yoga practice in person and failing that via a video of their practice. I also interview everyone who applies for our trainings and the interview lasts for 1 hour long, the interview is there to make sure the program is really the right fit for them and vice versa. Not everyone may be accepted onto our programs.
Find out about Dylan's Teacher Trainings here.
---
Three week intensive or spread out over a year or two – what is the best way to undertake teacher training?
Andrew McGonigle, aka Dr Yogi says: I think this very much depends on the student's personality. Some people want to study intensively and are itching to start teaching as soon as possible. For other people a slower, prolonged process is desired in order to fully absorb and integrate the vast information that is covered. There is no right or wrong here. My first yoga training 10 years ago was a 5 week intensive in Thailand. It was a life changing experience! My teaching then grew organically over the following couple of years and I embarked on other shorter trainings to continue to develop myself as a teacher.
Find out about Andrew's Teacher Trainings here.
---
What are the advantages of going away for your teacher training?
Jonelle Lewis – soon to be featured on MFML – writes: My India teacher training course was life changing, completely transformative.  First of all being in India made feel really connected to the teachings directly from the source.  You get to experience the culture that is at the heart of the practice we do/teach.  Being in India or away in general allows you to immerse yourself in the practice without the distractions of everyday life.  You have time and space to integrate the teachings and sit with them.
More about Jonelle here.
---
How do you know if you are good enough to start teacher training ?
Andrea Kwiatkowski replies: I know when I began yoga  my teacher suggested when I was ready , but nowadays I would recommend having a steady committed daily practice for at least a couple of years . To have an interest in yoga practices other than asana , to want to share what you have learnt and experienced with others . Krishnamacharaya used to say 3 things make a good teacher a lineage , a daily practice and a sincere liking of people ! I think these are still relevant to wanting to be a teacher now in modern times.
More about Andrea here.
---
How do you decide WHO to do your teacher training with?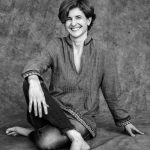 Lizzie Reumont says: This is a very complex question, which really depends on each individual's perception of yoga, and what one is hoping to gain by a teacher training.
In an ideal world, it is quite important to know your teacher before embarking on a teacher training. Whether your attend their classes, follow them on social media, or have read a book they have written, having a sense of their personal insight to their approach to yoga is probably the most fundamental aspect of participating in a teacher training. After all, yoga is about relationship, and the relationship with a teacher is very crucial to one's ability to look honestly within. After all, teaching yoga is not a sterile or robotic profession, but more like learning to cook or play an instrument. It is an art form that is an expression of one's self and one's understanding of the topic, constantly percolating and evolving. Because of this, the process of going through a teacher training, if you are lucky, is one of asking questions, shedding skin, and deconstructing ideas about what we think we know, to come to a space of a better understanding of ourselves, so that we can be of service in helping others to go through this process.
Of course, we live in a world of constraints, so time, money, play into the picture for many people. Corners are cut, and people end up enrolling in programs for convenience rather than for the content of the training. I would encourage anyone considering a training to revisit the constraints, and take the time to do the training with the teachers who inspire you and who challenge you rather than the training that fits into your life. The learning process is meant to be disruptive; we all need this disruption to transform. Take a risk, save your money or fundraise to learn from the teachers that invite you to not simply get a piece of paper, but to truly inhabit your voice and your strengths as a catalyst for change.
Questions to ask yourself:
What kind of yoga teacher do I want to be, and why?
Do I trust the teachers on the training?
When I am around them (read their books/see them online) do I feel inspired?
Do I feel comfortable with this person to be myself, and to ask questions?
Can I contact other people who have gone through the training to hear about their experiences?
More about Lizzie here.
---
How do you know if you're ready for teacher training?
Jean Hall
writes: I think you know that you're ready for a TT, when you want to delve deeper and gain fuller understanding of the asanas and other practices but there isn't enough time in the regular classes that you attend to go that much more in depth, and so you're left with this wanting and hunger for more.
Most reputable trainings will ask you have have 2-3 years of studying yoga as this crucially ensures you have a fundamental understanding of basic principles, such as alignment, breath flow and, perhaps most importantly, an openness to learning.
One other key sign is when you realise that you can't stop talking about yoga… then you're ready for sure!
Find out about Jean's Teacher Trainings here.
---
Do you need to be a qualified yoga teacher already to start a specialist course such as pregnancy / post natal teacher training course?
Sally Parkes replies: Some students of my pregnancy and postnatal yoga teacher training are 200 hour yoga certified teachers. However, this is not essential and we often have mothers, Doula's, Hypnobirth teachers and midwives on the course, all of whom register with The Federation of Antenatal Educators (FEDANT) following the training, which then allows them to go on to running successful businesses helping pre and postnatal women.
'This is the best training I have ever done' Luisa Lyons, Midwife and Lactation Consultant, Norwich, UK.
Find out about Sally's Teacher Trainings here.
---
Still not sure?
Check out this helpful blog piece from Vidya Heisel.
Ten Things You Should Know Before Signing up for a Yoga Teacher Training
---