with Dan Peppiatt
Already have an account? Sign in
---
CONSCIOUS BREATHING AS ANCHOR
"Feelings come and go. Conscious breathing is my anchor." Thich Nhat Hanh
We all know how to breathe, right? Breathing is just something that happens:  we don't need to think about how to breathe, right? You couldn't be more wrong! Breathing is unique in that we can do it both consciously, but it's also an unconscious necessity too of course.
Breathing is one of those yogic tools that folks find really hard, and it does take quite a bit of 'unravelling' of our old patterns to find new, conscious ways of breathing that can be learned and then used as an essential tool for health, for life. This course is for: 
All levels of mobility or immobility
Every human being who wants to improve health
If you suffer from nerves or anxiety, learn how to 'trick' the body into believing you are relaxed
If you have trouble with steady breathing during yoga practice
If you want to learn how to find calm no matter what situation you are in
If you suffer from headaches, fatigue or would like to energise
If you suffer from insomnia or you find your mind racing
Some of the practices (especially holding the breath) are not suitable if you are pregnant or if you are not sitting safely, in a comfortable position at home
For freedivers
HOW IT WORKS
You'll have heard people say 'take deep breaths'. But this can seem so hard! And it's common to hear people say, breathe into your belly - but that can seem impossible.  This challenge is a fabulous ten day discovery into different breath work techniques. The key lesson that we can all learn from the challenge is that we can learn simple techniques to 'trick' your body into feeling calmer, more relaxed or more energised, by learning how to change your breath. Your breath really is key to understanding your physiology, how you feel, your mood and how you respond to things. You know that when you experience a fright you'll gasp with a shallow breath. You know how when you're really upset you feel that your chest clamps and you can't breathe. And how when you're nervous your breath almost seems to disappear. Maybe you've experienced panicky breathing or breathlessness even at rest. We all know that the breath mimics how we feel, and our body takes its cue as to how to respond physically from our breath too.
WHAT TO EXPECT?
In this challenge we will learn some of the yogic principles around breath-control, we'll learn some of the anatomy and physiology of the breath and there will be a daily movement class to help free your chest so you can start to breathe deeply.
The first class introduces the daily preparatory exercises which should be practiced every day on the challenge. When the challenge starts you will see these exercises included in every step.
Then on each day of the course you will get a class which explores different aspects of breath-work.
You'll learn how you can master daily breath-control so that even in the trickiest, most challenging of situations, you have a real lifelong tool to help you gain control of your body and emotions. This is perfect if you find it hard to relax, suffer from headaches or insomnia, or are looking for techniques to help you to relax before a big day or event. We also learn breath work to help us to invigorate and energise.
"I attribute much of my rapid transformation to learning how to breathe well early on. That is when things really started to move. Through the breathing practice I really felt the way I thought." Max Strom, A Life Worth Breathing: A Yoga Master's Handbook of Strength, Grace, and Healing
You may also find that when you use these techniques on a daily basis, you find that you experience something deeper even than being able to control our bodies and our emotions when life is challenging. You may find that breath work is a key step in daily transformation, to ensuring that each and every day we are changing into the person we want to become. Breathwork somehow opens up channels and levels of experience in the world which will enable you to operate on a much deeper level. But this is experiential. You just need to try it and see if you agree.
Even if you're just looking to improve your yoga breathing, so that you can breathe in a smoother, more relaxed way during yoga class, you'll find this course invaluable.
Do let us know how you find the breath work challenge transforms you and your life, share your stories, feedback and ask questions of dan and team MFML on our Facebook Movers group.
CAUTIONS
You need to do the practices at home in a safe and comfortable place - they are not appropriate if you are anywhere near water or driving as there is a risk of fainting. NEVER do any of these exercises in water (even in the bath) because if we pass out we drown! 
This challenge is not suitable during pregnancy and any of the breath holding exercises should be avoided by those suffering from conditions such as epilepsy, high blood pressure, diabetes or heart conditions.
If you feel at all anxious or dizzy during any of the practices, please stop and return to your normal breathing.
If you are suffering from mental health issues, breath-work can cause increased anxiety. Those with chronic anxiety or any chronic mental health conditions should seek health care advice before practicing breath work.  If you feel any anxiety at all, please stop the course and return to your normal breath.
---
WHAT ARE YOU WAITING FOR? 
Already have an account? Sign in
Why not challenge a friend or loved one to join you?  We want you to feel supported: Join our Movers' Facebook Group and let us know how you get on during the challenge and share your journey with us on social media using #MovementForModernLife + #MoveMoreLiveMore.
Your Classes
Breath Challenge (1): The Anatomy and Physiology of Breathing and Preparatory Exercises
28:18 | Daniel Peppiatt
The introduction to the breathwork challenge starts with a fascinating tutorial on the anatomy and physiology of how and why we breathe. This class is a stand-alone, must-view for all yoga teachers, for everyone who is suffering from anxiety, or those who would like to improve their breathwork for overall health. At nine minutes, we move onto exercises for the diaphragm and ribcage, breathing in and out through the nose or in through nose and out through the mouth to regulate breath. Happy breathing!
Breath Challenge (2): Understanding Your Breathing Habits
18:38 | Daniel Peppiatt
We can't fix the problem until we know what it is! In this class, the second of our breathwork course, we look at understanding chest breathing, hyperventilation and breath holding, using the mouth to breathe and accessory muscles which we shouldn't use and how this relates to stress. Note down your daily habits. From 10 minutes, we include breathing exercises from the Russian system, Systema.
Additional Material
Breath Challenge (3): Effortless Breath Pt 1
18:49 | Daniel Peppiatt
This is the first part of a two part series in finding space for the breath. Today's practice finds space for the breath in your belly. Learn how to relax your belly, strengthen your diaphragm and find breath in your belly in today's class.
Additional Material
Breath Challenge (4): Effortless Breath pt.2 Finding Space in the Ribcage and Upper Chest
14:29 | Daniel Peppiatt
The second of a two part series in finding space for the breath - learn to free up the ribcage and upper chest today. Explore effortless breath and space in the ribcage and upper back with today's practices.
Additional Material
Breath Challenge (5): The Complete Effortless Breath
16:37 | Daniel Peppiatt
Learn to breathe fully with this exercise in which you'll learn how to fully empty and fill the lungs to capacity with the Complete Breath Pump Breath. As with all of the breathing exercises, please don't do these if you feel any discomfort or dizziness at all, and this exercise is not appropriate for pregnancy.
Additional Material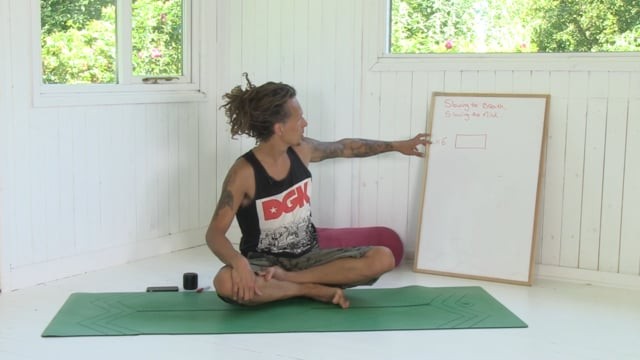 Breath Challenge (6): Slowing the Breath Slowing the Mind
17:21 | Daniel Peppiatt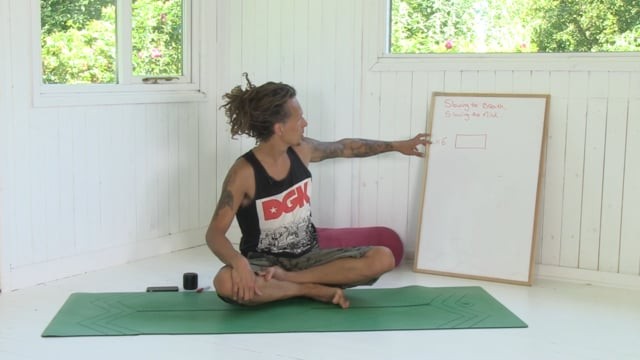 There is an old saying that we all have the same number of breaths in our lifetime, so we'd better slow our breaths to extend our lives! A rapid breath tells the brain that we are under stress and it reacts correspondingly. In this class you'll learn how to regulate the speed of your breath and why we'd want to do that!
Additional Material
Breath Challenge (7): Breathing for Anxiety and Stress Pt. 1
25:36 | Daniel Peppiatt
Find calm through your breath. Our breath is a monitor of our emotional state. In today's class we find how different breathing patterns can really change how we feel and can invoke a feeling of calm. Learn how to use this breathwork pattern to trick the body into thinking we are calm and relaxed even when we aren't! A fabulous technique to use for all stressful situations.
Additional Material
Breath Challenge (8): Breathing for Anxiety and Stress Part 2
07:02 | Daniel Peppiatt
Focus on Mindful walking - especially useful when we feel that we just can't sit and keep the mind still. This walking meditation / mindfulness class is great for when you're anxious as it makes a strong connection between the mind and body. This is a great 'stealth' practice. You can do this anytime you're out and about, or just before you go into any stressful event and nobody would know you're doing your mindfulness breathwork practice!!
Additional Material
Breath Challenge (9): Energising Breath
25:11 | Daniel Peppiatt
Sometimes we are just feeling tired, burnt out, uninspired or uncreative and stuck. We need a bit more fire to stimulate us. Today we have the perfect breathwork practice exercise to help with creating energy in your body and mind. For this we focus on the opposite to the calming breath, here we want to make the inhale longer than the exhale and we hold the inhaled breath.
Additional Material
Breath Challenge (10): The Peace of No Breath
20:13 | Daniel Peppiatt
This workshop-style class explores the background to the absence of breath. The ancient yogis understood that the absence of breath was a sacred space.
Additional Material