Have you tried one of our Kundalini yoga classes yet? Not sure what to expect? This quick guide from our teacher Kiranjot will give you the lowdown.
What is Kundalini Yoga?
Kundalini Yoga is like nothing you have ever done before. It combines, posture, breath work, mantra, mudra and meditation, sometimes all at the same time!
How is it different to Hatha or Vinyasa yoga?
The moves are very different, some are dynamic some are held but rather then focusing on physical alignment once were doing the posture we'll be meditating.
I've heard of Kriyas, what are they?
I describe Kriyas like recipes. There are thousands of different kriyas or 'complete actions' which were taught originally taught by Yogi Bhajan, a master of Kundalini Yoga. Each exercise builds on the previous one, moving your energy in a very precise way. Once we've gone all the way through the kriya, your Kundalini has been carefully stimulated and raised to create a lovely buzz.
What is Kundalini energy?
Ah ha, the million dollar question. My favourite description is Kundalini is a living Shakti. When we're practising kundalini yoga we're tapping into this special Shakti energy very carefully to awaken us to our full potential.
Can you tell me more about breathing. Is it difficult to get right?
Most of the time throughout the practice we're using a simple deep belly breath that moves the both the diaphragm and navel chakra. If for whatever reason you struggle connecting breath to navel, it might take a little more time to coordinate when we do the more stimulating breathing practises.
Why do you wear white to practice?
For radiance, it feels so positive when you where white, you don't have to but try it for yourself and see.
>> Curious? Why not try this Calming Kundalini class?<<
---
About Kiranjot: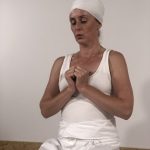 Kiranjot whose spiritual name means ray of sunshine is committed to offering Kundalini yoga in a way that is down-to-earth and approachable. She found yoga in her early twenties and has been teaching since 2008. Alongside teaching yoga, Kiranjot is also a birth doula.