#MovementForModernLife + #MoveMoreLiveMore
Already have an account? Sign in
---
KEEP YOUR MIND AND BODY IN GREAT SHAPE WHILST STUDYING
We might just have the solution to help you get into the studying zone with this collection of classes which relieve tension, help build focus, promote rest and gives you those 'oh so welcome' movement breaks.
These classes are perfect for:
Students revising for exams
Those wanting to improve their focus and concentration
All levels 
Classes 15 - 45 minutes in length
Studying can take a lot out of you: you need to be on full form mentally, whilst you spend hours sitting at a desk building stiffness and tension, and whilst you build your mental power you're most likely also building up your stress, anxiety and nerves. A few simple steps can really help you to get back on track,  feel a whole lot better as you prepare for those exams and help you perform at your best. 
Your Classes
Take a Break: Yoga & Qigong Part2: Focus + Clarity
18:10 | Mimi Kuo-Deemer
The second in our series to provide a constructive break during work or study. These Yoga and Qigong practices all provide you with renewed clarity, and will help clear the cobwebs, also focus on clear alignment through the spine and limbs. It's great to bring a mental focus and concentration back into the body when we're too in our heads. With some precision in our alignment as well as intentional practices from qigong such as 'clearing the cobwebs' (one of my favourites!), we can move forward with our day more embodied awareness and presence.
Focus The Mind
23:52 | Joo Teoh
Easily distracted? Do you frequently find your monkey mind wandering? Regain laser-like focus with this yoga/qi gong fusion class to help you to calm the mind, sharpen your focus and increase your capacity to concentrate with qi gong to clear tension and balancing poses to regain your poise. You will need a chair handy.
| MoveTime | Teacher | Level |
| --- | --- | --- |
| 23:52 | Joo Teoh | Beginners |
Manage Anxiety (8) Wake Up and Be at your Best
24:55 | Robin Watkins - Davis
The perfect class for waking up so that you can energise and focus for the day ahead. A wonderful morning yoga class or to re-charge throughout the day. Move stagnant energy around the body. Kick start your day with energy or practice in middle of the day or before you have a deadline and you feel drowsy and drained. Starting with gentle stretching and breathing exercises, with alternate nostril breathing, then moving to standing pose and modified sun salutes with backbends and balances, perfect for getting you focused.
Take a Break: Yoga & Qigong Part3: Renew and Revive
15:38 | Mimi Kuo-Deemer
The third in our work break series includes deep twists and standing poses to energise and get the blood moving again In qigong, it's believed that energy flows where intention goes (yi dao, qi dao). This active practice combining yoga and qigong will revive and renew your body's circulation and prana/qi flow. It's a great one to do if you've been at at the desk and want a more active break, or as a morning practice to do before work. Clothing by Rumi X. "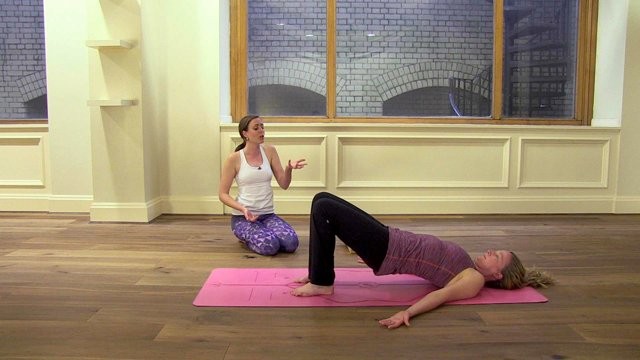 Yoga for Desk-Bound Backs
18:29 | Lucy McCarthy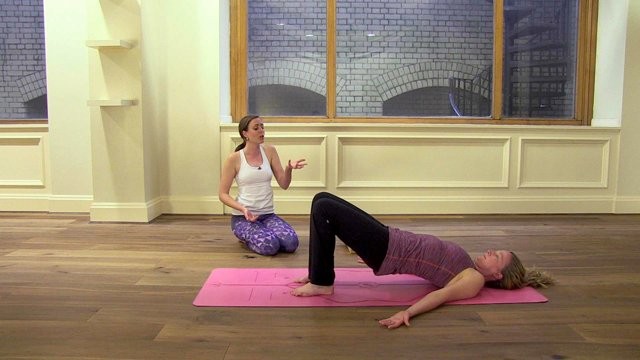 This gentle, hatha class gives the back and neck some simple releases for those of us who have been stuck at a desk, on a train, plane or behind the wheel all day. You will find that you have new, oxygenated bloodflow to the spine and feel a million times better after these simple poses. You may need a block.
Stretch At Your Desk
16:25 | Kate Walker
A short stretch at your desk. This class is great for the middle of the day if you can't get out the office but your body and mind need to wake up. You could even just learn a couple of these simple chair yoga poses to learn for every day. These will help your desk-bound back and hips and help focus your mind.
Morning yoga for young people
30:46 | Robin Watkins - Davis
Starting with breathing techniques to help calm, this morning yoga class is especially for younger people. The sequence will get you ready for whatever unfolds in your day. Sun salutations with hamstring and shoulder stretches, standing poses and relaxation and lots of deep breathing. Energising, balancing and focusing.
Teen Yoga: Full Body Yoga for Beginners
45:59 | Robin Watkins - Davis
A perfect yoga class for teenagers, or anyone who needs some extra groudning and support. This yoga class has plenty of sun salutations to warm up and strengthening core poses for strength. You'll need to be near a wall for supported shoulder stand. The class finishes with standing poses to help you feel grounded and centred. This class, perfect to ground anxiety in teens or young adults, but is perfect for any of us looking for a whole body strengthen and stretch. Ending with a sumptuous, full body relaxation. Based on traditional Sivananda Hatha yoga.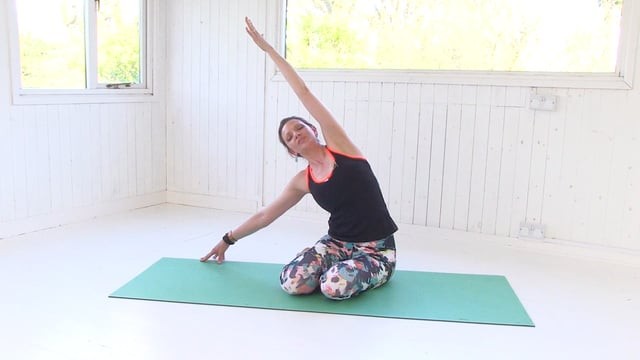 Gentle Floor Flow
15:19 | Zephyr Wildman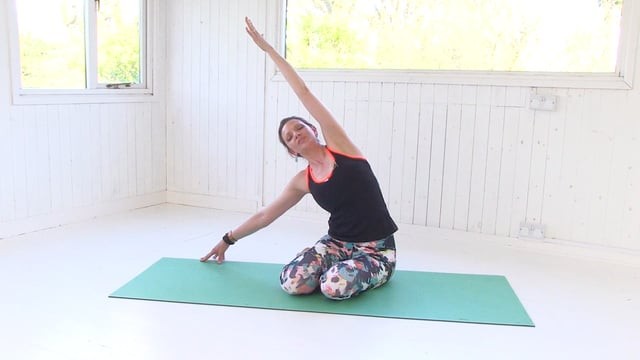 A gentle, floor based yoga flow to gently re-invigorate and re-energise your body. Ideal for after a long day when you'd like to re-energise gently, or if you'd like a gentle start to your day. Thanks to Fabletics for their clothing.
Take a Break: Yoga & Qigong Part1: Exhale + Sooth
21:59 | Mimi Kuo-Deemer
Take a short break from studies or your work. Much of our body's tension is muscular, but actually, what the muscles and our body crave when we feel tight is deep, satisfying breaths.This short practice releases tension by focusing on exhaling fully and uses Burmese qigong, chest and shoulder openings and forward folds to calm and sooth the mind. Perfect for taking a break to release tension during the day, but also great after a hard day's work. Clothing by Rumi X.
Relaxation For Great Sleep
28:05 | Robin Watkins - Davis
Get yourself ready to calm into the evening with this all-levels gentle hatha yoga class, perfect to wind down after a busy day. Move through a series of poses focusing on stretching hamstrings, back and shoulders and getting comfortable for a great night's sleep. Breathing exercises help you slow down and activate the parasympathetic nervous system (rest and digest). Finishes with a long relaxation leaving you restored and calm. Ideal for everyone, but especially young people.
Meditation To Chill
08:04 | Robin Watkins - Davis
This short meditation is the perfect pick me up when you feel overwhelmed, stressed out and have a heavy head full of information, ideas and thoughts. For all levels. In this video you will learn how to gather your thoughts and re structure/organise them so you feel centred and calm. Wonderful practice after school or in the middle of the day when you need to centre and anchor yourself.