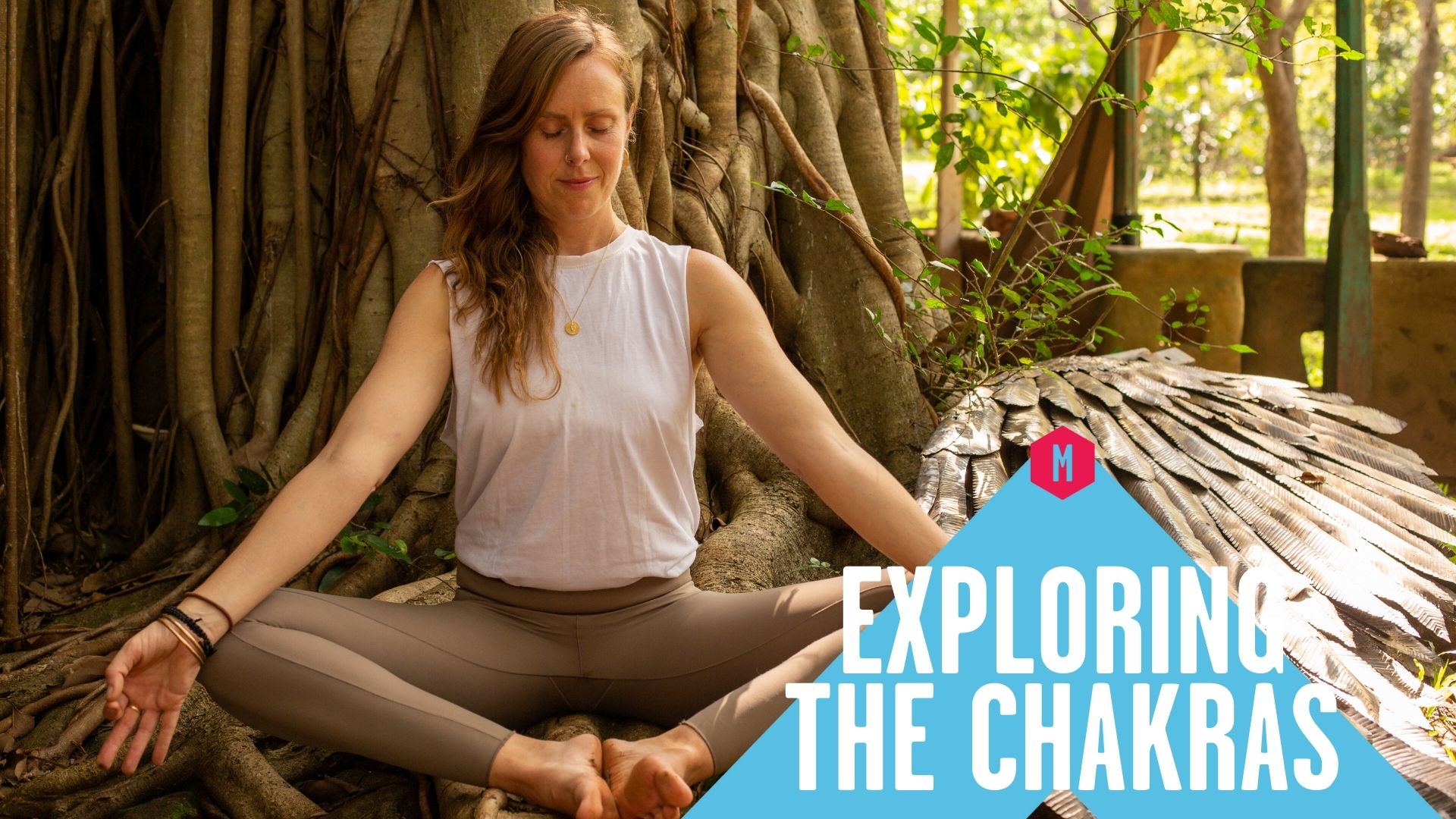 #MovementForModernLife + #MoveMoreLiveMore
Already have an account? Sign in
---
A series of vinyasa yoga and Yoga Nidra classes with Lucy McCarthy
If you're like me, and quite down to earth, not very hippie, the mention of Chakras may bring shudders down your spine.
Hold that thought. Remember, that like umbrellas, minds only work when they're open.
I think about Chakras as a useful archetype to think about different physical, emotional and spiritual states and ways of being. And it's funny – when you think of these emotional states, quite often they just seem to equate to a place in the body. Maybe there is just something in these Chakras. Whether you already know about Chakras, or the 'subtle body' already, or whether you're a little bit sceptical, I ask you to just suspend your scepticism for a short while, or for the next 7 weeks – focusing perhaps on one chakra per week, and see what interesting and perhaps useful things might crop up through exploring Chakras alongside Lucy McCarthy and her brand new Chakras Series. I really do hope you enjoy!
According to yogic wisdom, the chakras are energetic centres in the physical body that govern different areas of our mind, body and emotions. By balancing the 7 chakras you will feel harmonised, grounded and full of vitality.
The seven major chakras are situated down the centre of the body starting at the root, where the perineum is and stopping at the crown of the head. They are situated along the spine and commonly associated with where the nerve ganglia lie and also the different endocrine glands of the body.
Each chakra has it's own symbol, sound and name which represents its energy and also relates to its element and specific prana of the body. As you dive into this vast subject, you'll see that there are many corresponding parts to them. Each one has an identity with planets, metals, foods, gemstones associated with it, plus much more.
COMMUNITY SUPPORT
If you're not a member of our friendly movers' group on Facebook, why not join us now, to find support from fellow members and ask questions. We'd love to know how you get on! share your journey with us on social media using #MovementForModernLife + #MoveMoreLiveMore.
---
WHAT ARE YOU WAITING FOR? 
Already have an account? Sign in
Chakra 1 – Root – Muladhara – Earth
A nourishing & grounding flow using standing and balancing poses to get connected to the earth and ignite your sense of stability and presence. Great for getting you grounded at the beginning of the day!
In this yoga nidra you will connect to what it means to be truly rooted. Grounding your awareness in the the base of your pelvis and your energetic roots, you will be taken on a journey to reclaim your sense of being rooted in the world and an innate state of inner belonging.
Additional Material
Chakra 2 – Sacral – Svadisthana – Water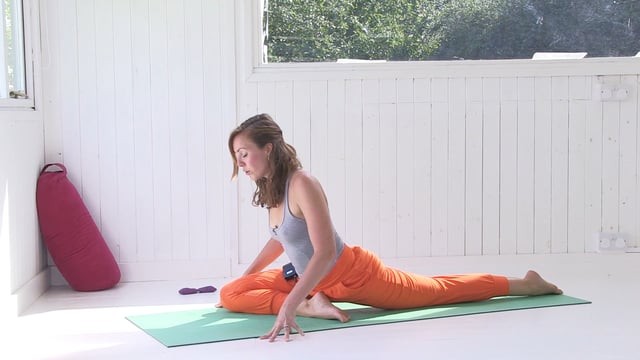 A super fluid flow sequence low to the earth to open you into your innate creativity and find ease in your body. Deep, hip openers reign supreme in this short but deep hip opening class.
In this yoga nidra you will be guided into a deep state of relaxation from which you can cultivate a true sense of your own sensuous embodiment and innate creativity. This practice invites you to go on a self-affirming journey into embracing all that you are.
Additional Material
Chakra 3 – Solar Plexus – Manipura – Fire
Upbeat and uplifting flow sequence with lots of juicy core work to boost your inner strength and internal power. A practice to empower you, and a perfect class to get you moving into your inner and outer strength - great for mornings.
In this yoga nidra you will invited to take back your own power. Remember your own potency so you can move back into the world with renewed confidence and courage in all that you are.
Additional Material
Chakra 4 – Heart – Anahata – Air
A heart, shoulder and chest opening practice to awaken you to your highest potential. With plenty of arm, wrist and shoulder stretches, side body opening and heart opening through backbends, this class is invigorating and gently energising as you open to love!
In this yoga nidra you will be drawn right into the great beauty and wisdom of your heart. An uplifting, soulful journey that will leave you feeling heart centred, expansive and free!
Additional Material
Chakra 5 – Throat – Vishuddha – Sound
A sequence with lots of neck, shoulder and throat opening to ignite your communication skills and ease of self expression.
In this yoga nidra you will be guided into cleansing any blockages or limiting beliefs that stand in the way of your authentic self. A profound journey to reclaim your voice and your unique expression into the world.
Additional Material
Chakra 6 – Third Eye – Ajna – Light
A meditative class to awaken the higher mind, quieten the internal chatter and stimulate your intuitive abilities. Starting with quieting eye movements, and then with gentle poses with a block to rest on your third eye chakra. Suitable for doing before bed, or in the morning, enabling you to act with insight and intuition throughout the day. You will need a block and an eye mask.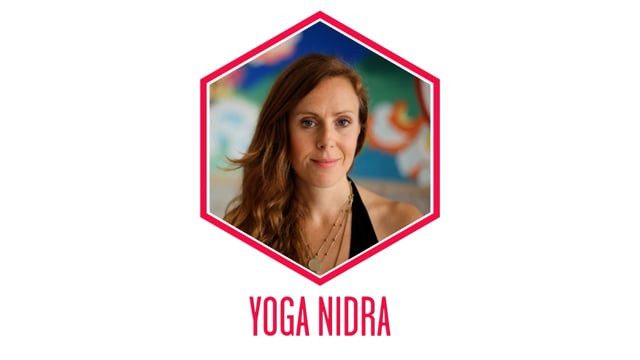 In this yoga nidra we will dive deep into reclaiming our innate ability to have clarity. We will access our insight and profound intuition leading to a sense of self-trust and heightened inspiration in life.
Additional Material
Chakra 7 – Crown – Sahasrara – Thought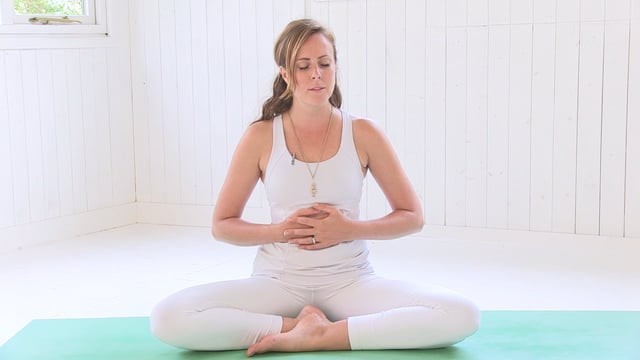 A meditative seated practice to awaken and unite your whole mind and body. Deeply calming and nourishing.
This yoga nidra takes you on a journey from separation to connection; from discord to harmony. It is a remembrance of our interconnectedness and the great peace and wonder that comes from that!
Additional Material