The chakras are energetic centres in the physical body that govern different areas of our mind, body and emotions. By balancing the 7 chakras you will feel harmonised, grounded and full of vitality.
Chakras represent different areas of your life and you can use them as a way to explore the imbalances and then by using the associated practices with the relevant chakra, you have a practical way to bring balance where it is needed.
Where are they?
The 7 major chakras are situated down the centre of the body starting at the root, where the perineum is and stopping at the crown of the head. They are situated along the spine and commonly associated with where the nerve ganglia lie and also the different endocrine glands of the body.
Each chakra has it's own symbol, sound and name which represents its energy and also relates to its element and specific prana of the body. As you dive into this vast subject, you'll see that there are many corresponding parts to them. Each one has an identity with planets, metals, foods, gemstones associated with it, plus much more.
Sanskrit Names, Element and Colour
Chakra 1 – Root – Muladhara – Earth – Red
Chakra 2 – Sacral – Svadisthana – Water – Orange
Chakra 3- Solar Plexus – Manipura – Fire – Yellow
Chakra 4 – Heart – Anahata – Air – Green
Chakra 5 – Throat – Vishuddha – Sound – Bright Blue
Chakra 6 – Third Eye – Ajna – Light – Indigo
Chakra 7 – Crown – Sahasrara – Thought – Violet/White
What Next?
In this series, I will give you a brief snapshot of each chakra and share some practices and recipes you can do to bring it into harmony.
We will start this journey through the chakras, with Muladhara, the root chakra – your foundation, your base. It is your need for security, your desire for survival and it's your stability.  This will be great for you if you are feeling fearful, scared, insecure or worried about finances.
---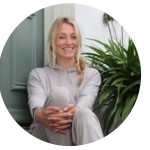 This post was shared by Kirsty Norton.  Kirsty started practicing over 20 years ago. Svadhyaya, the practice of self-study, has taught her that in every moment, we choose our inner state. She brings this teaching into her classes to empower her students. Her aim is to design her state, be well-rested, work hard, remain always a student, stay vulnerable and lead by example. Kirsty is a proud ambassador for Wellicious and has been published in Yoga Magazine and Elephant Journal. Find her on Twitter, Facebook and Instagram.
---
Resources
Hatha Yoga in the Anusara Style – Doug Keller
The Wheels of Life – Anodea Judith