I'm not sure about you, but I'm not a massive fan of conspicuous consumption. It just goes against my thrifty and eco-friendly ways.
But at Christmas, there's nothing worse than a kill-joy! And there are some lovely consciousness-spreading gifts out there which tick all the yogi boxes, and can help your friends and family on their transformative journeys. Christmas gift giving is all about the exchange of positive energy and reciprocity, so when gifting, why not do it in style?
My Top Ten Gifts for the Yogi in Your Life
An Annual Subscription to Movement for Modern Life! Of course I would say that, but seriously, do you remember the days that it cost £20 and upwards for one DVD? Well here we have now over 500 DVD quality videos with only the very best teachers to take your loved one on a journey from beginner right to handstands and beyond. And as a subscriber yourself, you get 50% off Gift Subscriptions – so that's 500 videos for £65, plus membership of our game-changing community (and knowing that you're supporting a British start-up, self-funded and reliant on YOU for continuing to make the change)
Yoga 365 Daily Wisdom – Who doesn't need daily wisdom in their life? I do! This awesome book by Susanne Rubin is a great way to give folks their pocket-size guide for navigating life!
Brightening Our Inner Skies: Yin and Yoga by Norman Blair. Norman is the King of Yin. The first teacher to teach Yin Yoga in the UK. If your friend is any kind of a yogi, this book is a must read.
The Inner Power of Stillness by Alexander Filmer-Lorch. If your friend or family are interested in meditation, or are yoga teachers or healing practitioners of any kind – this book is the ultimate tour de force of the science and philosophy behind meditation and the power of stillness. Oh, and I'd recommend you get one for yourself while you're at it.
Yoga Retreat – If you're able to spend the cash on you and your friend, there is no better way to show you care about your friend than to give them the gift of your time. Unfortunately, our January Transformative retreat on Jan 5th- 8th 2017 with Andrea has now sold out, but, we're running it again next year – so go ahead and book a year in advance, your next chance for time out with your favourite MFML crew! Or, just book a retreat or workshop with one of our fabulous teachers. If you're free in March 10th – 13th, Clive Fogelman is offering 10% off with code MFML10 on his Life Sequence Retreat.
Candle – We love this gorgeous meditation one available on yoga-luxe.com. Somehow a candle always evokes just the perfect atmosphere for home yoga practice and yoga-luxe will give you 10% off with code MFMLYOGALUXE as well as 5% of all profit to charities.
Yoga Workshop – if you know your friend's favourite teacher, book yourself a yoga workshop for you both to work on your practice.
Yoga Oils: We love Yogandha Oils. Scent is so evocative – these oils are just absolutely gorgeous and really put you in the mood for yoga like nothing else plus MFML fans get 10% off with code MFML
Yoga Clothes – we LOVE Asquith's soft, movable-in fabrics. They just make you want to move. I rarely get out of my Asquith yoga clothes – and wear them out and about, and well, all the time! Being eco-friendly, the environment is a winner too and you can get 20% off with code MFML20.
I'm not one to particularly care for anti-aging products, I think that beauty is found from within, is a naughty glint in the eye, and I personally like a face which is real, has been worn, and seen the world. But that's not to say that eating great food, getting the right nutrition, and doing yoga doesn't happen to make you look just that little more radiant. I've had a head's up that this supplement, Lumity is the dogs when it comes to making you shine from within. It's a nutritional supplement, but this one is natural, focused on harnessing the body's own ability to balance and heal itself, rather than being overloaded with huge does of antioxidants, minerals and vitamins, which can do more harm than good.
---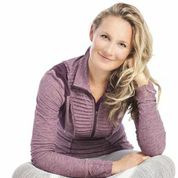 This post was written by inspirational founder of Movement for Modern Life, Kat Farrants