There's nothing more delicious than the smell of chai. As the weather turns chilly outside, get cozy and Christmassy with this recipe from our lovely Kirsty Norton.
Kirsty just throws all the spices into a jar and then she's ready to pour it into a saucepan of water whenever she needs a spicy pick-me-up.
You can play around with proportions and try out different combinations. You might find you prefer cloves over cardamon or a little extra cinnamon.
Just use this as your basic starting point to brew a pot of chai. Then double or change the amounts to suit your taste.
3 cloves
4 cardamon cloves (you can use powdered)
1 stick of cinnamon (again you can use powdered)
Grated fresh ginger (guess what, yes, you can use powered)
Pinch of fennel seeds
Grated nutmeg
Boil it all up with water for about 10 minutes and then turn off the heat. Add a black tea bag and leave to brew. 5-10 minutes is enough but no longer otherwise it goes bitter.
Warm it up once more, add in a sweetener and some milk and then sit back, snuggle under a blanket and put your feet up.
---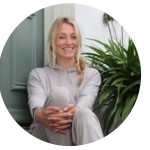 This post was shared by Kirsty Norton.  Kirsty started practicing over 20 years ago. Svadhyaya, the practice of self-study, has taught her that in every moment, we choose our inner state. She brings this teaching into her classes to empower her students. Her aim is to design her state, be well-rested, work hard, remain always a student, stay vulnerable and lead by example. Kirsty is a proud ambassador for Wellicious and has been published in Yoga Magazine and Elephant Journal. Find her on Twitter, Facebook and Instagram.