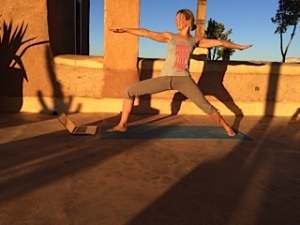 So when does a family holiday turn into a yoga retreat? Last week, I struck the lucky pot of gold. My mother was celebrating and turned to me and my sister to come with her to the sunshine of Marrakech to celebrate for a few nights. It would have been churlish to turn it down, so after absolutely no arm-twisting in reverse prayer position, my sister and I agreed.
We found a beautiful place to stay, suitably remote to inspire that special flavour of mother/sister/sister drama and decided that daytimes would be spent relaxing (for me, read cooking up online yoga plotting and planning, by the pool) and that mornings and evenings, we'd enjoy yoga classes with our 20 or so favourite yoga teachers for a yoga retreat.
So of course I called on each of the 25 teachers who had been wisest to me in my 20 years of yoging, called them all up in turn and asked them to teach our very private holiday. But they had a life, a busy teaching schedule etc…So in preparation for the day my mum would invite me on holiday, I set up a little filming project. I got my favourite 25 teachers to, over the course of about 2 years, to film 250 odd yoga classes. Just so we had the choice, what if one day we felt like yoga beginners one morning, but actually we were feeling more sparky and wanted something a bit more, um, stretching… (back to reality…!)
I know it sounds trite to say 'everything happens for a reason', but that is my experience of my own life. So when mum invited me and my sister for a short break in Marrakech, I had exactly the team of teachers we all needed…maybe this was the whole reason I had founded MFML, just so that I could take my favourite teachers away with me. Selfish…
My biggest fear about the holiday? What if the wifi would let us down! If we had no wifi, our streamed Movement for Modern Life Yoga Retreat would be no more… What a cliff-hanger!