#MovementForModernLife + #MoveMoreLiveMore
Already have an account? Sign in
---
FEEL GOOD YOGA FOR NEW MUMS
A series of feel-good yoga classes for new mums or anyone who wants to focus on building up their strength through classes that are restful and strong.  New mothers should wait at least 8 weeks before resuming a strong yoga practice and always take medical advice before taking up yoga again, even if you have had a regular practice previously.  This series is suitable for: 
New mums (at least 8 weeks after giving birth, naturally or by C-section) and after taking medical advice
14 classes
Strengthening for upper back, legs & core
Forest, Hatha, Vinyasa & Restorative Yoga
Using breath to build strength
Developing the mind-body connection
Your Classes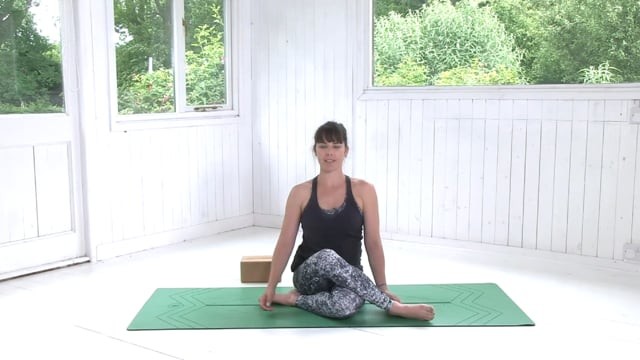 New Mums Series (1) Nourish Me
26:00 | Kristi Rodelli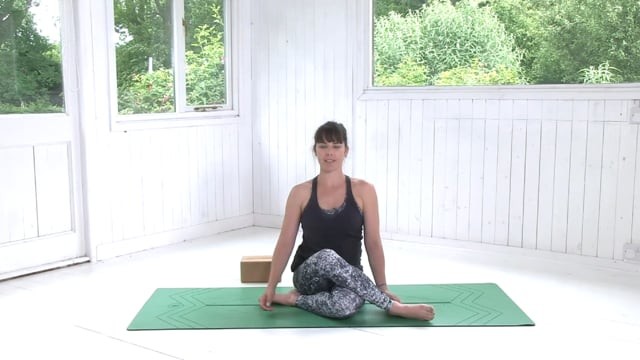 A yoga class in the Forrest yoga style to open the shoulders and the upper back whilst strengthening the core. Feel your heart opening as your upper back opens. Starting with shoulder openers, then shoulder opening child's pose variation, abdominal strengthening and backbends. This class is perfect for those of us who need an antidote to time at a desk, or have stiff shoulders and upper back, and wonderful for new mums too. You will need two blocks.
New Mums Series (2): Motivate Me
22:26 | Kristi Rodelli
Get motivated with this yoga class, ideal for mornings, which focuses on the core, upper body and legs with breathwork, core work and standing poses. You'll feel stronger, happier and more motivated. Ideal for post-natal strength or for any of us who like to feel motivated and stronger. You'll need a block and access to a clear wall for shoulder opening variations.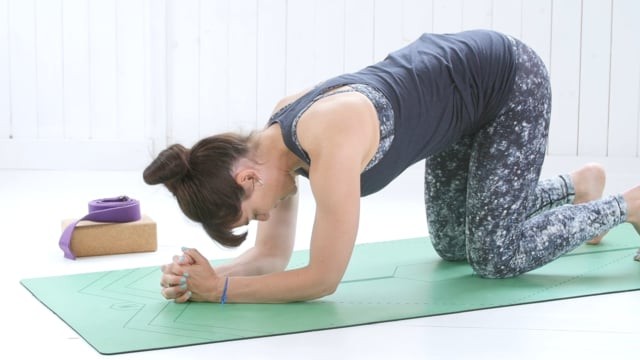 New Mums Series (3) Energise Me
29:38 | Kristi Rodelli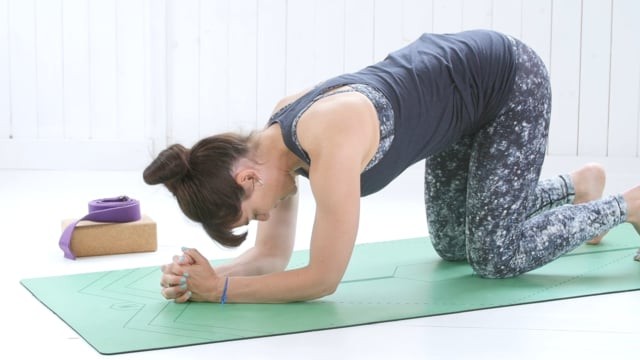 An energising yoga class, perfect to start your day. This class features sun salutations to stretch out, core work to find your inner and outer strength for the day and plenty of twists. Perfect for post-natal recovery and all of us looking to strengthen and energise! You will need a block and a strap.
Healthy Spine SOS for New Mums
15:37 | Lucy McCarthy
Give yourself some 'you' time to replenish and rejuvenate. A wonderful short and gentle yoga class especially for mums who might be suffering from back, neck and shoulder tension from all the nursing and lifting. With a focus on twisting and back and shoulder opening, this yoga class helps to open the chest and stretch and strengthen the back. Nourish yourself to prevent depletion and exhaustion setting in. You will need a bolster and a strap.
New Mothers (1): Pelvis Strengthening
21:05 | Mollie McClelland Morris
Welcome To Mollie's gentle loving sequence to get you moving after birth. Take each class separately or together, depending on what your little one allows! Perfect 20 minute instalments that fit around the demands of even the busiest new mum! Start your journey back to yoga by exploring and strengthening your pelvis. Find time between feeding and the changing table for yourself or how about getting a group of mums together to do this series and have a little social time too? No worries if the babies want to join in!
New Mothers (2): Hips & Core
17:40 | Mollie McClelland Morris
Continue your journey back to movement with Part 2 of Mollie's series for new mothers. This class has lots of cat -cows to build up dynanism and then moves into gentle core work, twists and hip openers.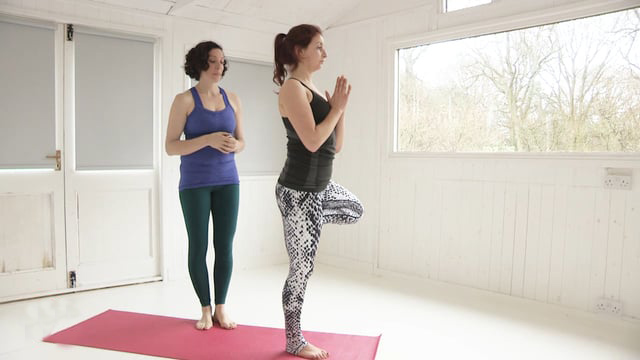 New Mothers (3): Strength & Balance
24:58 | Mollie McClelland Morris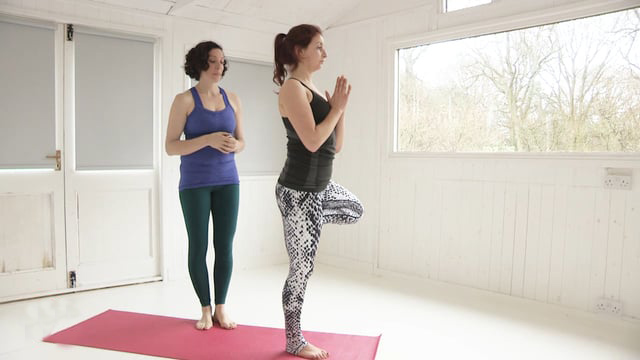 Part 3 of Mollie's series for new mothers. Continue to strenthen your pelvic floor and build stability with stronger standing poses and balances all still at a gentle pace, perfect for recuperating bodies. You may like to have blocks or a bolster ready for support during the final relaxation.
Post Natal: Stretch And Breathe
22:04 | Sally Parkes
A gentle sequence that focuses on the breath and making space, physically and emotionally. We will begin by mobilising each joint and gently moving and stretching the spine before working through a gentle hatha yoga flow and subtle breath awareness before moving into relaxation. You will need a bolster and a blanket. Suitable from about 8 weeks postnatal or 10 weeks+ if you had a c-section.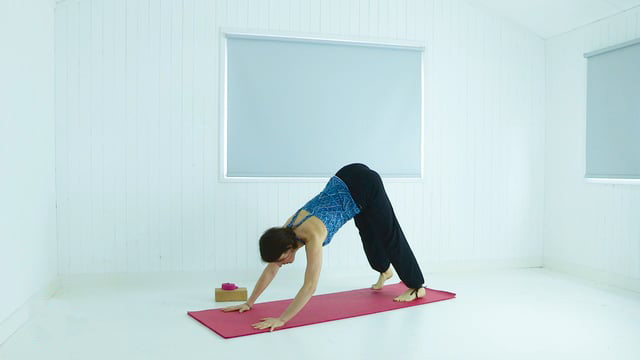 Post Natal: Gentle Hatha Flow
20:49 | Sally Parkes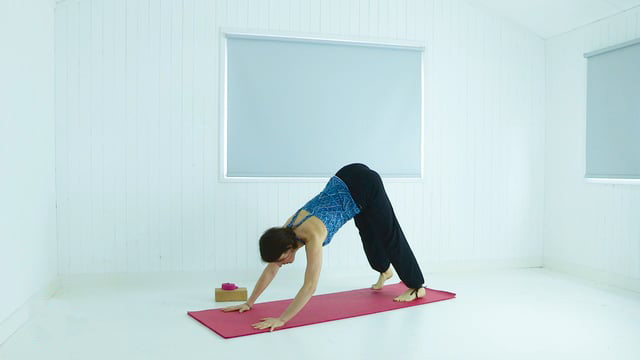 Starting with gentle and slow Sun Salutation variations that aim to free up the neck, shoulders and lower back, this class getting you in the flow after having a baby, followed by some focused core work, the aim of which is to reenergise the pelvic region and give your spine more support when carrying your child. You will need a mat, block and strap.
Post Natal: Energising Gentle Flow
19:58 | Sally Parkes
Progress continues from Sun Salutations by incorporating lunges and brief holds in plank position to energise a tired body. This will be balanced out with asana to strengthen the back area before stretching the whole body out to release tension.
Post Natal: Standing Sequence For Strength
19:58 | Sally Parkes
A standing sequence of asana that require subtle strength and focus to help us become grounded, and energetically root down in to the earth. Breathe deeply in to the abdomen whilst feeling supported by the earth. In this way we can come back to the 'now' and become more accepting of what 'is'.
Post-Natal: Free Your Spine
22:25 | Sally Parkes
Our spine is not only our physical back bone but also our emotional one, and as mums we need to maintain its health for us to do our work well whilst feeling supported. The sequence will work on strengthening and freeing the muscles around the spine and back area, the aim of which is to be strong when you need to be and flexible when you just need to 'let go'. You will need a strap and a block.
Subtle Hip Strength
20:37 | Sally Parkes
A class focused on strengthening the hips by incorporating bandha work into the asana. This will be followed with some slow hips stretches and releases that aim to ground our energy further and bring us back to the 'here and now'. You will need a strap and a block.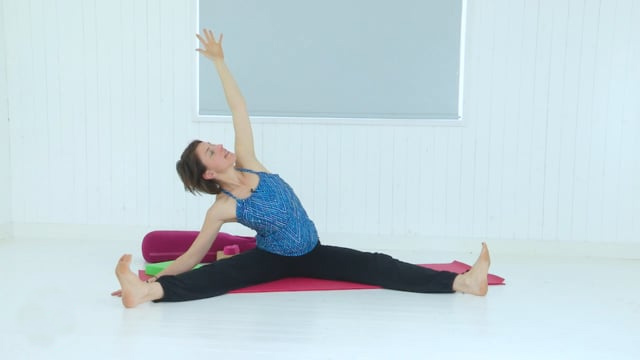 Post-Natal: Relax and Restore
23:13 | Sally Parkes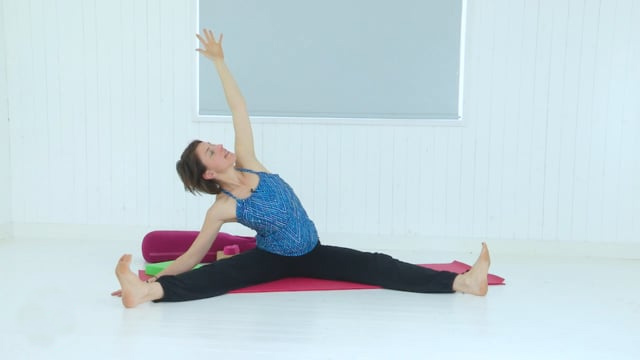 Welcome home, you are free to relax! Sometimes with so much to do, we forget that our emotional batteries are nearly flat and become overwhelmed. Take time to focus on you and only you. Moving slowly and with ease, breathing deeply and thoughtfully, it's finally time to relax! You will need a bolster, strap and block.