As you know, I don't often talk about the 'Asana' or the physical yoga poses. That's because, to me, they're really not very important (to me at least!). Instead, what's key is making sure that our movement is mindful and that our breaths are long and smooth. For me, the shape is how it feels on the inside rather than to look or form of it. That's my personal take on Asana.
But, I got into yoga, a couple of decades ago now, because of the very physicality of it.
And I still really do enjoy making shapes as I move and breathe mindfully.
So due to popular demand from our fabulous Movers in our Movers Group (open to current MFML subscribers), many of whom have been flummoxed by the crow pose, we thought we'd bring you the Crow (or Bakasana) Challenge.
Crow pose is a particularly impressive-looking shape for non-yogis to look at. The pose looks like we're just floating effortlessly on our arms. But for the fit, healthy, strong and persistant, it's not a tricky shape to come into.
What's Crow all about?
The crow is mostly a pose about inner strength (or strong abdominal muscles!), as well as strong arms and shoulders.
So for those of you who have tried the pose in the past and found it tricky, the first thing to do is to make sure that your core is up to the challenge. So now is a great time to start our Core Challenge.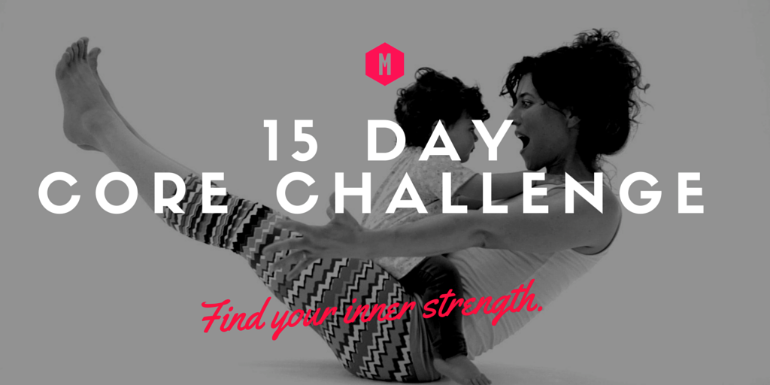 It is also best to avoid crow pose when pregnant and if you have carpal tunnel syndrome, and/or an injury in the wrists or shoulders.
Mental Benefits
One of the main reasons to practice the crow pose are the mental benefits conferred by crow-ing. Because crow looks tough, it's a great exercise in overcoming obstacles and resilience.
Of course, the main fear that all practitioners start with is the fear of tipping over and landing nose-first into the floor. That fear may not be unfounded if your abdominals aren't yet strong enough, and if you're just getting accustomed to balancing.
We recommend getting a soft landing prepared. Get as many cushions, blankets or sofa seats at the ready as makes you comfortable, before you begin.
The promise of a soft landing is probably more of a mental safety-net than a physical one, but it's nice to know that your nose is safe, especially if you're trying at home for the first time!!
Why Crow Pose? The Physical Benefits
Practicing the Crow pose is a full-on strength and flexibility work-out. You need (and will get!) super-strong abdominals. You will get strong arms and shoulders. Your risk of osteoporosis will decrease due to the weight-bearing activity of the pose. Your wrists, upper back and legs will strengthen.
It really is a full-on strengthening pose. But on top of that, it's also a great pose for flexibility. Your upper back will be stretched, your spine will feel spacious, more mobile and stronger and your hips will get the benefit from the pose too.
All on top of that, because of the slight compression in your inner organs, they get squeezed slightly which tones and gets things moving around inside.
It's an all round-wonder pose really!
The Spiritual Side
Crow pose is amazing for helping us to overcome things that seem on the outside to be impossible. It is a balance, so is a great exercise in mindfulness, focus and concentration.
As a pose that focuses on the sacral chakra, we can expect the crow to inspire us, to connect us to our gut instinct and our connection with others. If you'd like to find out more about the sacral chakra why not check out Lucy's Class here:
The wonderful thing about the crow, is that when we're feeling confident, we can fly away with it in so many ways. We can learn to transition from Crow to headstand, we can learn side crow, and for those of us with beautiful, flying crows we can progress into other arm balances such as Eka Pada Koundinyasana, Eka Pada Galavasana or Eka Pada Sirasana.
Flows with Crow
We've got some fabulous vinyasa flows with these more advanced arm balances featuring amazing senior teacher, founder of Frog Lotus Yoga and Suryalila yoga retreat, Vidya Heisel.
---
Crow The Bird in Mythology
Although in our culture we often look down on the humble crow, it's interesting to note that in Celtic times, they were known as foreseers of the future and also symbolic of transformation. The crow made many iconic appearances throughout Celtic myth and legend and featured as aspects of the divine war goddesses, the Morrigan, in Ireland.
It's worth getting to know and love the crow, it can lead us to so many places. But also remembering not to get too attached to the shapes that we make, and for the ego not to lead the way. Always practice with reverence, conscious breath and humility, and no matter what shapes you are making, you are a true yogi!
Let us know how you're getting along on your journey to crow pose!
---

This post was written by founder of Movement for Modern Life, Kat Farrants.