By tuning in to her natural rhythms, Kat Farrants discovers a secret power. Listening to our bodies can give us deep insight. Read on to find out more.
When we talk about cycle awareness our first thought is often to the menstrual cycle. Whilst yes this is important and this is the focus of what I am sharing below, cycle awareness to be applied to anyone, any gender, at any moment of your life. Life in itself is a cycle, and it can be interesting to think about how aware of where we are at in that cycle too. I truly believe that wherever you are at in life it is beneficial to tune in and be aware of your unique natural rhythms and needs.
---
Now, the menstrual cycle. A cycle that is easy for many of us (at least half!) to relate to. To be honest, I haven't thought much about my periods except that they're a monthly literal and metaphorical pain. Then when pains and discomforts have happened, I have reached for painkillers to suppress my natural rhythms and just got on with life as usual.
---
Our Body's super power
In my podcast chat with the Red School, and as I've delved into the subject for our course: Women's Wellbeing, I was astounded at how much deeper the issues of menstruation run. I had never realised, or added it all up, that in fact when we are able to start to become aware of our bodies, when we truly listen to our bodies in our different phases of our cycles, this gives us an immense amount of power!
---
Deep listening for radical change
I've spent my life struggling against my natural rhythms, and my body has struggled with it – in the form of PMT, period pain and feeling depleted. I'm sure that so many of us do. But perhaps, as I have learnt, the most radical thing we can do is to learn to listen to our bodies as they change on a daily basis during our cycles. And what I've found in doing this is to hear my body's demands to rest. As the Red School says, resting during our menstruation especially, is absolutely radical. It's radical because it gives us an immense amount of power, the power of knowing who we really are, making the right, conscious decisions for ourselves. Those decisions run as deeply as who should we partner with, how can we best serve and follow our dharma, or our life purpose.
---
Relax into your power
Imagine the power of really knowing that you're on track in life. You know for sure you're serving the world in the most powerful way possible. Because you listen to yourself, you pay attention, you listen to your body. You are kind to yourself, and therefore to others. What an exciting world we'd live in if everyone felt this amount of power! We certainly wouldn't have any of the big corporates telling us we're 'not enough' and we need to buy their fancy products. Because we would know, right from inside ourselves, exactly what we are, that we are perfect as we are, and we just need to relax into our own power.
I'd love to take a journey with everybody who's menstruating – to discover our own inner power. I have done the Women's Wellbeing Course several times but I will do it again now as it is always good to be reminded of our cyclical existence. The Red School have contributed so much beautiful content for it, and we've got 28 classes for each day in your month. This course is free to all our subscribers.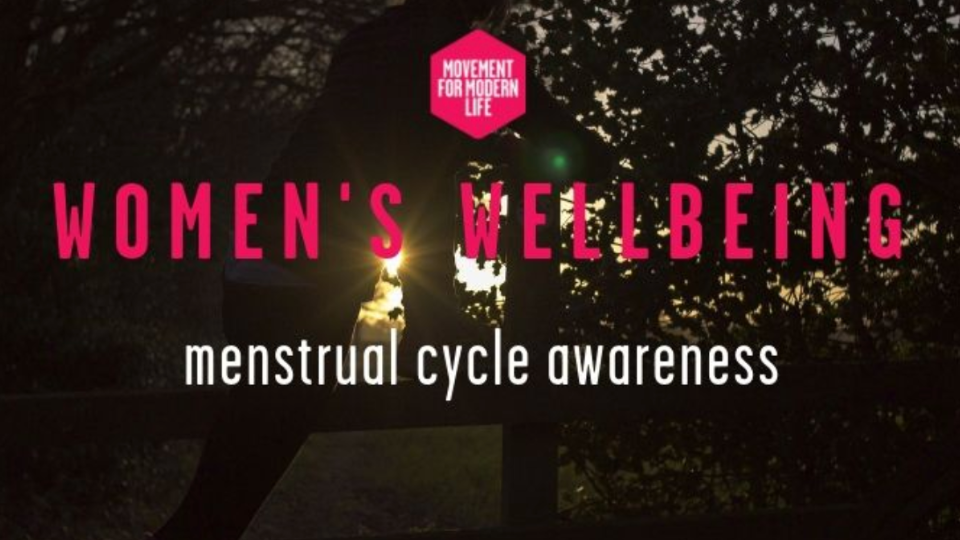 ---
Other Life Stages and Cycles
Remember if you are not menstruating there plenty of other options for you too! Cycle awareness and being in tune with our natural rhythms is certainly not limited by ages and genders. Ask yourself where you are at in your life cycle, and what do you need?
---
---
Written by Kat Farrants, founder of Movement for Modern Life. Kats own yoga practice informs how she develops MFML. Kat is constantly exploring ways she can take the small steps to move into a happier, healthier and more sustainable life.
---