Vinyasa Flow Yoga › Back and Shoulders › Vidya Heisel
"You are only as old as your spine"
Goes the saying. It's really important for you to keep your spine moving so that it stays strong, healthy and flexible. But you knew that already. These videos are great if you have a desk job and don't move as much as you could, or if you already have stiff spine, shoulders or hips. Just remember to do the practices in these videos. Every day. We have got videos of different lengths here so you don't need to put your back out trying to fit it in your schedule.
We don't guarantee that you'll be ready to join the Chinese circus, but we think that your back will appreciate the extra loving you give it and will reward you with less pain. You'll start feeling that your life has some backbone, quite literally. This will lead to you making better decisions, possibly leading a life from a position of courage. You may start to feel your back is longer, you may start to sit up taller, you may start to notice when you slump or st... Show more
52:35

Flow to Scorpion Yoga Pose

This advanced level vinyasa flow is suitable for those with an existing inversions practice. After a warm-up, take your mat to the wall for some challenging, advanced level inversion variations. This class is not suitable for those who have any physical limitations, or those who do not have a regular inversions practice - the variations are tough. Of course, if you're not comfortable with the poses, please do sit out those poses and adopt child's pose, or a more suitable variation. If you are a mobile, fit and strong practitioner, you'll love these variations and have a lot of fun going upside down!

21:27

Firefly Vinyasa Flow

An advanced vinyasa flow towards firefly pose, Titibasana, and Flying Lizard. Class begins with breath of fire to stimulate the nervous system, and increase fire in the body. Then we move swiftly to hip opening poses which work towards these advanced arm balances. This class is very short and intense, without much warm up, so would be a great class to add onto your practice today. You will need two blocks.

56:04

Shining Heart Vinyasa Flow

An interesting and varied fusion-vinyasa flow yoga class, with plenty of inspiration from other yoga styles, including Iyengar and Kundalini. This class includes challenging and strong poses including flying splits and arm balances. Starting with breath work, the class then gives some wonderful chest-opening warm ups, which also work on neck and shoulder release. Then join Vidya for a fun vinyasa yoga flow, with some Kundalini breath work and poses mixed in, and an Iyengar variation of Downward dog. As ever, move at your own pace, and don't feel you need to join in for things that might not suit you on this day. You will need two blocks and a blanket. After this class please do follow with a long savasana.
48:27

Progress Your Practice: Backbends

The third class in progressing your practice series, this beginners yoga class focuses on backbends. Backbends help to keep the back and shoulders open after days hunched over a computer or smartphone and are essential to keep the back and spine healthy. With some slow flow and twists to counterbalance your backbending class. You will need a blanket, rolled up and two bricks.

46:10

Progress Your Practice: Healthy Spine and Twists

The second class in progressing your practice series, this class is perfect for keeping your spine healthy with twists. 'You're as old as your spine' is the saying and there is no better way to keep your spine healthy than with plenty of twists and gentle movement of the spine. A perfect way to progress your practice and to keep healthy every day. You will need two bricks.

44:35

Progress Your Practice: Forward Folding Flow

The first in a progressing your practice series, great for those who have mastered the basic yoga poses but are looking to start to flow! The first class in this progressing your practice series is a fully rounded class, featuring some of the standing poses you'll have grown familiar with, but with a focus on folding forwards. Forward folds help to release hips and hamstrings - things which those of us who have seated work may struggle with. You will need a blanket, a strap and two blocks.
---
Join the Wellbeing Revolution
This is your yoga, your way.
Build a happier, healthier, more sustainable life.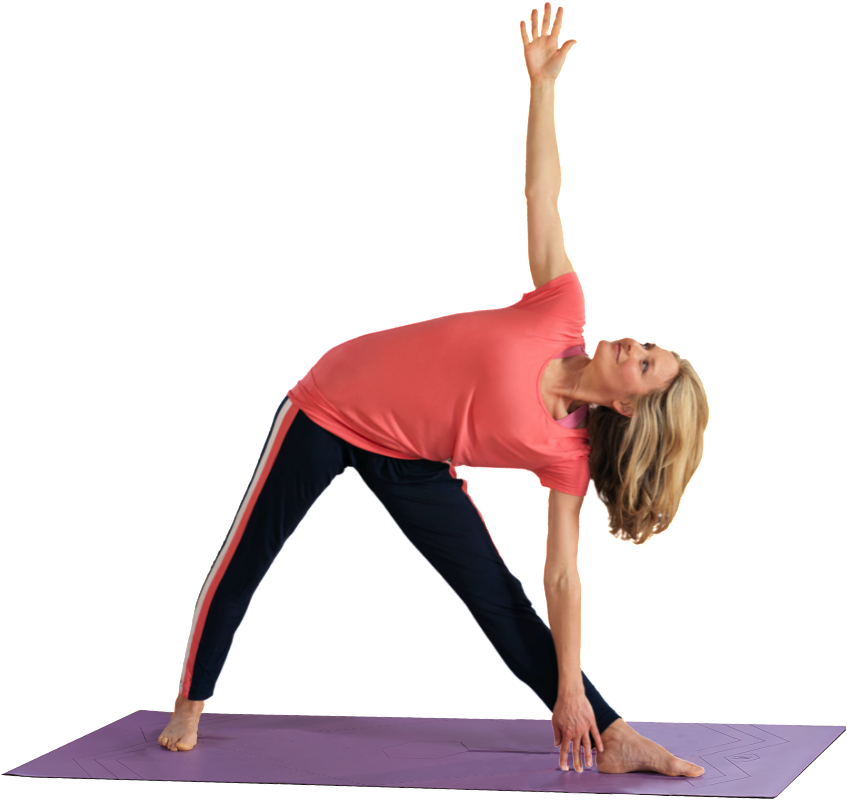 Then subscribe for £15.99 per month. Cancel anytime.