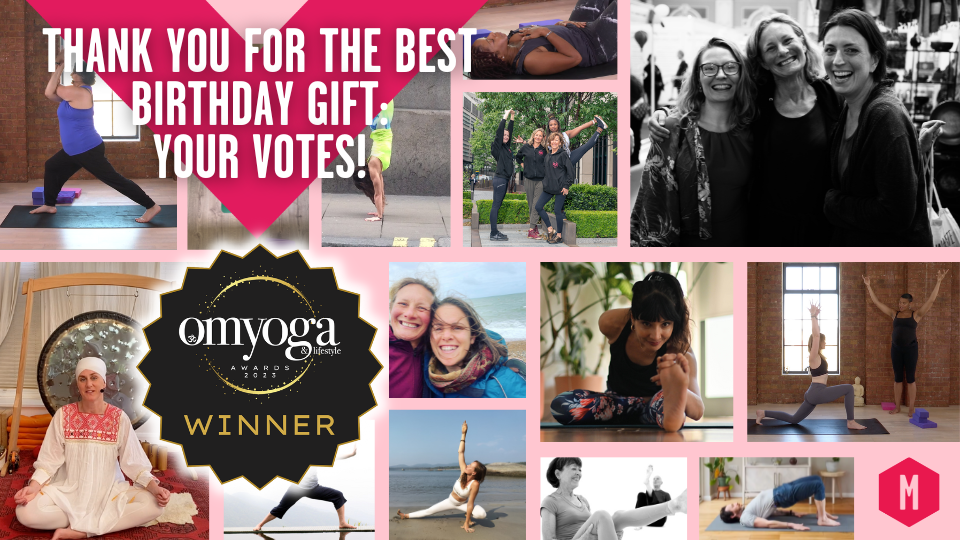 We're 10 years old this year!! WOW! What a birthday present to WIN FAVOURITE ONLINE YOGA PLATFORM OR APP 2023 AT THE OM YOGA SHOW.
It was the best birthday present to win 'Favourite Online Yoga Platform or app' at the Om Yoga show! I must say, I was pretty teary. It's been a real ride, and feels particularly auspicious as this week, 10 years ago, our very first subscribers finished their free 14-day trials and they became paying subscriptions. We were starting to get folks saying to us, via their credit cards, 'you know what, you only have 75 videos, but they're good! I'm happy to pay for this'. We're exactly the same price 10 years later, and we now have 1,700 videos plus TONS of other features, classes and new courses, like our super-poplar Menopause for Modern Life course.
---
Thank you for believing in me.
I'd love to thank all those who've been with us from the start. Thank YOU for believing in me, a single, queer Founder, with no marketing, sales or tech know-how whatsoever. I was just a bit of an optimist and on a mission to make the very best teachers accessible. I was (and still am) on a mission to create yoga classes for those going through challenging times, not just for mobile, young folks. My intention was to offer classes to whose who need yoga for getting through illness, injury, heartbreak and all the very human things we all go through.
---
Thank you to our community
And THANK YOU SOOOOO much to all of you, our community for supporting us each and every step of our journey. We're sometimes imperfect but we try our very, very best and have you, our community's back. That's just what it's like when we're run by and for yogis.
---
We Launched 10 years ago…
We launched, 10 years ago, at the OM Yoga Show alongside teacher Sally Parkes. Sally was one of our very first teachers, who I'm happy to say is still teaching with us and who's work has gone from strength to strength.
One of the reasons I founded MFML was to promote and highlight the work of some of the truly phenomenal teachers I'd been fortunate enough to work with in my time learning and teaching in London.
I knew that some teachers, (mind, this is just 2013!) were online, but generally, only teachers were online if they were particularly marketing savvy. I wanted folks to be able to find the very BEST teachers, those teachers' teachers, those who dedicated themselves to the practice. It seemed do be really unfair that you had to mostly go to London, and go to studios which often weren't welcoming or accessible, in my experience at that time. I found going to the yoga studio stressful, and that was as a skinny white woman.
So I simply thought how nice would it be for folks to be able to do the very best practices, with the very best teachers, but feeling comfortable, in their homes. I thought how nice it would be to be able to practice yoga in our pyjamas at a time that best fits our busy schedules.
---
My Personal Experience
I'd been through a really nasty car crash. So I knew from my personal experience that a feisty 90 minute vinyasa class wouldn't be possible for everyone, and it could even be harmful to many people. I was only in my thirties when I already knew the changes that could happen to a body, how illness and serious injury could change a body for life. Whereas in London at the time, most of the classes were fast vinyasa, assuming able bodies, strength, fitness and full range of motion. I knew from experience that this wasn't the best for many bodies. What is healthy for one body is damaging to another body and mind.
I knew that my little 'revolution', and it felt revolutionary at the time, was saying that the yoga class which is one size fits all, isn't for everyone!
I'd also suffered a tremendous heartbreak when my husband and partner of 16 years left me out of the blue. We'd been together since teenagers, so I felt like a limb had been amputated. Of course, like most people in this culture, my first reaction had been to numb myself. I didn't feel that I could get on the mat again, as it was too painful, too raw, when I was alone with myself I just cried. But eventually, a few months later, I found my yoga mat to be my place of solace. Sometimes, often, my practice would be just to be in childs pose and cry. My practice was raw, was painful, but the mat, in the safety of my home, became a place where I could connect to myself, to my heart and learn to be with myself.
My practice was raw, was painful, but the mat, in the safety of my home, became a place where I could connect to myself, to my heart and learn to be with myself.

Kat Farrants
---
Being comfortable at home meant I could listen to my heart
This was my second real 'revolution' in my yoga journey. I'd found that a lot of the western yoga I'd known for years as a teacher and a student in London felt that it was about 'disappearing'. But I realised that at home, I was comfortable enough to learn to journey inwards, to start to listen in deeply to my heart before and throughout my practice. I began to feel what my body and mind were telling me that I needed. For me, it was really hard to listen deeply to my body in the London studios and instead found myself judging myself and comparing myself or getting distracted by so many moving bodies. I also found myself wanting to do exactly what the teacher told me.
I found being able to practice at home, with the same really fantastic teachers simply liberating! It was liberating to be able to practice just for myself, doing the class that my body and mind needed. Focusing on my mental health, as much if not more than my physical health. It felt so liberating to know I didn't need the fancy outfit. I didn't need to waste time and money schlepping to the studio. I could do exactly the practice I needed when I needed it.
---
A shared vision – MFML
And that's what MFML has always been about. It's been here for me, and I'm so, so happy that I have thousands of other Movers who have joined me along the way. There are Movers from 30 other countries across the world, who share my vision of making yoga easy, and having the power to choose what's right for your body and mind each day and moment. Movers who share my value of being inclusive and of prioritising yoga that makes us feel good and healthy rather than being about achieving or proving anything.
---
One last thank you
Thank you SO SO much to our teachers and the community who have believed in me.
Let's keep challenging the status quo and listening to our hearts, our own, unique, best guide. And let's keep going for another decade, we'll be with you for all life's highs and lows.
Thank you SO much for voting for this one woman venture, for believing and trusting in me. Thank you so much to our teachers and the team for believing in my vision.
Finally a huge thank you to YOU, because without you, we simply wouldn't be here. Here's to the next decade of healthy, happy and sustainable practices
---
With all my love,
Kat x