Back and Shoulders › Catherine Annis
"You are only as old as your spine"
Goes the saying. It's really important for you to keep your spine moving so that it stays strong, healthy and flexible. But you knew that already. These videos are great if you have a desk job and don't move as much as you could, or if you already have stiff spine, shoulders or hips. Just remember to do the practices in these videos. Every day. We have got videos of different lengths here so you don't need to put your back out trying to fit it in your schedule.
We don't guarantee that you'll be ready to join the Chinese circus, but we think that your back will appreciate the extra loving you give it and will reward you with less pain. You'll start feeling that your life has some backbone, quite literally. This will lead to you making better decisions, possibly leading a life from a position of courage. You may start to feel your back is longer, you may start to sit up taller, you may start to notice when you slump or st... Show more
40:03

Unwind & Declutter

A simple, Scaravelli class which teaches us how yoga can help to empty us. This class is perfect if you're feeling busy, anxious or overwhelmed. Just as we create space and de-clutter our house, it's also useful to de-clutter our minds and bodies as you move towards stillness. This class is almost entirely supine, working with bridge position - just exploring the space in the pelvis, the spine and the shoulders, and stretching hamstrings, then we move into standing postures . You will need a strap and a blanket.

08:17

Release Tight Neck and Shoulders

A gentle class to release neck and shoulders. Perfect to take a short break during the day whilst at work to release any build up of tension.

48:44

Scaravelli Workshop: Shoulders and Upper Back

We all love a good shoulder massage. Join this workshop-style Scaravelli class to focus on creating more awareness in your upper back and shoulder area. Learn to relax the arms, let go of the shoulders, and find some more space and ease in your upper spine. You will need a bolster, two blocks and a strap.
53:54

The Psoas: A Workshop

The psoas muscles are among the deepest muscles in our bodies. They are involved in almost every movement - from walking and running to sitting, and throughout our yoga practice. However, we often find it difficult to consciously feel them, or even know where they are within us. Join this class to learn where they are and some simple approaches to help with accessing this key area, and give it time and space to release. Working the Psoas be helpful for those with lower back pain, or who are feeling tired and lacking in energy. You will need a bolster and a belt.

34:28

Lengthening the Spine

Walk taller with this work-shop style scaravelli yoga class with focus on the spine and how to lengthen the spine in our yoga practice. There is a division at the back of the waist - from this point the spine lengthens down towards our tail and feet, helping us feel grounded and balanced. When the body finds this connection, we are free to experience lightness rising up into the upper body. Our movements become more free and spacious. Discover the magical key to balance at our gravitational centre, and wake up your spine to wake up your body! Showing how to practice with real length in the spine in our everyday yoga poses. You will need a strap.

55:56

Live at Yoga Garden Party: Scaravelli-Inspired: The Intelligence of the Shoulder Blade

Find your body's inner intelligence. Explore the relationship between the shoulders, arms, ribs, upper spine and the breath. Learn how to soften through gentle, deliberate and focused subtle action. A subtle exploration into the shoulder socket. You may need a foam block. None of the movements made in this class are difficult, but the subtle movements are profound and can change the way you use your body in everyday life.
---
Join the Wellbeing Revolution
This is your yoga, your way.
Build a happier, healthier, more sustainable life.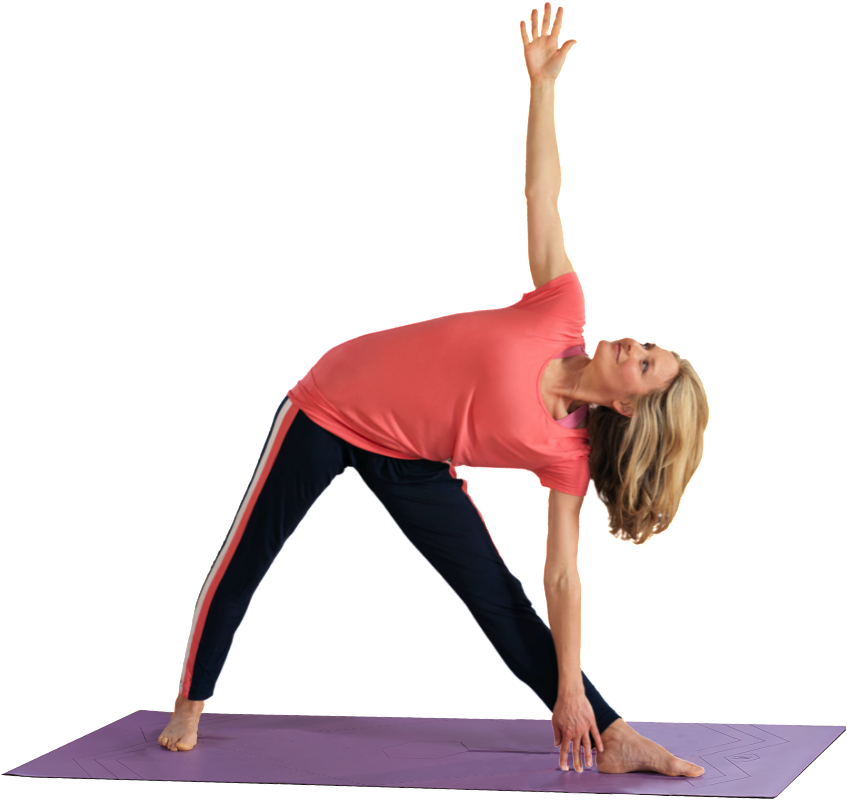 Then subscribe for £15.99 per month. Cancel anytime.