Back and Shoulders › Vanessa Michielon
"You are only as old as your spine"
Goes the saying. It's really important for you to keep your spine moving so that it stays strong, healthy and flexible. But you knew that already. These videos are great if you have a desk job and don't move as much as you could, or if you already have stiff spine, shoulders or hips. Just remember to do the practices in these videos. Every day. We have got videos of different lengths here so you don't need to put your back out trying to fit it in your schedule.
We don't guarantee that you'll be ready to join the Chinese circus, but we think that your back will appreciate the extra loving you give it and will reward you with less pain. You'll start feeling that your life has some backbone, quite literally. This will lead to you making better decisions, possibly leading a life from a position of courage. You may start to feel your back is longer, you may start to sit up taller, you may start to notice when you slump or st... Show more
58:51

Vinyasa Flow: Move With Awareness

An intermediate vinyasa flow which invites us to stay present and to notice without judgement any distractions we might encounter when moving on our mat, including the fear of failing or our need to achieve specific yoga pose goals. This yoga class is a comprehensive sequence which starts with a meditation and breath work practice, followed by a shoulder and chest opening warm up, then balances and twists, including fallen angel pose, to unlock your spine. You may need a block.

53:14

Vinyasa Flow: Release the Neck and Shoulders

This vinyasa flow yoga class invites us to let go of holding onto patterns that might create tightness in our chest. A great class for those who carry tension in the neck and shoulders, particularly from computer use; it will encourage the opening of the shoulders and the front of the body. Start with lovely chest, shoulder and neck releasing warm ups, the vinyasa flow then goes to explore different backbends creating length in the spine and challenging ourselves to approach our practice with an open and courageous mind.

45:50

Barre Workout: Strength, Core and Posture

This Barre class workout is all about maintaining length in the neck and whole spine even when practicing challenging movements. With a focus on shoulder stabilisation, the sequences will offer opportunities to strengthen the whole body while cultivating optimal posture. This is a great, full body workout and is perfect to work on posture whilst strengthening. You will need a chair or sturdy piece of furniture and possibly a small looped band, or a yoga strap.
40:00

Yoga for Stress Relief: Neck Release

When the muscles of our neck are chronically tight we are more likely to maintain our nervous system in a state of stress. On the contrary, when we allow them to soften, our body and mind can more easily shift into a calm state. This floor-based yoga flow is specifically designed to help you release tension from your neck and shoulders, so you can feel more spacious and relaxed. This class is perfect for when you're busy at work, when you're feeling overwhelmed, when you've been driving a lot or are feeling stressed. This calming yoga practice will help you create more space and relaxation in your neck and stabilise your shoulders as you move.

27:26

Pilates for Shoulder Stability and Neck Relaxation

A Pilates class for the shoulders and neck to build strength and mobility to help you find full range of movement to prevent injury. It will also help create more space and relaxation in your neck and stabilise your shoulders as you move. We will both clarify the upper body alignment of some common Pilates exercises (planks, shoulder bridges, the Roll up) and use an elastic band (or a sock!) to create deeper connection in the side body and upper back muscles, so that your neck and head can move more freely and without excess tension. A great class to refine technique, as well as for those of us who spend time at our desk or travelling.
---
Join the Wellbeing Revolution
This is your yoga, your way.
Build a happier, healthier, more sustainable life.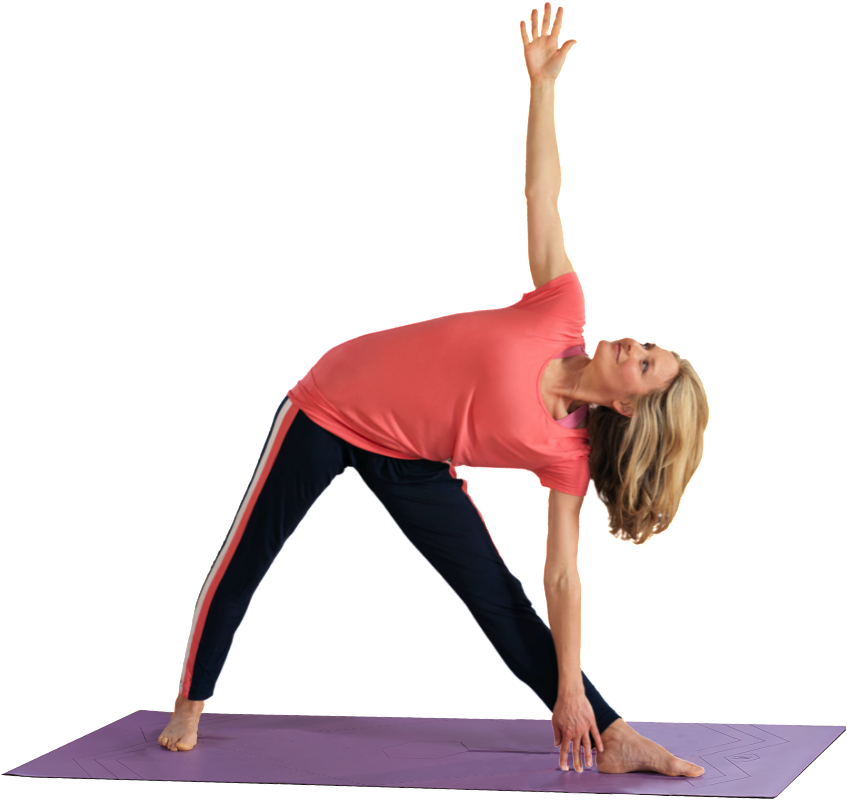 Then subscribe for £15.99 per month. Cancel anytime.