#MovementForModernLife + #MoveMoreLiveMore
Already have an account? Sign in
---
GET BACK TO YOUR MAT
If your yoga practice has lapsed, or you've never been able to build yoga into your daily routine, when is the best time to get back to the mat?  Now. January is the most popular time for making resolutions and you have extra support by knowing you are part of a group! Your body and mind will benefit from getting back to a movement routine but it can be hard to make yoga a habit. We understand; we really do. We understand the commitment and adjustment it can take to build in yoga around a busy life with work and family commitments. We have put this course together especially for you, selecting classes that you can readily fit into your day and selecting seasonal favourites to support you in making yoga a part of your routine.  Our tips will support you as you build yoga into your life everyday and here is a class from Mimi Kuo-Deemer to get you started. 
This two-week course is perfect for:
All Levels
Supports you in building a habit
12 classes
WHY GET BACK TO THE MAT IN JANUARY? 
In the depths of winter, we can all feel sluggish and it feels like an extra effort to get on the mat. Yet this is a great time to make yoga a habit. The start of a new year gives us an extra impetus to make healthier habits. The days are getting longer, and the holidays have most likely meant that you have had a pause in your regular routine. This shift in energy can give you extra impetus to recommit to yoga and to get an extra boost in forming new habits.  Traditionally in Ayurveda, the sister science to yoga, winter is dominated by heavy, dense, wet and stable qualities and the body can feel sluggish. The slower pace of the season gives you the time and space to make and stick to a schedule.  It is a good time to slow down in your yoga too and reflect the more introspective nature of the season, perhaps trying yin or restorative yoga, introducing meditation and maybe a slow mindful flow. Focussing on yourself and your wellbeing can feel soothing. By making your yoga match your mood, you are more likely to stick to it.
WHAT TO EXPECT 
We have selected 12 classes all under 30 minutes so that you can schedule this into your diary.  The classes in this course are accessible to all levels and include steadying, balancing and grounding classes which allow you to slow down and begin to form a habit. We have included different styles of yoga so you can explore what will work for you in the long term and we've included classes suitable for different times of the day, so you can experiment with what works best for you. By finding your sweet spot, you will find it easier to commit to yoga long-term.  
WHY LITTLE AND OFTEN?
Doing something little and often makes it easier. By committing to doing some yoga every day you are laying down a healthy new pattern and in the long term, you will find this is more effective than doing a two-hour class once a fortnight. Pushing yourself hard once will not support you in developing a daily discipline. By carving out time for yourself which you guard, you are also making sure that you are prioritising your wellbeing. You can also support yourself in making this habit by scheduling in your class just before or after you regularly do something so that your yoga becomes an extension of your other regular activity.  
HOW TO PRACTICE AT HOME AND FORM A HABIT THAT LASTS
We think that with a little planning, the rewards of doing yoga at home are so much richer because you do your yoga on your own terms. So here are our suggestions:  
Schedule in your yoga class
Make a Movelist
Set Your Alarm Clock a little earlier
Write it into your diary
Show up for your class - if you'd booked in at a studio, you'd turn up. Treat your class at home in the same way.
Find an accountability buddy and make sure they check in with you
If you really, honestly can't squeeze in half an hour for our suggested class, don't be hard on yourself. That's OK, but do pick a shorter class from our Under 10 Mins selection
The trick to forming a habit is not to miss a day, no matter how busy you are. Everyone can fit in under 10 minutes to take care of yourself.
Do a quick body and mind scan before and after your class. When you can feel the benefits from your practice, you'll be more likely to take the time to schedule it in for tomorrow.
Reward yourself
MAKE SPACE
Making it easier to get started also helps you to form a habit. You might want to find a space in your home that you can regularly do your yoga in. It doesn't have to be a dedicated space, but perhaps find somewhere uncluttered where you can easily roll out your yoga mat. You don't want to use your precious time, tidying your space.
LET GO OF EXPECTATIONS
Finally, Let go of your expectations: you will feel different each day. Accept what you find and use the class as an opportunity to connect with what is going on for yourself. Finally, remember the important thing is that you do yoga. You don't need a mat or special props or clothes. Use and adapt what you have at home.
---
WHAT ARE YOU WAITING FOR? 
Already have an account? Sign in
Why not challenge a friend or loved one to join you?  We want you to feel supported: Join our Movers' Facebook Group and let us know how you get on during the challenge and share your journey with us on social media using #MovementForModernLife + #MoveMoreLiveMore.
Your Classes
Top of the Morning Hatha
15:17 | Zephyr Wildman
A breath-centred mostly standing poses hatha yoga class in which we use our breath to restore, renew and revitalise us. Standing poses are great for gently strengthening us, and we use the breath to energise and invigorate the body. Perfect for creating a calm, vibrant start to the day. Thanks to Fabletics for their clothing.
Salutations To This Day
21:51 | Kristin Campbell
Start your day the right way with a beautiful slow-flow vinyasa yoga class with variations of Sun salutations to uplift and refresh your energy. A perfect morning yoga class, but great anytime you need an energy refresh!
Flow Towards Freedom: Bountiful Body
21:42 | Lucy McCarthy
A beautiful, well-round 20 minute flow yoga class to get you in your body finding joy from the simplicity of moving and breathing mindfully. Connect deeply to your body and the miracle that is it is with this wonderful, all-levels yoga class. You will need two bricks or blocks.
Detox, Breathe And Energise
16:15 | Lucy McCarthy
A breath-work (pranayama) and twisting class designed to get sluggish digestive systems working. Great to help detox, or eliminate stagnant energy as well as for improving the circulation, this class is great for simple explanations of breath-work techniques. Perfect for after travel or for during a cleansing/detox programme.
Be a Warrior Not a Worrier!
19:44 | Andrea Kwiatkowski
An alignment focused Hatha class based at the wall for standing poses, including the warrior poses. This class uses the wall, two yoga bricks and a strap to make sure that your standing poses are perfectly alighted for your body. The wall is used to give us information as to our alignment. This class is an invaluable tool for checking your standing pose alignment.
Grounding Meditation
11:11 | Lucy McCarthy
A grounding meditation which will give you extra support, an access to a little bit of happiness no matter what is going on in your life. A really beautiful visualisation meditation suitable for beginners and all of us. You just need to be seated upright in a comfortable position.
Feel Better Flow
27:20 | Adam Hocke
The perfect class for when you are not feeling your best and you want to move into a better feeling. This class is great for when your immunity levels are low, you might be recovering from illness or injury or you just feel you need to improve your self-confidence gently. This is a beautiful self-care practice of self-massage, breathwork, gentle movements, and a supported inversion. These gentle practices will stimulate your immune system and then the flow is very gentle, perfect for slower days. Additionally, we will work with the power of intention and visualisation to bring wellness to your physical body.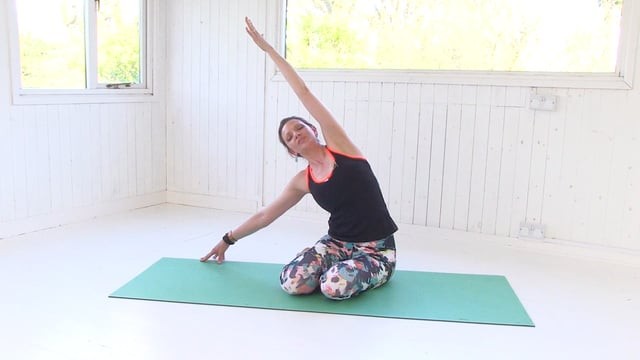 Gentle Floor Flow
15:19 | Zephyr Wildman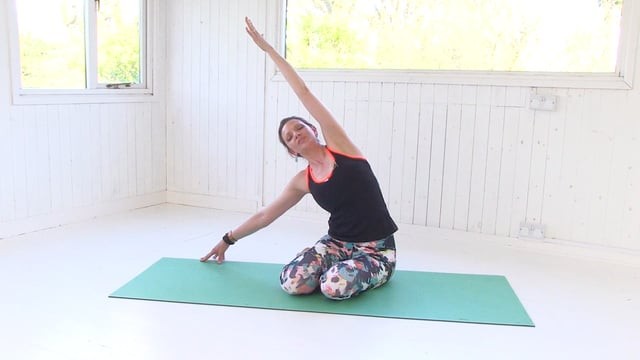 A gentle, floor based yoga flow to gently re-invigorate and re-energise your body. Ideal for after a long day when you'd like to re-energise gently, or if you'd like a gentle start to your day. Thanks to Fabletics for their clothing.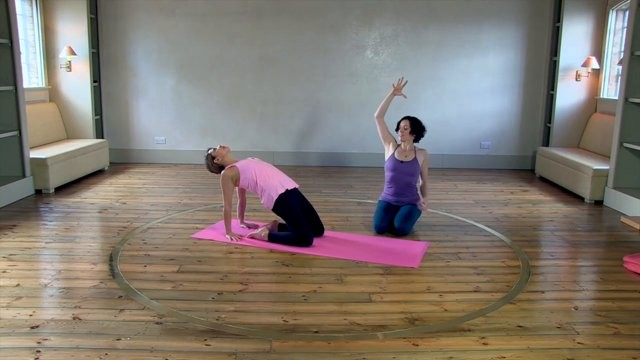 Dealing with Overwhelm
22:10 | Mollie McClelland Morris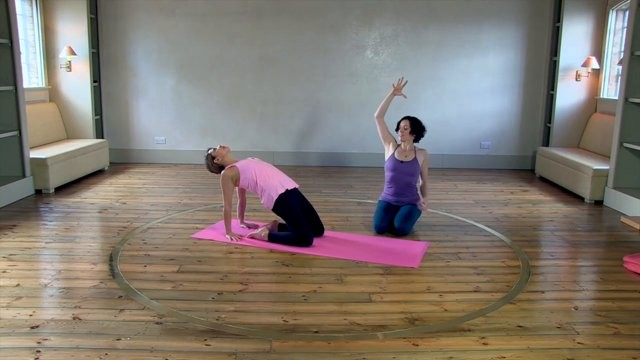 Mollie shows us some really useful bodywork practices for when life just gets too tough and stressful, to create some space in your body, your tissues and your head. She uses tapping, breathwork and yoga - some of which you can learn and use at your desk for when life moves too fast. Optional prop: a blanket.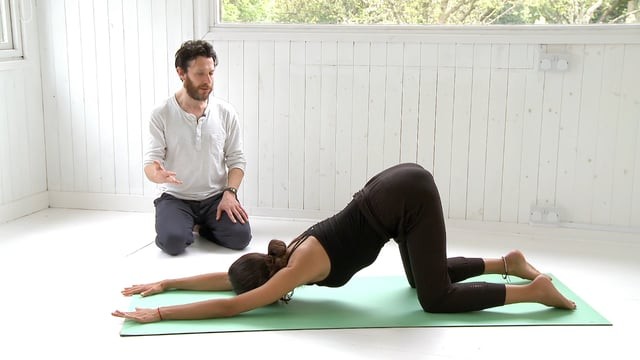 End of Day Recharge
19:00 | Clive Fogelman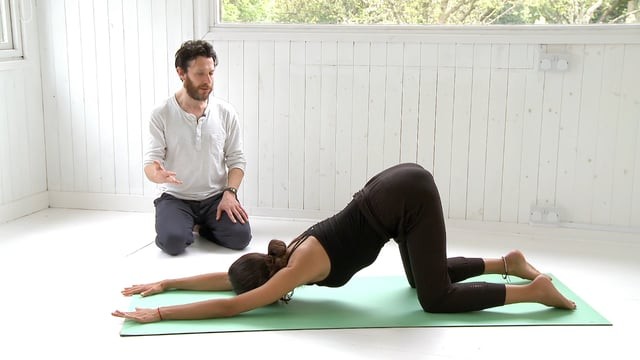 A great transition sequence to do at the end of a busy day if you've just got home from work or if you have been out doing lots of different things. Or if you want a little break during the day but don't have much time or space this might be just what you need. It starts from standing then we move to all fours and finish on the back.
Evening Floor Based Flow
22:01 | Jean Hall
A mindfully paced, gentle, floor-based vinyasa to calm and relax you ready for a peaceful evening. Stretch out your hamstrings, give yourself relaxing neck and shoulder moves, stretch your upper back and shoulders and move with your breath. You will need a strap.
| MoveTime | Teacher | Level |
| --- | --- | --- |
| 22:01 | Jean Hall | Beginners |
Stoking the Fire
29:21 | Joo Teoh
Great for mornings, if you're lethargic or you have cold feet or hands. A gently awakening qi-gong and yoga fusion class designed to raise the body heat if you're feeling cold or lethargic, perfect for getting moving on cold wintery mornings. Using a chair to increase accessibility. With fluid and heating qi gong poses to gently increase strength, stability and balance and yoga to increase flexibility. You will need a chair.
| MoveTime | Teacher | Level |
| --- | --- | --- |
| 29:21 | Joo Teoh | Beginners |