#MovementForModernLife + #MoveMoreLiveMore
Already have an account? Sign in
BE HERE, NOW 
As we move into a new phase of 'lockdown', we're offering you a second home yoga retreat. Yoga has always been a practice which invites us to find freedom and liberation and offers us the tools with which to do this. Now, is the perfect time to explore the challenge and the joy of being here now. We can feel discomfort at being constrained or we can welcome this discomfort as an invitation to explore what lies beneath our discomfort. This retreat will support you in developing and refining these tools over ten days with classes, talks on Yoga philosophy, live meditation classes, a live Q&A on alignment with Clive Fogelman, and live restorative yoga. Join us on a journey to discover what you need to 'Be Here Now' at a time when we are all asked to be and stay right here.
This retreat includes: 
An introduction to the yogic philosophy around what it means to 'Be Here, Now' on 2 May
A live online opening ceremony, intention setting and meditation for the retreat launch on 4 May 
A supportive community to share our home retreat and what it means to us to Be Here, Now
Suitable for all levels
10 classes
10 live daily talks, meditation, Q&A and restorative yoga


Your Classes
Yoga 3D
38:46 | Mimi Kuo-Deemer
Yoga is a practice about seeing more clearly. In Sankrit this is known as vidya – seeing through the avidya and maya – the misunderstandings, ignorance, delusions and illusions of the world to the truth of what is within and all around us. To support this process, I've developed a concept and practice called Yoga 3D. The Three D's stand for Decelerate (slow down when you're going unnecessarily fast); Deaggrevate (soften what is tight, tense or makes you aggrevated) and Disentangle (simply and disentangle from anything unnecessary complex). We'll theme these ideas through an active flow!
Quiet Mind, Deep Surrender
23:10 | Lucy McCarthy
A meditative, peace-inducing practice to calm the busy mind and drop deeply into the body. Perfect for when there is inner chaos and a tired body. With a focus on breath-work, there are some standing poses to help harmonise body and breath and create an inner calm. A great class for before bedtime or towards the end of the day to start a peaceful evening. You will need a block & eye-bag.
Self Care Flow
42:40 | Adam Hocke
This yoga class is perfect for when we feel anxious, stressed, overwhelmed or just have a busy mind. It is a gentle class for anytime; when you just feel that you need to be kind to yourself, when you are anxious and wired, or when you don't like what you're reading in the news. Come back to the reality of your body and breath with this flow practice. In this sequence we go through familiar and calming patterns of movement and spend time enjoying the internal life of postures through strengthening techniques that bring us more deeply into our bodies and the reality of the present moment. As we start feeling a bit better, we round it off with some self-massage and a powerful compassion meditation.
| MoveTime | Teacher | Level |
| --- | --- | --- |
| 42:40 | Adam Hocke | All Levels |
Flow and Restore 1
36:58 | Clive Fogelman
The perfect yoga class for when you need the benefit of an active flow and a restorative practice. It is ideal for when you're tired or overwhelmed and need to give yourself permission to restore, but the body and mind aren't ready just to be still and lie down. Start with a replenishing, gentle, flowing movement practice and then transition into nurturing restorative poses.You will need a bolster and a block. Check out Clive's second Flow & Restore class.
Energy Booster / Wake up your Qi
29:24 | Joo Teoh
Awaken your energy at any time in the day with this qi-gong practice. Perfect for starting the day, but also as an energy boost during a mid-morning slump is just perfect. This class uses various energy techniques and can be done on a chair as well as on a mat, so is perfect for all levels and physicalities. Wake up your qi with this short practice using qigong, yoga, breath-work and various energy techniques to give your energy a big boost. Remember to use the power of intention in this class, and in life! Keep a chair handy.
| MoveTime | Teacher | Level |
| --- | --- | --- |
| 29:24 | Joo Teoh | Beginners |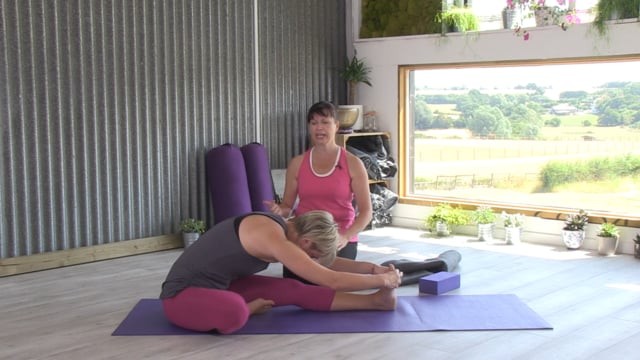 Inhale LET, exhale GO!
23:29 | Andrea Kwiatkowski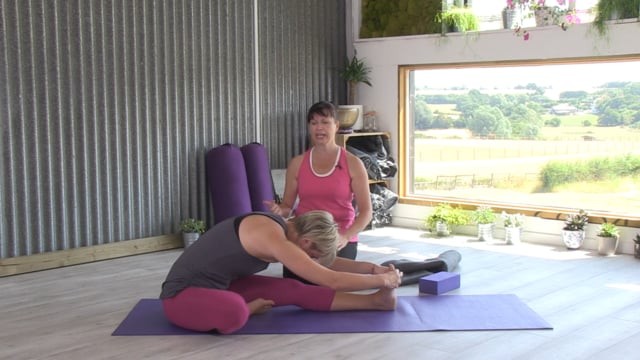 Starting with some flowing Jivamukti sun salutations, this calming yoga class then focuses on forward bending and hip opening. Learn how to let go as you move through these simple but effective postures. You will need a blanket, strap and a brick.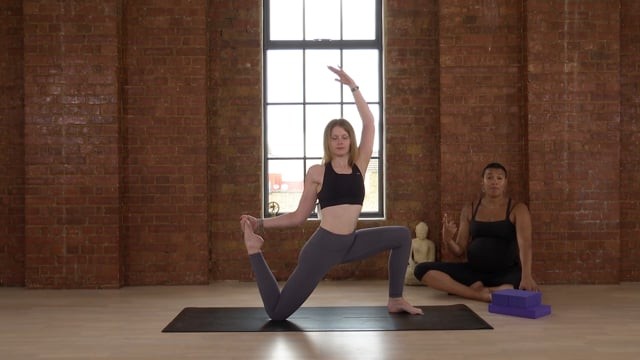 Yoga For Happiness (2): Gratitude
34:30 | Nikita Akilapa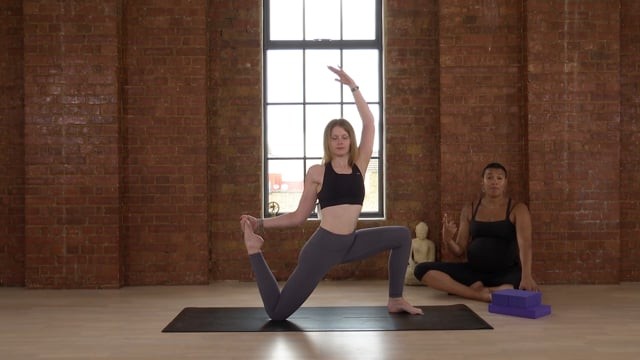 Adopting an attitude of gratitude is a game-changer for journeying into joy. Gratitude for your breath and your body; gratitude for your relationships and experiences; gratitude for who you are and what you bring to the world; gratitude for the opportunity to see yourself clearly and non judgementally. This beautifully paced and sequenced vinyasa flow yoga class has shoulder and upper back opening focus, great to release tight shoulders and stiffness in the upper back and perfect to open the heart to gratitude. This class is about shifting from our habitual responses. You will need two bricks.
Slow Flow With Yoga Philosophy
01:06:48 | Zephyr Wildman
A wonderfully balanced slow flow yoga class but with a difference. This class clearly explains how the philosophy of yoga can be integrated into the physical practice. This yoga class is steeped in the guidance of the ancient sage Patanjali, inspiring us to create an asana, how to practice and the results of practice. The goal is to deepen your meaning into the why and how, and to benefit from your dedicated absorption while practicing yoga. A wonderful full-body, all round practice.
Whole Body Awakening
29:39 | Jean Hall
If you're short for time, this yoga class is the perfect one for you. This class is a whole body awakening practice that is specifically focused on isolating, activating and mobilising the major joints and muscles in the body. This is a perfect all-rounded class in itself, but can also be used to warm up and prepare the body for dynamic and challenging poses.
| MoveTime | Teacher | Level |
| --- | --- | --- |
| 29:39 | Jean Hall | All Levels |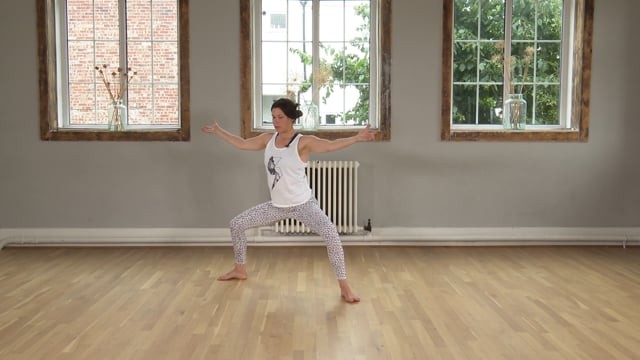 Get Off Your Mat
29:52 | Naomi Absalom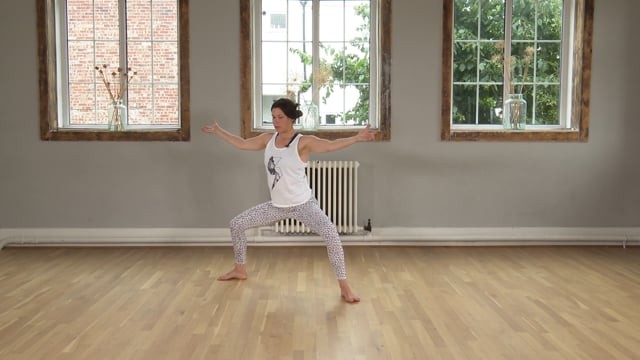 Changing a known route can shift us into the now. This yoga class is a somatic movement flow for those feeling the call to explore even further beyond the four corners of the mat. Great for teachers or those with a more intermediate practice. This is a sequence Naomi often shares in her teacher's practices. A creative, playful and challenging class.