#MovementForModernLife + #MoveMoreLiveMore
---
BUILD INNER STRENGTH AND FACE CHALLENGES WITH COURAGE
The word courage comes from the French word for heart and building courage is about developing our inner strength by changing our 'heartset'.  Our yoga practice can support us to develop physical, emotional, mental and spiritual courage. We need to draw on our strength and courage for all sorts of reasons: major changes in our lives; unexpected events that make us question our direction; illness amongst family and friends;  and even the stresses and strains of daily living can test us.
For Challenging Times
Strong, intermediate / advanced level classes
For building inner strength
Your Classes
Inner Strength 1
30:54 | Bridget Woods-Kramer
In this tutorial style class, Bridget shows us how to get ooodles of inner strength by activating mula bandha, the core and strengthening the pelvic floor. This yoga class shows correct pelvic alightment in warrior variations and then goes onto plenty of core strengtheners. You will need a block.
Inner Strength 2
26:00 | Bridget Woods-Kramer
In this yoga class Bridget continues the theme of giving inner strength and courage as well as a physically strong core through core strengthening asana, abdominal exercises as well as penty of breath practices to bring you into your core and to harness your courage. You will need a block.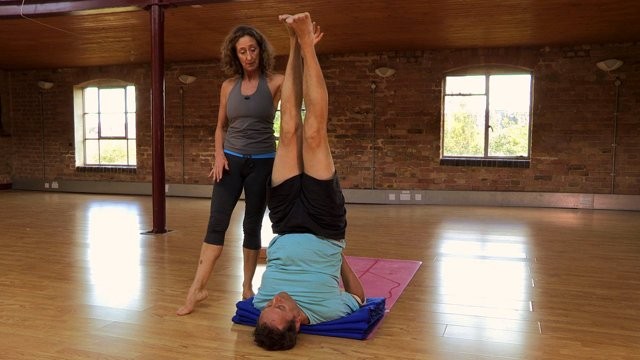 Inner Strength 3
13:29 | Bridget Woods-Kramer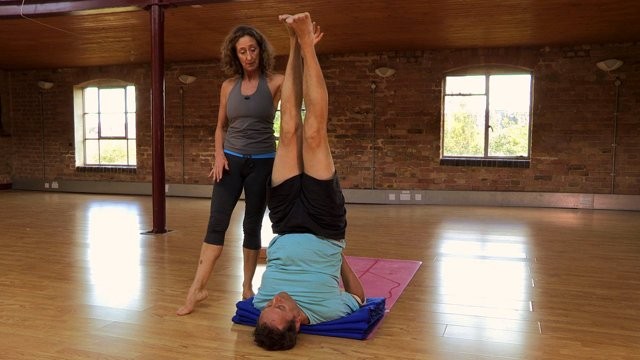 In this short tutorial style class Bridget shows us some simple exercises for harnessing inner strength, energy and vitality. The class focuses upon Jalandhara Bandha, which controls the flow of energy in the throat and blood vessels of the neck. This has the effect of stimulating the thyroid and parathyroid and balances the endocrine system. You will need a strap and some blankets for shoulderstand.
Feel The Fear & Do It Anyway: Jivamukti Inversions
49:29 | Andrea Kwiatkowski
A full, well-rounded Jivamukti yoga class, with a focus on inversions. Inversions are a super opportunity to change our perspecitve on life, and even take a look at the ways that we approach different things in life. This class will strengthen your core and shoulders to prepare your upper body for taking inversions. It doesn't matter what shape you make in the inversion and if you go upside down or not, it's all about how we look at situations. A great class for warming and strengthening, whether you're ready to go upside down or not. Remember to handle inversions with care, our egos can get in the way, so only work carefully and within your capabilities here! You will need a strap.
Opening The Shoulders
49:18 | Jean Hall
The focus of this creatively-sequenced intermediate vinyasa is to release holding and tightness around the shoulders and reconnect the shoulders blades deep into the back. With an open chest, the heart can breathe more fully again. Working with back lengthening and strengthening poses this will help to create support, ease and poise. You will need a blanket (or rolled up yoga mat), 2 foams blocks and a strap.
| MoveTime | Teacher | Level |
| --- | --- | --- |
| 49:18 | Jean Hall | Improvers |
Jivamukti - Face Your Fears
01:19:19 | Lizzie Reumont
A fiesty, fast-moving Jivamukti vinyasa class. This intermediate class will have you facing your fears and going for it. This hip-opening class works towards hanumanasana using the wall, so you'll be working on your hip flexors and flexibility in your hamstrings. You will need access to a wall to practice at and two bricks.
Twist And Stoke The Fire
01:06:33 | Andrea Kwiatkowski
A twisting Jivamukti class to build strength and courage. You will need a block. Not suitable for pregnant students / hernia / heart problems.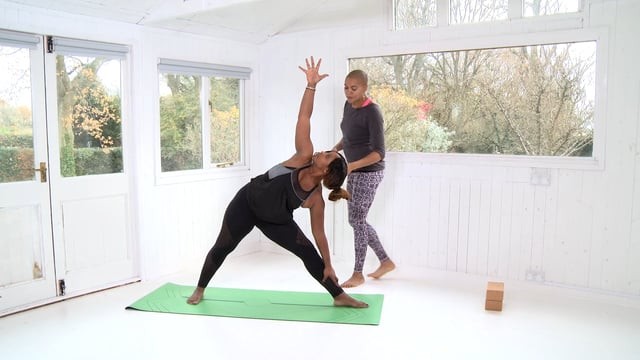 Ride the Rhythm Vinyasa
54:40 | Nikita Akilapa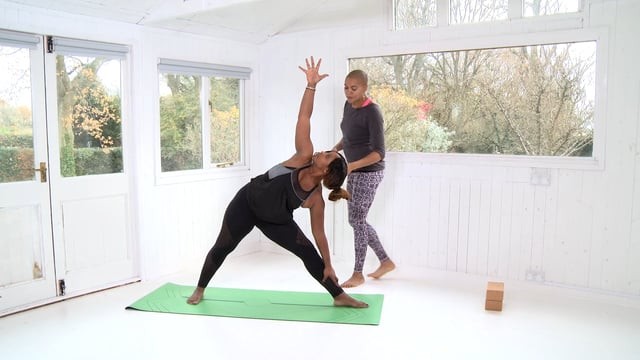 In this soulful, breath-based vinyasa class, we acknowledge the fluctuation of experience, sensation and energy within our practice and our lives. This flow honours the natural rhythm of things, moving slow and strong, with a playful exploration of (optional) inversions and arm balances. You'll need two bricks and a strap.
Heat Your Body, Cool Your Nervous System
28:08 | Leila Sadeghee
In this class, Leila shares her own practice which helps her to deal with living in the modern, urban world. How she pulls her awareness away from struggle and into ease. This is a meditative, heating practice to cool the nervous system and support the immune system. The class is a fast-flowing and core-focused Anusara-Inspired vinyasa flow ending with plenty of supine twists.
Big & Fearless Heart
52:58 | Naomi Absalom
Most of us have experienced fear of some kind and know that when we're in it's grip the ripples permeate all areas of our lives. Allowing fear to continue to have power over us keeps us firmly locked in cycles of fear, anxiety, low self esteem and so on. A big part of beginning to break down some of these patterns is actually providing space and time to experience our own vulnerability - sitting with the feelings and sensations which arise when we do so. This is a beautifully deep and transformative flow and part of Naomi's personal home practice. Expect plenty of backbending and as usual a lot of breath! You will need 2 blocks.
Yoga Nidra
25:37 | Sri Dharma Mittra
Filmed Live in London when Yoga Master Sri Dharma Mittra came to Indaba Yoga. Yoga Nidra is Yogic Sleep. This is a class for relaxing, rejeuvenation and supreme healing. Make sure you are comfortable, warm and lying down with a cover over your eyes, and this class will have your body as a magnet, drawing divine energy. Yoga Nidra is said to be equivalent to 2 hours quality rest, so heal and take care of your body in the best possible way with this Yoga Nidra class.