#MovementForModernLife + #MoveMoreLiveMore
Already have an account? Sign in
---
A JOURNEY OF SELF-ENQUIRY 
This third home yoga retreat from MFML invites you to embark on a journey of self-enquiry and reflect on the lessons you have learned about health, happiness and sustainability over the months of lockdown.  We have specially selected classes under 45 minutes so they can fit into your schedule as things slowly begin to open up. We've lined up a series of talks, meditations and reflections from MFML teachers to support you and offer practical ways to incorporate lessons learned into daily life.
Here's what you need to know: 
Retreat launches on 8 June 2020 with an introduction from Kat Farrants in the movers' group
10 classes under 45 minutes
Suitable for all levels
5 talks and discussion in the movers' group. Full details found in the shedule
Tips from Kat in movers' group 
Community Support within our friendly movers' group


Your Classes
Salutations To This Day
21:51 | Kristin Campbell
Start your day the right way with a beautiful slow-flow vinyasa yoga class with variations of Sun salutations to uplift and refresh your energy. A perfect morning yoga class, but great anytime you need an energy refresh!
Quick Fix Hatha
12:23 | Andrea Kwiatkowski
This hatha yoga class is a simple series of five yoga poses. If you have time for nothing else, this is the perfect class. All poses are lying down or seated and you'll need a timer. Take your time to get into each pose, pause the video and take long, smooth breaths. Enjoy the spaciousness in your spine and peace with nothing to look at and no instruction, just you in a guided self-practice. A great class if you if you have limited space and time for practicing yoga.
Functional Back Care: Slinky Spine
21:24 | Mollie McClelland Morris
A class to move and articulate the spine in unusual ways. This class will bring awareness to different spinal movements, and help you loosen up, and feel better in your spine. This standing up class can be used as a warm up for other practices, a tune up for your spine, or an energetic way to start your day. Mollie explains the anatomy of the spine, where you will find most movement in the spine and then explore your mobility, range of movement of the spine from standing. No mat or props needed - take these movements out to the park and integrate them into your daily movement practice to keep healthy, pain-free back and shoulders.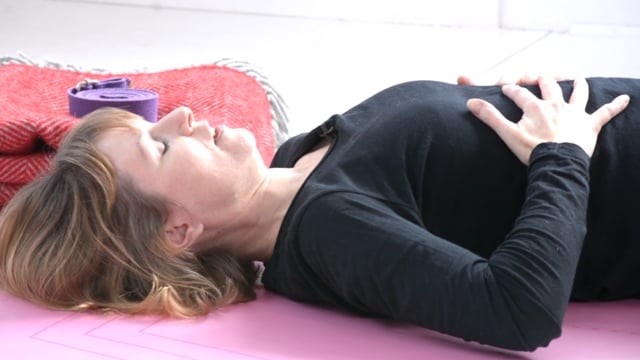 Unwind & Declutter
40:03 | Catherine Annis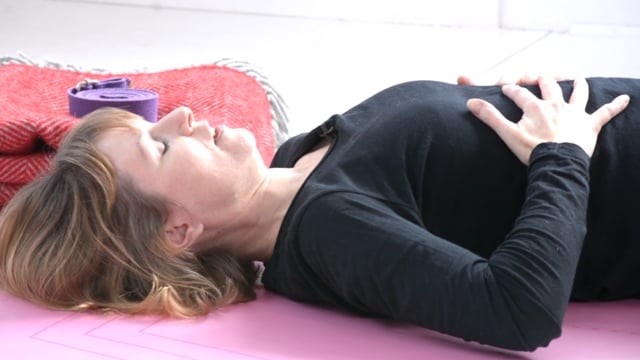 A simple, Scaravelli class which teaches us how yoga can help to empty us. This class is perfect if you're feeling busy, anxious or overwhelmed. Just as we create space and de-clutter our house, it's also useful to de-clutter our minds and bodies as you move towards stillness. This class is almost entirely supine, working with bridge position - just exploring the space in the pelvis, the spine and the shoulders, and stretching hamstrings, then we move into standing postures . You will need a strap and a blanket.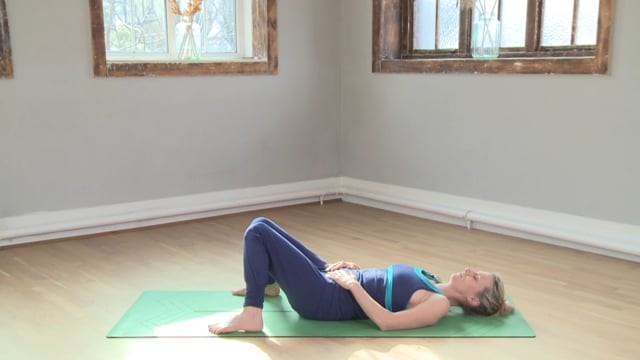 Relax Into The Feeling Body
41:00 | Kirsty Nazaré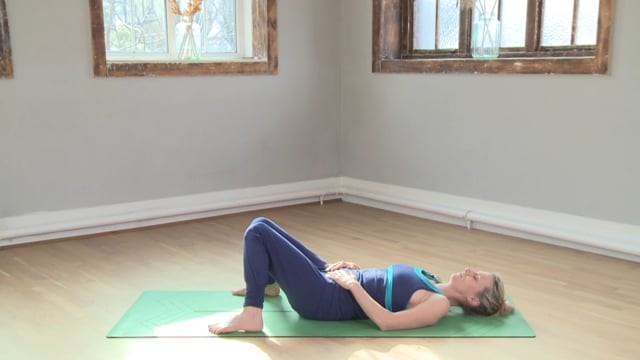 This gentle, nurturing yoga class is not about the shapes that you may make, but is about how you feel during the practice. Become sensitive to how you feel so that you can bespoke the class to exactly that. Expect plenty of relaxing supine poses and some releasing lunges before opening the chest, hips and relaxing. A perfect class for releasing after a tough day.
Go Slow Floor Flow
36:02 | Jean Hall
Beautiful slow sequence, all based on the floor so you can release bodily tension into gravity. Take your time, resist the temptation to speed up and enjoy this rejuvenating flow which is perfect for any time when you need to look after yourself and restore peace and serenity in your life.
| MoveTime | Teacher | Level |
| --- | --- | --- |
| 36:02 | Jean Hall | Improvers |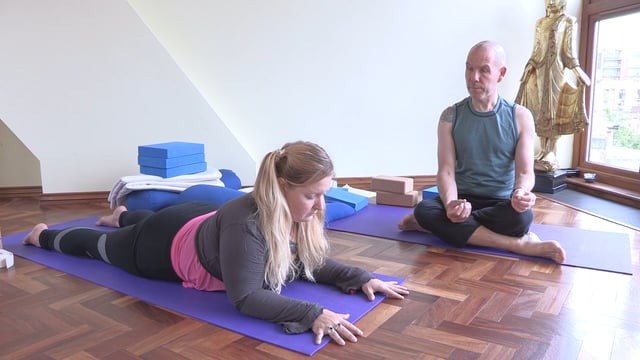 Issues And Tissues
33:54 | Norman Blair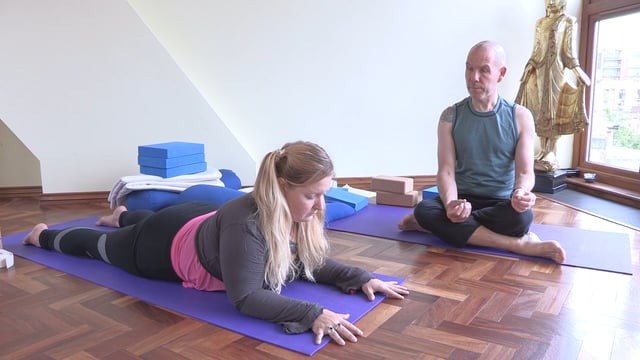 An opening of hips and an opening of heart through the practice of Yin yoga. You will need a bolster, two blocks and a sandbag and you may want other props if you have. This class focuses on the breath, with pranayama both before the Yin Yoga and afterwards. The stretches are held deeply and for a long while. You will be asked to settle, to feel deeply and to relax into discomfort. A great daily practice for dealing with life's challenges and deeply relaxing for before bed.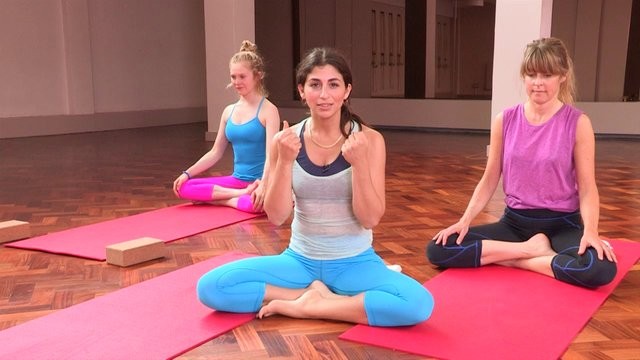 Radical Creativity
55:25 | Leila Sadeghee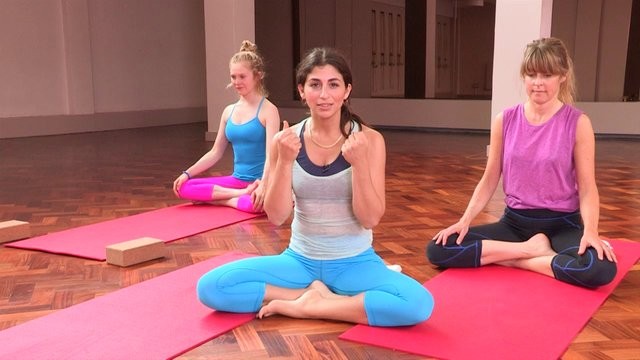 Need to clear some head space or find great new challenge on the mat? Leila throws in some criss-cross core work to scramble the brain, handstands and chanting to clear creative blocks and revitalise.
Liberate Your Hips: A Yin/Yang Flow
47:57 | Jonelle Lewis
This yoga class is a mix between yin and yang to increase mobility in the hip joint. Starting with yin yoga and Qigong, it then gently flows towards some more yang poses to work the inner and outer hips and to free up the spine for a lovely balanced way to liberate the whole body. This class is perfect for a slightly gentler morning choice or in the evening if you've spent the day seated or standing. Working with the water element, it brings softness and a sense of letting go. You will need two bricks and a strap.
Yoga Nidra with Dan
32:54 | Daniel Peppiatt
Yoga Nidra: A half hour guided yoga nidra, with an emphasis on connection to the breath, grounding in the physical body and body based visualisation.