#MovementForModernLife + #MoveMoreLiveMore
Already have an account? Sign in
---
A YOGA MIXTAPE
The lexicon of yoga styles can feel bewildering: Vinyasa, Forrest, Yin, Restorative, Ashtanga, Kundalini? Which one to pick? What are they all? Can't decide which style might be your thing? Think of this course as a mixtape or selection box. In two weeks you can sample the best of the yoga styles we offer. Perhaps you'll discover something new or get to try out the style you've been flirting with but never dared to try. We have specially selected accessible, all level classes in 14 styles. We love them all and hope that you'll enjoy exploring this selection. Let us know if you discover any new favourites. This course is: 
All levels including beginners but requires physical mobility
14 classes
Offers variety
Great as a taster
Your Classes
Hold That Pose!
40:09 | Clive Fogelman
A yoga class of standing poses, these are the kind of poses that you will encounter during a vinyasa or faster moving hatha yoga class, but in today's practice you'll hold for longer than usual. This is ideal if you're getting to know the poses, so you don't want to hurry through poses, or if you prefer a deeper yoga class where less is more.This class is entirely wrist and sun-salutation free, perfect for those recovering from wrist and shoulder injuries.
Morning Reset Flow
32:36 | Adam Hocke
Start your day in the right way with this simple, down to earth vinyasa flow yoga class. Gentle yogic stretching and strengthening exercises open your body and mind for the day. Start your day with energy and focus with this all-around flow practice. This all-round yoga class includes a bit of everything everything (including sun salutations, half-moon, and crow postures) and focus on generating positive intention through breath. For all levels.
Variation on Ashtanga Primary Series
27:43 | Jean Hall
Following the basic underlying pattern sequence of the primary series but offered here with a gentle and modified approach so it's accessible to all abilities and energy levels. You will need a strap, 2 foam blocks or a cushion, a chair and the wall.
| MoveTime | Teacher | Level |
| --- | --- | --- |
| 27:43 | Jean Hall | Beginners |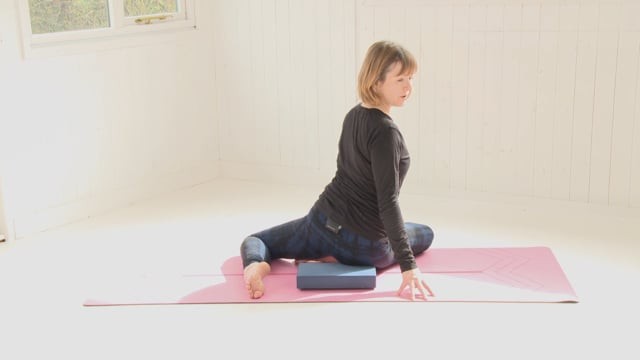 Scaravelli Style Pelvic Balance Workshop
46:29 | Catherine Annis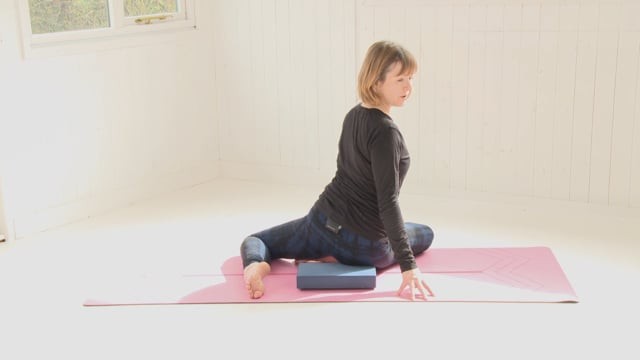 A beautiful Scaravelli workshop style yoga class, for you to deepen your practice, your knowledge and to increase your body awareness. This class focuses on finding balance in the hip and pelvic area. Not so much a movement yoga class, more an exercise in developing sensitivity to, and finding balance and stability in your pelvis, hips and sacrum with very subtle, small movements and exercises in weight distribution.
Forrest Yoga: Release & Transform
17:20 | Ana Forrest & Jose Calarco
Forrest Yoga's creatrix Ana Forrest introduces a revolutionary new way to move. She shows the Forrest yoga methods of releasing tension in the neck and shoulders, soothing stressed minds, building core strength and improving lower back strength. All in this short practice. Curious? We were and were blown away with Ana's sequence.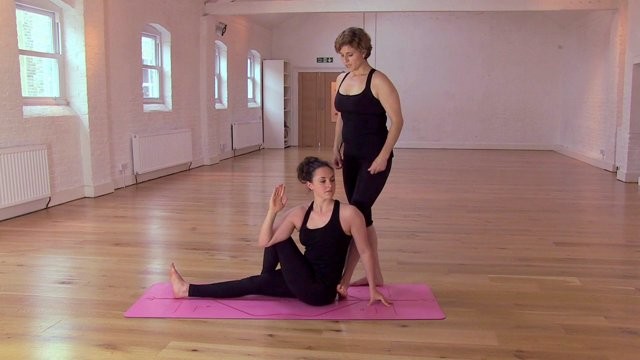 The Magic Ten
12:30 | Lizzie Reumont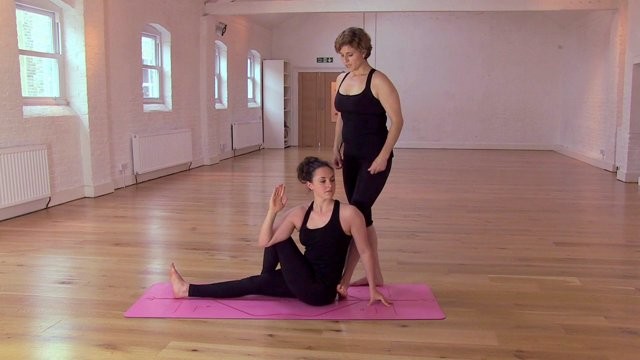 The Magic Ten are a Ten minute practice of key poses to get you moving if you have only 10 minutes. Great for getting you going in the morning. It's very simple, 10 minutes, 10 poses, 10 breaths in each including a handstand which you may need to practice against a wall. These will get you moving beautifully when you've no time for anything else.
Calming and Centring
21:09 | Norman Blair
Gentle and quiet, calm and centered: the possibilities of Yin yoga are an appreciation of the gift of aliveness, just as we are. This class is gentle, calm and centred, featuring only a few poses, but with long, mindful holds, you'll find this class perfect for gently opening the body, and calming and centering the mind.
Supporting Anxiety
01:01:00 | Adrianna Zaccardi
Anxiety, to various degrees, can be part of the human experience more frequently than we would like. You may practice this at any time of the day that feels best for you, knowing that this 1 hour long practice includes several poses that help soothe and support your nervous system without feeling overly exposed. I will be holding the space with you for the entire practice. It must be mentioned that this sequence is not a substitute for any professional support you may need. If your anxiety is at a point that is too much for you, then please seek additional support.
Qigong Flow
23:32 | Mimi Kuo-Deemer
This qigong flow practice starts with some warmups for the joints, cultivation of qi between the hands, and then moves into what we think of as "water salutations" – fluid movements that feel like the equivalent of yoga's sun salutations. It's a practice that warms the body, actively stimulates, guides and moves the qi, and helps to quiet the mind. Enjoy!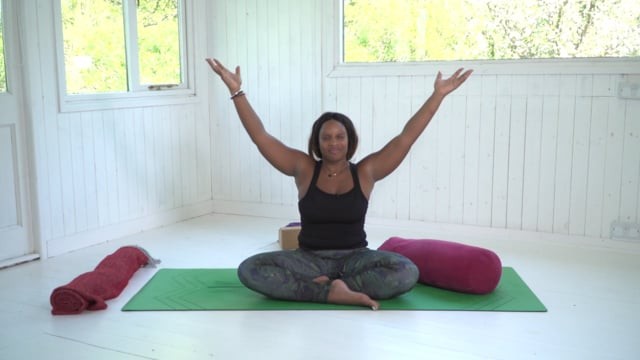 Evening Yin/Yang Flow
37:16 | Jonelle Lewis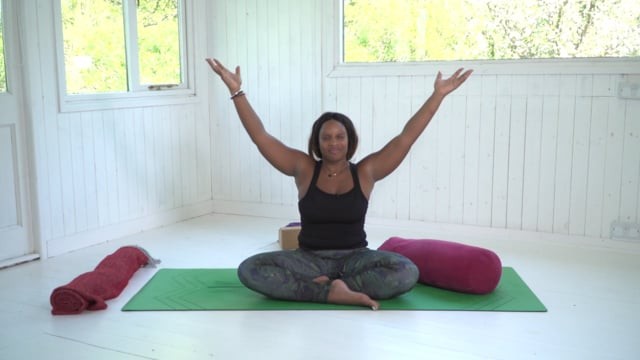 A peaceful Yin/Yang flow to wind down and relax for the end of the day. With some spinal rolling and freeing, some poses from QiGong, some restorative and Yin poses, this fusion yoga class is a perfect way to wind down and relax at the end of the day, or for whenever you need to calm, nourish and restore yourself. The perfect self-care solution to our overwhelmed lives. You will need a bolster (or pillows), a blanket, 2 yoga bricks and a foam block and a strap.
Kundalini Kriya
55:04 | Kiranjot
A kriya is a specific sequence of postures or actions for a specific purpose. I like to call them recipes, each step works in turn to create a specific effect for your body, mind and spirit. There are hundreds of Kundalini Kriyas, this one is called the Kriya for Elevation. It is a simple practice involving lots of flexing the spine, stretching of the legs and stimulating breath of fire. The practice finishes with a more challenge held meditation Sat Kriya which is a key practice in kundalini Yoga. It encourages circulation of panic life force through all the chakras. It's a great practice to help relieve symptoms of depression. This sequence has breath of fire to begin with so please watch my introduction to Kundalini Yoga if this is a new practice for you or you haven't quite mastered it yet. Tune in to this traditional Kundalini yoga class or Kriya, as they are known in the Kundalini tradition. This full Kundalini yoga class involves chanting, mudra and physical hatha yoga poses and a beautiful, long Savasana to finish.
| MoveTime | Teacher | Level |
| --- | --- | --- |
| 55:04 | Kiranjot | All Levels |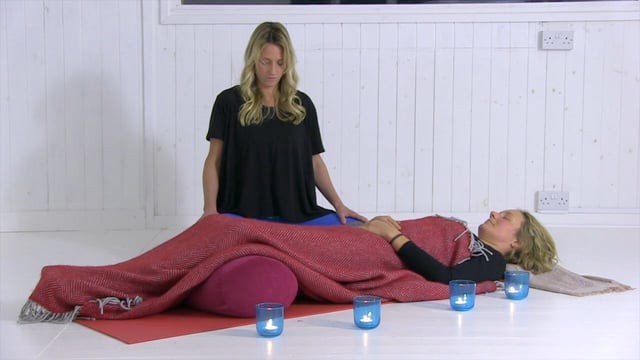 Embrace Your Essence (7): Receive
23:50 | Kirsty Norton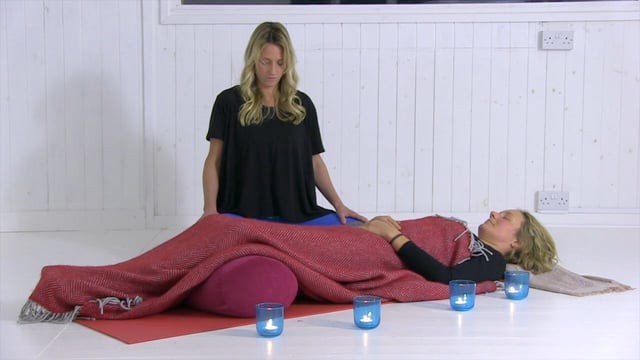 A beautiful yoga nidra practice for whenever life is demanding a lot! When you allow yourself to be held and cherished you gain clarity, so allow yourself to truly surrender into this sweet, healing practice. The effect of this class will leave you feeling peaceful, clear and spacious. You will need: Bolster, blankets x 3-4, eye pillow, belt.
Start The Day
13:57 | Alexander Filmer-Lorch
Get ready to meet the day with this wonderful meditation and inner visualisation. Fill every atom of your being with the quality of the morning sun, allowing you to lift your emotions to the highest level and fully embrace your day. Thanks to Flow Tunbridge Wells for providing this beautiful location for filming.
Mandala Salutations: Twists & Core
26:48 | Katarina Rayburn
This is a feisty, swift-moving mandala-inspired sun salutation based vinyasa yoga class. If you only have a spare half hour, it's a sure and fast way to get you flowing and sweating creatively. This flow focuses on twists and core stability; it is the espresso of morning practices with plenty of core work and some strong moves. Expect lots of lovely twists, twisted lunges and twisted half moons and inversions. This is a Mandala journey, so you will be moving 360 degrees around your mat, so perhaps watch the class first to find out where Katarina takes you, or listen intently, as you won't always be able to see the screen. This change of perspective is a perfect way to change the way you look at life, getting insight from new ways of seeing things. The class focuses on twisting and rinsing out the body; igniting Agni (internal fire), strengthening our core and activating Manipura chakra, our source of willpower and transformation, this class is tough, fast and fun. We recommend you do a warming up practice and a relaxation practice afterwards, but this one is the pure-flow for those who just need to move! You will need two bricks.