A sparkly fir cone is one of the easiest homemade decorations ever. Make them truly beautiful or get some kids involved for imperfect but super cute results.
Step 1: Go for a winter walk near some pine trees and collect a bag of fir cones. Snow optional!
Step 2: Smother the cones in glue and glitter.
HINT: If you don't like mess, glitter paint works just as well.
Step 3: Use strong glue to attach a length of Christmassy ribbon.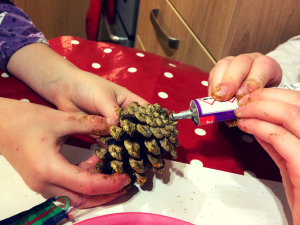 Step 4: Tie the ribbon into a bow and that's it!
Such fun to make and so cute hanging on your tree.