Why and what do we choose to remember and honour? Does yoga have a role to play in remembrance? What happens when we stop listening to our body and use it like a physical, blunt tool? How does yoga support recovery from trauma?
After spending over a decade as a Royal Marine including serving in Afghanistan, David (Manos) Venus encountered political scientist Audrey Reeves through their commitment to yoga. David and Audrey share an interest in the relationship between yoga, conflict and peace and discuss which tools most effectively support healing. For both of them, yoga offers its own way of relating to the past, including painful pasts. The practice of yoga allows you to connect to traces of past events by noticing how they manifest as sensations in the body. By practicing yoga, you start noticing how those sensations change over time and how the practice of conscious breathing and moving helps you build more peaceful relationships with those evolving sensations. This post is based on a conversation between Audrey and David.
David and Physical Strength
Like many boys David Venus was always drawn to physical strength. His heroes were old adventurers: Ernest Shackleton and Robert Scott conquering the South Pole; his great uncle's naval exploits and his own father's military service in Kenya during the Mau Mau uprising. Family memorabilia stored in old tobacco tins shone with courage and layered with the exotic: old coins, rattled up against medals and black and white photos revealed a younger version of his father in a hot place. It was the very stuff of boys' own adventure. At the age of seventeen David joined the Royal Marines Reserve. This made perfect sense for a working class lad from Newcastle. Physical strength spoke volumes to the young David. The body was something to tame not something that could be used to communicate and express emotion.
Yoga and recovering a sense of self
David left the military in 2008 and continued to pursue the physical. He moved to Canada and pursued ice climbing mountaineering and taught Telemark skiing. He realised, though that something was not quite right. David acknowledges that he suffered from mental health issues, "Following a series of personal crises and some difficulty finding my place after leaving the military, things came crashing down around me. I was an angrier, less pleasant person following Afghanistan and inevitably my marriage broke down.
In the last few weeks of living together, I would leave the bed in the middle of the night and go outside to move a huge boulder. Every night, I would spend a few hours moving it a few hundred yards. I was becoming the rock – stable, resolute – and learning its ancient wisdom. Eventually I did not need to flagellate myself by carrying the rock. I was able to just sit on it. A meditation, if you like."
Yoga and political study
In Montreal, Audrey Reeves grew up conversant with the ways of the body: she danced as a child, took up yoga at the age of 14 and trained professionally at the Conservatoire de Danse de Montréal. In 2006, Audrey stopped dancing and practicing yoga. She wanted to dedicate herself as a student of Political Science. She believed that movement practices had no place in serious political study.
"I wanted to dedicate myself to understanding international conflict and peace. I enjoyed my studies but was not very happy. It took me two years to realize that I was badly missing dance and yoga, and that I should not have to choose between training my mind and training my body! I took up dance and yoga again during my graduate studies. During my doctoral studies I realized the role that movement plays in perceiving how the transnational politics of conflict and peace is radically embodied. It is lived and expressed not only through hearts and minds but in the flesh. Since then this is what I focus on in my research. I pursue this work at Virginia Tech (USA). I am delighted that I am a part of an interdisciplinary program (ASPECT) that gives me the freedom to do this research."
Audrey's husband, Chris is also an ex Royal Marine and was recovering from injury whilst Audrey was participating in yoga training. Yoga teacher Jambo Truong, suggested to Audrey that she meet with David. The following is the transcript of part of a conversation between Audrey and David about yoga, trauma, embodiment and recovery. Most of the words are David's in response to Audrey's interview.
Yoga and Recovery
"Yoga had never been on my radar as anything other than a rather passive form of exercise. After a period of soul-searching, I searched online for local yoga classes and found Jambo Truong. For a few years, I did a lot of healing with Jambo. Jambo performed powerful ceremonies like the death meditation. He also did bodywork. He got into my jaw and I burst into tears. Something had been stored there that I had been holding on to, and it felt so good to let that go. That was my first encounter with the notion that mind and body are not as separate as we imagine."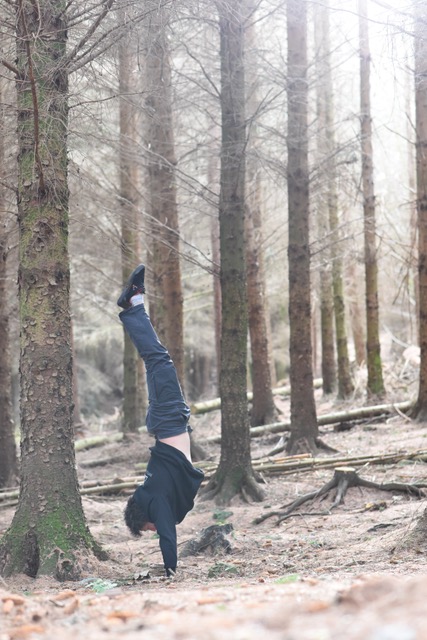 Stored in the Body
"A fear response was stored in my jaw. Being in survival mode for a long time makes jaw clenching stronger and stronger, and it becomes your norm. Perhaps it is a fight or flight reflex. It is harder to break a clenched jaw than a relaxed one. I see it a lot in clients. It is the first place I want to massage, to give them some ease."
Teaching [ex] military personnel
Military training is designed to make personnel "comfortable with being uncomfortable" Conflict situations require that the body is desensitised to natural desires and responses. In the military, in active service it is normal to go without food or drink, to survive in extreme conditions, to bear physical injury and obey orders that feel counter-intuitive. David explains: "These necessitate and foster the ability to numb out bodily sensations. The resulting disconnection of mind and body leads to curious phenomena, such as frequent bed-wetting. Of course, alcohol has a lot to answer for, but I have never experienced this to the same degree with any other group of people. I also wonder whether people with a military background have poorer interoception – the capacity to assess and feel sensations and emotions inside your own body."
David's classes are accessible. He modifies his use of language and also the pace of his classes. "The language needs to be earthy and grounded in reality as understood by students. 'Come into a comfortable cross-legged position' is a reasonable request for yogis, but an oxymoron to a large percentage of (ex) military personnel. In people with a military background, muscles are not short and stiff [as in most civilians], but restricted through high tone, high central nervous system activity, and a heightened readiness to respond. These overactive short muscles require an engagement of the nervous system through gentle ramping protocols, and not vigorous stretching. My warm-ups are longer and gradual, with limbering patterns that progressively increase mobility, and breathing exercises that calm the nervous system."
Towards Recovery
David has thought about what is required to transition from being in a brutalising space to civilian life: "[Post-Deployment decompression] would be similar to a 'Forrest yoga' teacher training: Six hours of yoga a day, sweat lodges, ceremonies. Decompression needs to be full on. You cannot bring wartime experiences and trauma back to a civilian population. Soldiers have demons to confront, demons that may haunt them for the rest of their lives. We need to take their condition seriously."
The Stone-Carriers
"I am now arriving at a place where I can reintegrate the military part of my life. When in collapse, people need someone to support their breath for them." David has identified the difficulty that men have in talking openly and freely about their mental health. David has devised a pilgrimage where men learn to ask for help and support through the embodied experience of carrying a hundred kilogram stone but with a community to offer help and support.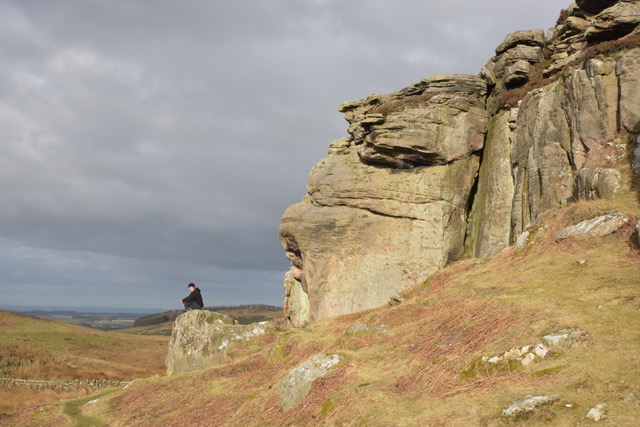 Yoga and Power
For Audrey, the insights that David throws on the issues of authority, and power are revealing. "They illuminate the embodied dimension of military lives and afterlives. This feels deeply innovative to me, both as a yoga practitioner and a scholar. I am most intrigued by David's idea that the yoga as a ritual and embodied practice can be a force for peace. Based in lived human experience, David's suggestion that yoga is a force for peace is compelling to me as a social researcher. It is more resonant than similar claims based on merely philosophical grounds or individualized psychological perspectives."
Yoga and Remembrance
David's story serves as a powerful reminder of the role of the body on our minds. He shows how, by listening to the body we can find deeper peace. David and Audrey feel that yoga offers a framework within which to explore traditional notions of masculinity but also of the military as an institution. This then becomes a space within which to reconstruct their identity so it makes more space for empathy for themselves and for others. It is ultimately through finding community, asking for help and re-imagining what it means to be physical that remembrance becomes recovery. As David says: ""yoga, as a ritual (a practice) leads to a feeling (sensory) sense of inhabiting this world…and feeling 'others' suffering is much more powerful (more immediate), than thinking or imagining their suffering, which as a result is more likely to lead to peaceful solutions. As an aside, and pure conjecture, it may be this shift is more pronounced in men who have had little inherent reason to connect to their bodies' inner workings prior to yoga or a similar embodied practice."
---
About David (Manos) Venus and Audrey Reeves
David helps all sort of people to achieve well-being. He does this through working with the breath. He explores the relationship with breath and movement, often in simple ways. Watch a short film to find out more about The Stone Carriers.
Audrey Reeves is a social researcher who takes an embodied and affective approach to the study of security politics. Rooted in movement arts and practices, Dr Reeves explores the inter-section of gender, feminism, world politics, embodiment, conflict and peace. You can read a full transcript of Audrey's interview of David here.