The season seems to have arrived. The sudden cold weather seems to have hailed an onset of colds, flu and plain old run down yogis. The best cold remedies are those that support your entire immune system. Read on for my Seven tips for how to deal with colds.
1. Keep Up the Golden Paste
I'm a massive fan of Golden Paste daily for me and my dogs. The mix of turmeric, black paper and coconut oil is said to be a wonder-cure for everything from fever, to arthritus, to IBS, to cancer.
I'm not sure about these kinds of claims, but I do know that Tumeric, when 'activated' with these ingredients has great anti-inflammatory and anti-oxidant properties. It is said to relieve swelling and pain and is fantastic for coughs and colds.
To make the turmeric paste:
Take 1/4 cup organic turmeric powder and add 1/2 cup of water.
Combine both and put on a medium heat for around 7 minutes until a thick paste forms.
If the mixture gets too dry, add a little more water.
Then add around 1/2 cup of organic coconut oil and
2 tablespoons of freshly ground black pepper.
Take this mixture off the heat and allow it to cool before putting in a glass container and storing in the fridge.
I take a spoonful of this every day. It's really delicious in almond or rice milk with honey and cinnamon, and in the rare event of having a cold, I up the dose.
My dogs have a spoonful of this in their food everyday, but that's another blog post! My Golden Milk joins me on the yoga mat as I practice. Yummy!
2. A spoonful of Apple Cider Vinegar
Just brilliant for sore throats, apple cider vinegar is another 'miracle' food, renowned for so many health benefits.
But one thing it does do is zap germs, so if you have a sore throat, the acidic environment vinegar creates will help to zap the germs in your throat.
3. A Hot Bath
Yes, we all know that a hot bath will make us feel so much better.
But especially when you've got a cold, sometimes you can't be bothered.
Well, bother!
It'll help your aches and pains, especially when combined with some Epsom Salts, or Himalyan Salt.
4. Restorative Yoga
When you're feeling achy, there's nothing better than putting on your PJ's at the end of the day and flopping over bolsters and giving yourself some great big deep breaths as you restore your body and mind.
5. Keep Joints Mobile
When you feel like you're seizing up, it's really good to just very gently mobilise your joints, which will keep the blood flow and circulation.
6. Just Say 'No'
Those little projects that you think you'll be able to do from a laptop in bed? Tiny little favours and things to just help folks out.
Well, just say no.
It really will help you if you can de-stress and relax as much as possible. Take the opportunity to really tune out, it's what your body is needing right now.
7. Yoga Nidra
The yoga practice which is, i think, mother of all yoga practices is yoga nidra. This can be translated as yogic sleep, and will be a sigh of relief to the less mobile who can feel a bit excluded by all those active yoga classes.
Yoga Nidra is like a wonderful little secret. When you look at somebody practicing, it looks like they're taking a snooze.
But far from it, they're reaching a state of mind somewhere between the conscious and unconscious mind which is deeply relaxing and at the same time deeply moving.
Somehow, in my experience, in my deepest moments of yoga nidra I'm able to access my heart of heart – the still point in my very essence of being. And being able to access this point means that when the busy times happen, the snap decisions need to happen, the overwhelm, the inevitable challenges happen – somehow, I'm able to respond in a way that comes from a place of quiet, of integrity, of 'me'.
Just try Yoga Nidra, since all you can do is rest and quiet your mind, it may as well be in constructive rest!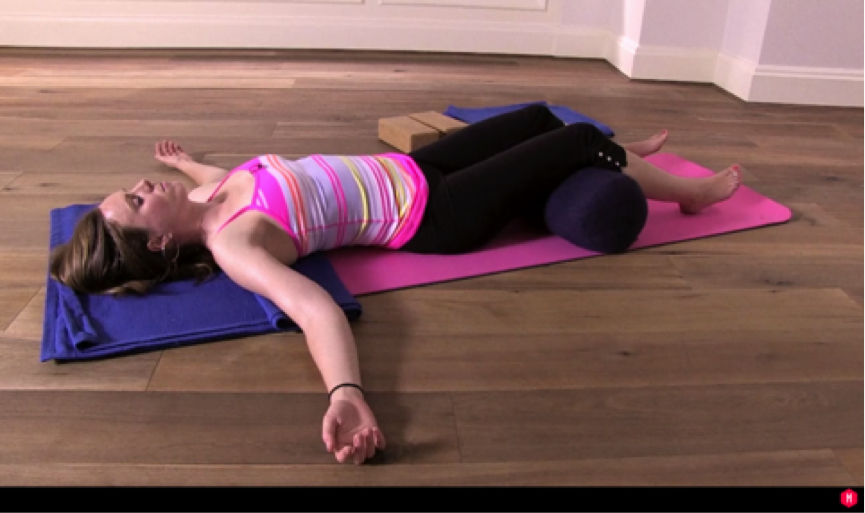 ---
This blog was written by MFML's fabulous founder, Kat Farrants.