How we approach our practice today can change the way we move, think and interact in the world. Movement For Modern Life teacher, Kirsty Norton, explains how the freedom of yoga is in the here and now.
Photo by Lauren Lee
What is Your Breath Telling You?
Unraveling and self-discovery are part and parcel of the process of Yoga. As you move through your yoga postures (asana), you may notice that your mind is keen to jump in, the 'need to know' of the ego.
This is the time to let go and dive deeper into the breath and the 'feeling' of the posture. Instead of analysing, go for questioning, "how can I get more space here?", "what is my breath telling me?"
Move Past Your Ego
We all have holding patterns in the body – by getting acquainted with ourselves and this physical realm we can then go into a space where we can expand, release and change things up. It's a place where we can release any knots, limitations and restrictions to free us up.
That expansive feeling after a yoga session is down to that freedom you have created with breath and movement. As you continue your practice you allow yourself to move past ego/mind stuff and arrive at that vast space. A place that feels beyond everything.
Allow Yourself To Slow Down
If you are someone who rushes through everything then take the time to slow down on your mat and savour the simplicity in your movement. The mind always wants to rush, to get it done, to complete. The ego thinks it knows it all anyway.
True healing will come when you go beyond this habit. Allow yourself time to embrace each breath. Let yourself feel each shake. Welcome the resistance and enjoy each part of your movement. This is freedom.
A Yoga Class To Slow Down
This slow flow yoga class is all about finding your centre in the midst of a storm. You get longer holds, forward folds, twists and longer exhales. Plus a sweet meditation at the end to fully ground you into balance. This flow balances Vata and Pitta types – even though you may find it utterly frustrating if you're out of balance. Your chemistry will change for the better after giving this class a go.
---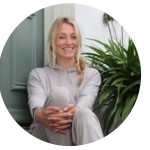 This post was written by Kirsty Norton.  Kirsty started practicing over 20 years ago. Svadhyaya, the practice of self-study, has taught her that in every moment, we choose our inner state. She brings this teaching into her classes to empower her students. Her aim is to design her state, be well-rested, work hard, remain always a student, stay vulnerable and lead by example. Kirsty is a proud ambassador for Wellicious and has been published in Yoga Magazine and Elephant Journal. Find her on Twitter, Facebook and Instagram.