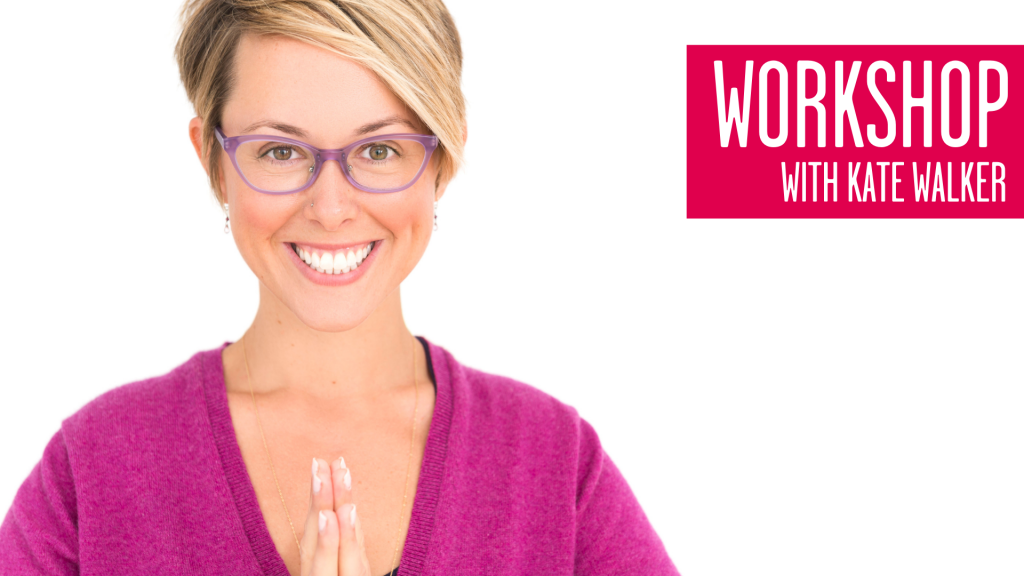 Saturday 17th July – 10am-12pm
Create balance between effort and effortlessness
In this two hour workshop with Kate Walker, we will flow through a full body yoga class with guided relaxation to target the hips, shoulders and neck.
The yoga class will build slowly and steadily to thoroughly strengthen and stretch the body from tip to toe. We'll side bend, twist, forward bend and back bend with options given at every turn to suit all levels. We move with breath and mindful awareness so that, as we unstick the stuck in the body, we anchor our mind to arrive fully into the here and now.
After we've moved, breathed, stretched and strengthened, we'll take it down into a carefully crafted short restorative sequence using props found around every home – towels, blankets and pillows to help shed stress, anxiety and mental tension. Ending with a delicious guided relaxation, you'll feel cleansed, light, relaxed and clear, in body mind and spirit. This beautiful class with help you create balance – between strength and softness, effort and effortlessness.
Expect to:
move, breath, stretch and strengthen
ease areas of tension, especially the shoulders, neck, hips and legs
let go of stress and overwhelm
arrive into the present moment
rediscover balance and feel lighter and brighter
This live online workshop is suitable for all abilities. It will take place on Zoom and you will receive the link the day before the workshop.
You may need the following props: a yoga mat, a block (or a small pile of books if you don't have a block), two towels (or blankets), two pillows (or cushions).
Kate has been teaching yoga for almost 20 years and her speciality is offering options for all levels with simple and progressive sequencing that flows with attention to alignment and breath.
Can't make it live?
We will be offering a on-demand playback of the workshop for 7 days afterwards, so you don't have to miss out!
Cost
£15 for subscribers
£20 for non-subscribers
---
BOOKINGS ARE NOW CLOSED
---
Questions
If you have any questions about this online workshop with Kate, drop us a message on support@movementformodernlife.com
---
Terms & Conditions
Practicing safely
The live online workshops are for your education and your enjoyment only. You are participating in the live classes at your own risk. You are encouraged to to take breaks when needed and/or when in doubt, don't do sequences that you are even a little concerned about. If you have any health condition, please seek medical advice before taking any form of exercise. If you have any concerns, please let us know before the workshop starts.
If you feel unwell in any way or if you experience any discomfort during class, please stop the class and consult your health practitioner immediately. Remember that yoga is mostly a journey off the mat and into life, and it is a journey about taking responsibility for our own actions and cultivating self-knowledge. Only choose exercises which will nurture and support you, and please take responsibility for yourself and your current abilities during your practice. Remember that each day is different, and even if yesterday you were able to perform a movement, that is no indicator that the same exercise is possible today. Please move within your comfortable limits and if you're in any doubt whatsoever, please seek medical advice.
We are not medical practitioners and we do not seek to offer medical advice. Please consult your healthcare practitioner before starting any new exercise. This is particularly important if you have any limiting condition or are, pregnant, nursing, regularly taking medications, or have any existing medical conditions. We do not accept any liability whatsoever for any injury or damage, either during or after this retreat. Your participation in this retreat is entirely voluntary and at your own risk, and you agree to abide by the T&Cs of Movement for Modern Life.
Payment
Your secure payment will reserve your place on this very intimate, special online retreat. No refunds will be made.
Your data
By signing up to the online retreat, you consent to us adding your name and email address to our marketing database. If you do not wish to receive emails from us outside of this retreat, please do let us know and we will be sure to remove you from our database.