Complimenting yoga, health and wellbeing, our friends at USPAAH recommend a massage every week. They can even send a massage therapist to your home if you live in London. Sure, it feels great, but what are the health benefits of getting a massage?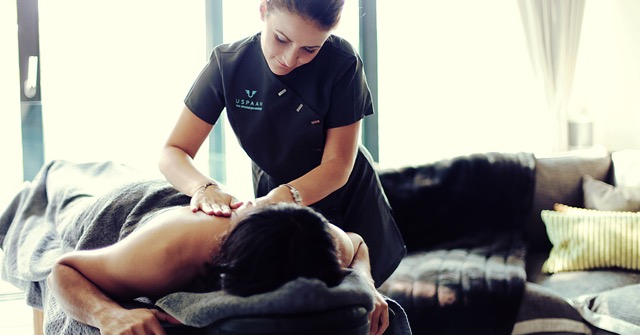 Massage treatments historically, were a vital part of a healthy lifestyle, long before modern spa culture turned the concept of a massage treatment into a "luxury treat" to be had only on special occasions. Even Hippocrates prescribed diet, exercise, massage and hydrotherapy, as essential ways to strengthen and build up the body's inherent resistance to disease.
Whether you choose a basic Swedish or Deep Tissue ritual, or a more specialised Sports or Pregnancy massage treatment, here are 5 very good reasons why you need to start following the ancient wisdom of Hippocrates as soon as you can.
1. Strengthen your immune system
Yes, a regular massage has many benefits beyond the immediate relaxation. Clinical studies have indicated that regular massage not only helps alleviate stress, which is a major contributor to illness, but can also increase the immune system's "killer cells" levels and decrease the number of T-cells, which improves the body's immune functioning overall.
2. Prevent cancer, increase metabolism
As early as 1931, studies showed that the primary cause of cancer is related to oxygen-deprived cells. Immediately after a massage, circulation is increased, which helps more oxygen molecules to enter the bloodstream supplying cells with this essential ingredient. Oxygen also plays a vital role in every metabolic process in our body, thus the more of it that reaches our bloodstream, the higher our energy levels.
3. Improve posture, reduce headaches
Sitting in meetings all day? Bad posture is a major contributor to neck and back pain, tension and headaches. Regular massages loosen muscles and relaxes joints, thus relieving pressure points. This allows the body to position itself in a healthy and natural posture, avoiding the movements and positions developed over time as a reaction to pain.
4. Improve flexibility and range of motion
Want to reach that next level in your yoga practice? By working on muscles, connective tissues, tendons, ligaments, and joints, regular massage can improve your flexibility and range of motion significantly. What's worse, as we age and become more sedentary, we are also becoming more injury prone. Keeping your joints fluid and muscles relaxed helps reduce the risk of injury overall.
5. Alleviate pregnancy aches
A pregnancy massage is usually recommended after the first trimester and the benefits for mum and baby altogether are numerous. Among those, pregnancy massage helps to decrease anxiety and stress, improve sleep and decrease leg and back pain, thus helping the expectant mother to feel more energized and invigorated. And we all know that during this time she needs all the extra energy she can get. 
How often should you have a massage?
 Ideally, once a week. The body goes through a 3-day healing state after each treatment, during which time the positive effects can be felt the most. A week after treatment, the healing and repair states are completed and the body returns to its normal functions. Therefore, a weekly therapy is most beneficial in order to achieve long lasting results.
Nevertheless, a massage every 2-5 weeks will still improve your overall condition especially in reducing stress and muscle tension.
>>Want To Book A Massage?>>
>>Code: MOVEME15 entitles clients to £15 off at USPAAH in London>>
---

USPAAH offers Deep Tissue, Sports, Swedish, Pregnancy and Anti-Cellulite massages performed with the all natural oils of Aroma Works in the comfort of your home. Request a Sparista to come within an hour, or book in advance via concierge@uspaah.com
Find out more at www.uspaah.com