What does self-care mean to you? Kat Farrants has been thinking that it might not be enough for long-lasting change. Read on to find out why this has led to launching a book club
Self Care is not enough
I've been taking a think about the whole 'self-care' movement a bit lately. I'm not sure if you're familiar with it. The idea is that we need to care for ourselves to stop burn out. Which of course is fabulous! And so much better than not caring for ourselves. The trouble is this assumes that, so long as you do self-care in whatever form that may be; perhaps have a bath on a Sunday or going to a weekly yoga class – you can carry on doing what you're doing. Perhaps what you're doing though, is causing overwork, stress, anxiety and may well lead to burn out. If self-care is not enough, then how is a book club going to help?
Self Care leads to a Book Club
Our amazingly wise teacher, Mimi Kuo-Deemer, has a new book which is just about to launch, called Xiu Yang. This book is all about the ancient Chinese idea that we can steadily nurture our capacity to be fully human and fully awake. Whereas self-care can propagate the idea that we can 'achieve like crazy at work, smash out workouts in the evening, stay out late drinking – all is fine so long as you do your weekly self-care practice of doing a yoga class, having a bath, or whatever self-care you're doing'. This idea is fundamentally different. It requires an absolute change in how we think about things.
Mimi is a Champion of Change
I interviewed Mimi about this on the podcast, do take a listen, it's out today. I'm thrilled to have the chance to explore different ways of thinking of things and different ways of living. And that's what the book is all about. It's a radical book, based on ancient wisdom but most of all, is very practical. The book shows us how we reap what we sow. We need to nourish and care for ourselves throughout each day. Let's find a way to create balance in our bodies and minds each and every day. It's not a question of wreaking havoc on the body and then taking a sticky plaster to our frazzled nerves; we need to re-frame our lives.
This reframing, which results in optimum health for our minds and bodies and of course spiritual happiness, a feeling of deep contentment, is very much like the analogy of farming.
Self Care requires us to slow down
Right now, I'm learning about the extensive damage that our intensive agricultural systems have done. The damage is so wide ranging. It ranges from extensive loss of wildlife species to the loss of clean water in our water system due to chemical run off from fertilisers and pesticides; to loss of nutrition in our food because the soil is now such a poor quality. This is now causing a mass extinction of insects, wildlife and bird life. We're seeing rising levels of disease as we all drink water which is saturated with chemicals. It is said that there are a limited number of crops that will be able to grow at all with the soil in such dire straights. Truly we are a species paying the price for our wish to get somewhere fast, of always prioritising intensifying of activity.
This is something that weighs heavily on my mind, and the mind of so many. For a long time we have talked about the importance of slow, but still I see workouts available which talk about going for the burn, still I see fast results in our work, with our bodies and nutrition, being extolled as something we should work towards. Fast results. Well, this is what it's led us to.
Juggling self care, nourishment and loss
We desperately need to find a way to nourish ourselves as we do our land, slowly, in balance. What found really interesting from speaking to Mimi in the podcast was the very start, where we discuss the menopause. This is traditionally known as 'second spring' for the traditional Chinese who see the wonderful positive of women who are free from their reproductive duties. Interestingly there are no symptoms of hot flushes, fatigue and imbalance that women in the west suffer from.
When I asked Mimi for a yoga or qigong pose for that, immediately I asked, it struck me how ludicrous that question was. The very question was exactly the problem. We think that we can treat our bodies and minds as slightly inconvenient and cumbersome vehicles in our missions to succeed. And of course then our bodies have no reserves to call on when we undergo changes. So we can live a life which is much more healthy, freer from many symptoms that we all take for granted. But we do need to fundamentally change the way we treat ourselves and learn to come back into balance.
Is a book club the answer to our self care problem?
I would love to learn more about this, and take a journey with the author of the book. Mimi, as well as being a lifelong practitioner, is also someone who has studied ancient texts extensively and has an MA from SOAS in yoga tradition. As well as being someone who practices and has studied yoga, most importantly, she lives her life in balance, in yoga. Truly, she is someone I have so much to learn from and perhaps you do too.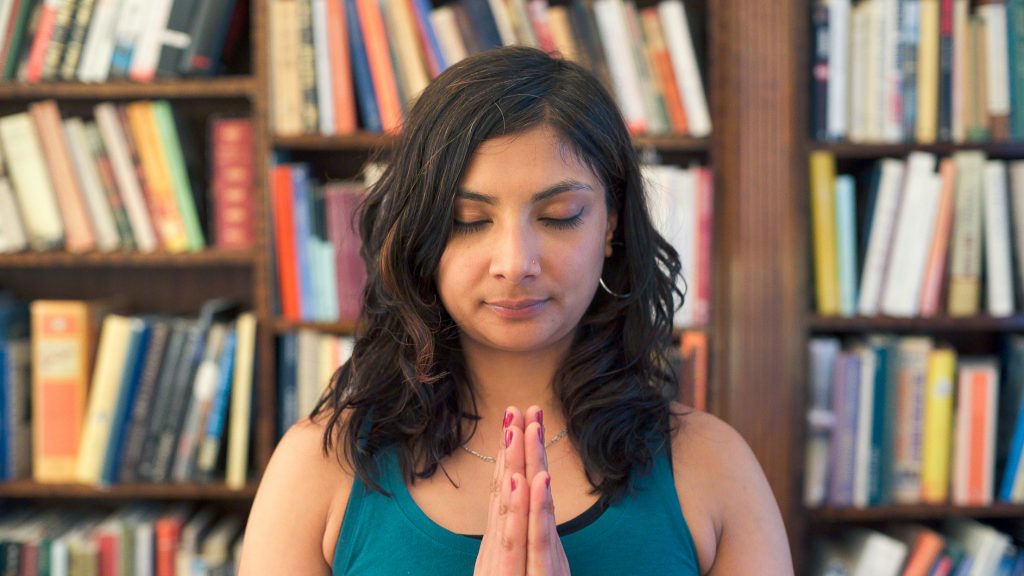 I really am so grateful to her for giving up her time evenings for the book club. We'll be reading the book together, one part at a time. Taking in her wisdom slowly and savouring her words, and together finding the meaning for how we can take that wisdom forward in our lives. I do think that this will be a life-changing event. Mimi and MFML are offering this freely as a community project, because it's something I deeply believe in. I really do hope that you are able to support us in return!
Delve beyond self care in our book club
Are you inspired? Now that you know how searching for more than 'self-care' has led us to launch a book club, why not sign up ? We will chat weekly and you get a chance to be a part of a like minded community, asking any questions that you have. In the meantime, listen to Mimi's thoughts on self cultivation in this week's podcast.
---
About Kat Farrants:
Movement for Modern Life's fabulous founder Kat Farrants lives her yoga and her own yoga practice informs how she develops MFML. This post was written by Kat and is inspired by her exploration into how she can take the small steps to move into a happier, healthier and more sustainable life. Please do join her on this journey and explore with us your happiest, healthiest, most sustainable life.