Meet a brilliant yoga teacher and mentor on the YogaCampus Teacher Training Program.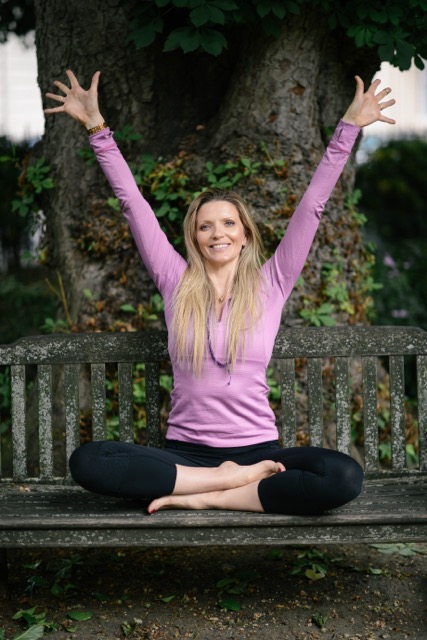 We love learning what motivates and inspires our amazing teachers! Today, enjoy these pearls of wisdom from Zephyr, with whom our founder Kat participated in a Teacher Training program.
Daily Move – what do you do every day to keep moving?
Daily ingredient?
Five minutes each day – what to do for you?
Favourite way to detox?
How you fell in love with yoga:
>> TRY A YOGA CLASS WITH ZEPHYR >>
Top tip for creating a habit:
What motivates you to move more?
If you weren't a yoga teacher what would you like to be?
Scientist, Psychologist, Doctor, Physicist, Astronomer…The funny thing is, Yoga encompasses them all, just not in the traditional western sense. Dipping my toes into everything so I continue to explore and experience Life from all angles.
Or if you could switch lives with anyone who?
What do you wear when you practice at home?
Asana of today and why?
In Tweet length why you practice? (140 characters)…. Oh ok then give us a paragraph if you like:
Essential yoga accessory (scented candle/eye bag/sand bag/music) – and where did you get yours?
Which guru would you like to sit on a mountain with?
All are resting in my heart if I so wish to sit with them.
Places to practice – your top five places you have or would?
If I must make a list for lists sake, though, it would be:
Samahita Retreat in Ko Samui, Thailand (most exotic)
Rooftop of the Medina, Marrakech Morocco during call to prayer (most spiritual)
My husband's deck when he lived in Bermuda (best view)
A resurrected ghost town in the middle of the San Juan Mountains of Colorado, Dunton Hot Springs. (most original)
The Life Centre in Notting Hill (most familiar as it is where I teach publicly)
Last books you read?
Living thinker – someone whose life perspective you admire?
What's been your soundtrack this month?
Track 2. This Mortal Coil – Song to the Siren
Track 3. Jose Gonzalez – Teardrop
Track 4. James Blake – The Wilhelm Scream
Track 5. D'Angelo and the Vanguard-Ain't that Easy
Track 6. Abbe May – Karmageddon
Track 7. Beastie Boys- Bodhisattva Vow
Track 8.    Tove Lo – Stay High
Track 9.    MIA – Paper Planes
Track 10.  The Knife, Heartbeats