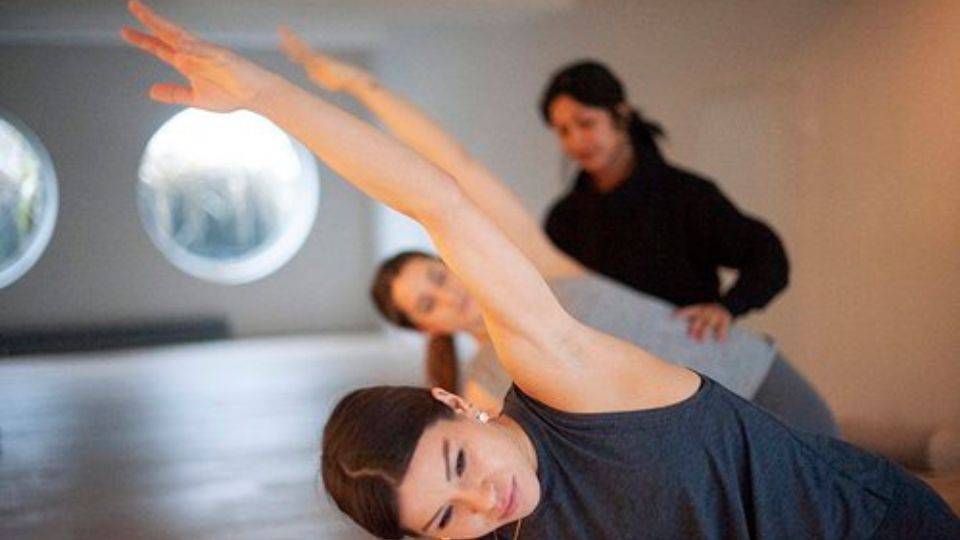 Sensing Your Breath: Unlock Patterns of Breathing
Tuesday 30th May 2023 | 7pm – 8.30pm (BST)
Whenever your mind becomes scattered, use your breath as the means to take hold of your mind again." Thich Nhat Hanh
We often tend to breathe too fast, forgetting the potential of our lungs, and when life gets difficult we can often forget to breathe at all.
At times of stress, many of us find it difficult to pay attention, the breath is an easy way in. 
Nahid will guide us to start to breathing to our full capacity, we'll notice immediately feeling calmer, more focused, and better able to sleep.
This workshop will help to make our:
breathing muscles more resilient
reduce shortness of breath
improve lung capacity
manage respiratory complications
and reduce the impact of respiratory problems on our mental health
If you are recovering from illness, injury, or you are feeling emotionally overwhelmed, stressed, or anxious, this workshop will hugely benefit you.
This class is suitable for all levels. We will lying on the floor, engage in small movements and using our imagination. 
We will need: 
A soft floor to practise on – carpeted or throw a few blankets down
An additional thick blanket to use as a prop, or a rolled up towel
Please wear layers of clothing so that you are comfortable and warm
Nahid de Belgeonne, known as "the nervous system whisperer", is a Somatic Movement coach, breath and yoga teacher with a passion for sharing the healing benefits of movement. The transformative powers of movement first became clear to her in her teens, when vigorous physical exercise helped her to shift through emotional states.
Nahid has been a pivotal part of the London fitness landscape for 15 years, first operating successful yoga & wellbeing brand, Good Vibes, in central London, then for the past 2 years focusing on private clients and emerging as a thought leader on nervous system regulation. She has a diverse background in the fashion, technology, and publishing sectors. The common thread in her life is learning how to stay agile in an ever-changing environment.
You can find out more about Nahid here.
Can't make it live?
We will be offering a on-demand playback of the workshop for 14 days afterwards, so you don't have to miss out!
Cost
£20 for subscribers
£25 for non-subscribers
£10 for concesssions
BOOK NOW
Questions
If you have any questions about this 'Unlocking Breath Patterns Workshop with Nahid de Belgeonne, drop us a message on support@movementformodernlife.com
---
Terms & Conditions
Practising safely
The live online workshops are for your education and your enjoyment only. You are participating in the live classes at your own risk. You are encouraged to to take breaks when needed and/or when in doubt, don't do sequences that you are even a little concerned about. If you have any health condition, please seek medical advice before taking any form of exercise. If you have any concerns, please let us know before the workshop starts.
If you feel unwell in any way or if you experience any discomfort during class, please stop the class and consult your health practitioner immediately. Remember that yoga is mostly a journey off the mat and into life, and it is a journey about taking responsibility for our own actions and cultivating self-knowledge. Only choose exercises which will nurture and support you, and please take responsibility for yourself and your current abilities during your practice. Remember that each day is different, and even if yesterday you were able to perform a movement, that is no indicator that the same exercise is possible today. Please move within your comfortable limits and if you're in any doubt whatsoever, please seek medical advice.
We are not medical practitioners and we do not seek to offer medical advice. Please consult your healthcare practitioner before starting any new exercise. This is particularly important if you have any limiting condition or are, pregnant, nursing, regularly taking medications, or have any existing medical conditions. We do not accept any liability whatsoever for any injury or damage, either during or after this retreat. Your participation in this retreat is entirely voluntary and at your own risk, and you agree to abide by the T&Cs of Movement for Modern Life.
Payment
Your secure payment will reserve your place on this workshop. No refunds will be made.
Your data
By signing up to the online workshop, you consent to us adding your name and email address to our marketing database. If you do not wish to receive emails from us outside of this workshop, please do let us know and we will be sure to remove you from our database.