In this week's Q&A, meet Toby Ouvry, our inspirational mindfulness and meditation teacher.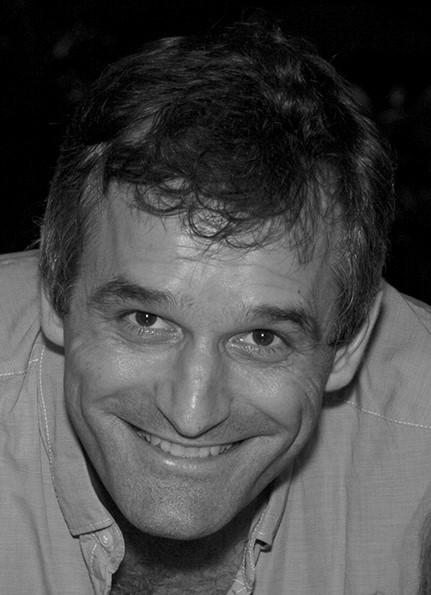 We've been asking our incredible instructors what motivates and inspires them. Allow us to introduce you to Toby Ouvry.
Daily Move – what do you do every day to keep moving?
Some basic yoga and qi gong, my work keeps me fairly active too.
Daily ingredient? Five minutes each day – what to do for you?
Writing in my journal.
Favourite way to detox?
Meditation.
How you fell in love with mindfulness?
Age 12 listening to John Cleese reading the Tibetan book of the Dead on the Radio.
Top tip for creating a habit:
Be clear about how you will benefit from it so that you continue to want to do it.
What motivates you to move more?
Enjoyment, the confidence of having a strong body, the benefits to my mind.
If you weren't a mindfulness teacher what would you like to be?
An artist, biologist or bank robber!
If you could switch lives with anyone who?
An Amazonian shaman, temporarily.
What do you wear when you practice at home?
Just a t-shirt and shorts.
Mindfulness Practice of today and why?
Today I am focusing on either thinking well or not thinking at all. Thinking well in this case means to think either objectively, positively, curiously or kindly about what I am going through right now. If my thinking is not any of those things then I'm simply resting in a state of mindful non-thought.
Essential mindfulness accessory – and where did you get yours?
A journal for writing down the creative insights and inspirations I get from my mindfulness practice and life – I just use the lined A5 exercise books you can get from any stationery store.
Which guru would you like to sit on a mountain with?
Ken Wilber.
Places to practice – your top five places you have or would?
Wherever I am
Langkawi, Malaysia
Iona, Scotland
Sri Lanka (a few places there)
A few nature places in Buckinghamshire, U.K.
Last book you read?
Love and Other Demons by Gabriel Garcia Marquez
What's been your soundtrack this month?
Elder – Spirit at Aephelion
More About Toby
Toby has a BA Hons degree in Fine Art from the University of Newcastle-upon-Tyne. Subsequent to his degree, Toby spent ten years doing his foundational training in meditation and mindfulness, specializing in the Tibetan Tradition which included five years as an ordained Buddhist monk.
He has been practicing and teaching mindfulness & meditation for over nineteen years. As the founder and principle facilitator at Integral Meditation Asia he delivers mindfulness programs to both the public and corporate sectors. His clients include both government organizations in Singapore as well as numerous SME's and MNC's. He is a meditation and mindfulness blogger, and the author and creator of over fifteen practical workshops and courses on the subject.
In his teaching, facilitating and coaching he combines practical mindfulness and meditation techniques from three sources:
The world's great wisdom traditions
Cutting edge practices that are currently emerging from both the integral and evolutionary consciousness movements
His own practical and creative experience
Toby is also an artist and entrepreneur. As such his presentation of mindfulness reflects a strong interest in both how it can be linked to work performance and engagement, as well as stimulating more deeply the innate capacity for creative intelligence found within both individuals and groups.
---
You can find out more about Toby's work on meditation, mindfulness and integral living by going to www.integralmeditationasia.com, to read his mindful blog writing go to www.tobyouvry.com