There is a revolution going on and it's making Mindful Drinking much more accessible. On Sunday 13th August, there is a Mindful Drinking Festival in London and Jen explains how Yoga & Mindful drinking go hand in hand.
The ancient Indian traditions of Yoga started becoming more popular in western society a few decades ago. Then when Madonna burst back onto our screens in the late 90's with her lithe, toned, post-childbirth body, singing about  feeling like she just got home, we all became a little more interested and mindful practice became more mainstream.
Mindfulness
is the process of bringing your attention to what you're experiencing internally, in the present moment. If you practice yoga these days at any level, then you're probably seeking more focus, discipline and calm – as well as wanting to be fit, strong, flexible and healthy.
Whether you've chosen to give up alcohol completely because your 'off' switch no longer works, or whether you've chosen to moderate your intake because you want to be healthier – you've made that decision because you want your mind and body to work at it's highest capacity.
From the moment you make that decision, you're living a more
mindful
way of life and focusing on the present moment.
It's easy to see the parallels between Yoga and
Mindful
Drinking
– they take self-restraint, discipline, create a deeper connection and awareness to what we feel physically, and both are very much an inward journey which take mental
focus
and contemplation, to achieve the best possible outcome.
For yogis and
mindful

drinkers alike, we are all striving for some form of inner peace.

I've practised meditation for around seven years, been a

mindful

drinker for four, and truly started appreciating yoga around one year ago. One of the biggest and less obvious links I've noticed between all three, is the observation of habits.

Our bodies will often slip into a pattern or habit, such as holding your breath in a stressful situation, or your shoulders creeping up toward your ears when you sit at your desk.
If you're meditating or practising yoga, you'll learn to do a quick mental check of these things all the time until it becomes natural.
We learn to follow our breathing to relax and to help bring us back to the present moment. We learn to think about pressing into all four corners of our feet at the same time as keeping our head over heart, heart over hips and hips over pelvis.
Our minds will do the equivalent – we'll revert back to knee jerk reactions and old habits to help process certain situations or feelings. Like getting tipsy before having sex with someone for the first time, or getting smashed after a terrible day, or panic ordering at a bar and resorting to our usual beer choice because we don't know what other options we have.
You can take part in a yoga class pretty much anywhere these days – from your living room via
MFML
, to your local park, even your own office…however the options for
mindful
drinkers and the attitude toward
mindful
drinking
still has a way to go. Which is why Club Soda has curated the UK's first ever
Mindful

Drinking

Festival
.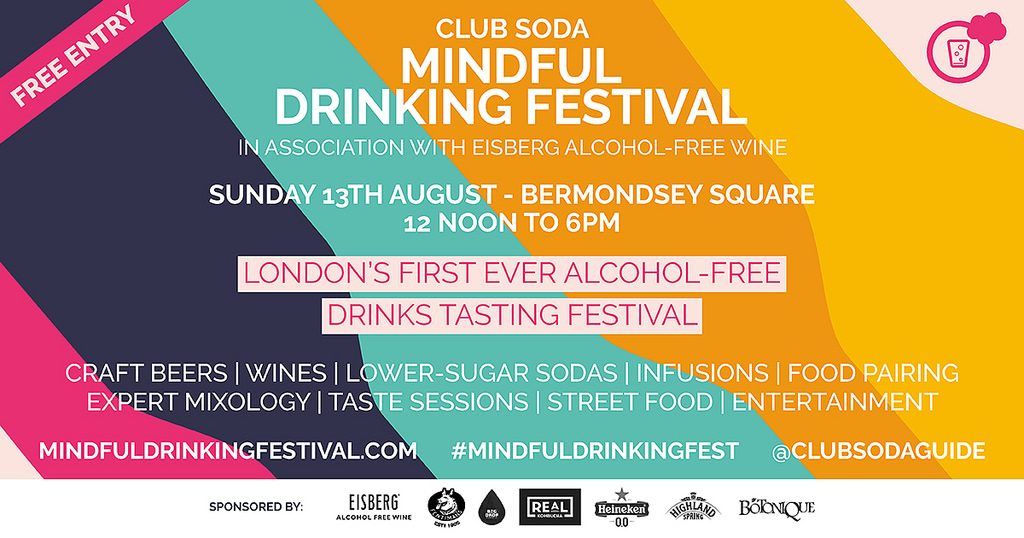 Yoga is great for people changing their
drinking

, but equally cutting down on alcohol is a great way to get more out of your sessions, and you are more likely to maintain regular practice if you're not battling with a hangover or the dehydrating and unbalancing effects of booze.

There are now no shortage of alternatives that fit into a healthy lifestyle – next to water, an alcohol-free beer is the healthiest thing you can drink in the pub, and there are many great low and no-sugar drinks available such as Botonique, Prir and Real Kombucha.

We can't wait to share our favourites with everyone at our festival in August, so come along and see if you can find a

drink

that complements your practice.

Jen Tree, Festivals Comms for Club Soda,

Mindful

Drinker and metal head