This April is Earth Month and to celebrate, I've decided that 5% of our Revenue for the month will go to the project Danyadhara (meaning blessed earth). I do hope you'll take a few moments to find out why…
The Power of One Person
I've just come back from a mini-retreat at Suryalila, and it was such a special place for so very many reasons. First of all, senior teacher, Vidya Heisel who set up Suryalila is simply an exquisite teacher. She brings the wisdom of forty years of yoga practice to her amazing teacher training, FrogLotus. Her practice is just beautiful. But what she really did was inspire me of the power one person, one woman, has to make such a big difference. To me, she is the embodiment of everything I admire – she is strong, brave, courageous and kind. 
Better than Olive Groves
When she bought Suryalila, it came with 50 acres. And most people in Southern Spain would just create olive groves. But next time you're in that region, take a close look at the groves. Around the trees, what is there? Conventionally, you'll see rows of trees and bare earth around it. Not a pretty sight or ecologically rich.
Desertification
So it was a revelation when I heard about Vidya's project, Danyadhara. Did you know that desertification is one of the greatest environmental catastrophes of the modern age (ah, so many to choose from!)? The UN estimates that about 1.2 BILLION people are at risk from desertification as deserts expand and degraded dry lands cover close to a third of the world's land surface.
Edible Forest
Southern Spain is one of these areas. The desertification is very real there. So Vidya came upon a plan. Using permaculture (which works with, not against the land), she is transforming her 50 acres into an Edible Forest.
Layers of Goodness
I was moved to tears when I heard the beauty of this. She is planting a first layer of trees – which is where conventional farming stops and sprays to keep the ground bare. She is doing the opposite!! She is using that tree canopy and planting a second layer of smaller, shade-loving trees under them. And then plants and shrubs come to live and enrich the soil in the shade underneath and water will be saved via the new Edible Forest, rather than just running off the earth when it rains. So that, like in a forest, you see layers of activity. Which will then become habitat and food for insects and birds and mammals which will encourage their predators, and the earth will be restored to it's natural state of abundance.
Contribute
I've been so moved by the power of one woman to change the environment. I've donated to the project, but I've also made a very big commitment (for a small company!). I've committed that 5% of our Revenue in the Month of April will go to this project. It's important to me to support a small project as every penny will be spent wisely – there are minimal overheads, just a group of wonderful yogis, volunteers and permaculture gardeners. If you can help this project in any way, please do.
Inspire
And of course ask folks to support MFML so that we can support other projects and real people who are actually being the change that might inspire other farms and neighbours and other people to create such projects, making a real difference.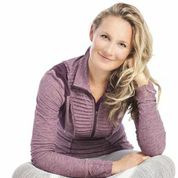 With love,
Kat
xx
---