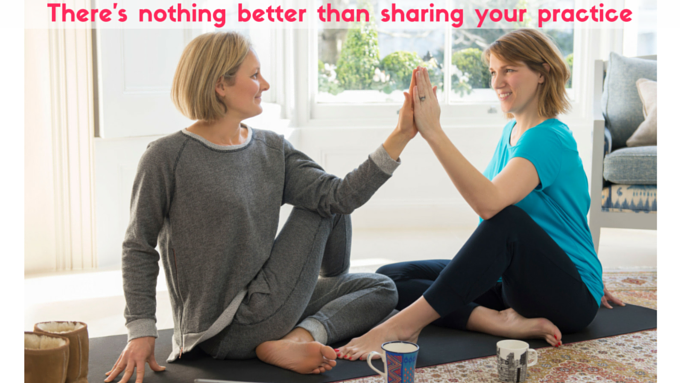 This week we proudly announce our new Referral Scheme, so that you can start to share your love of home yoga with your friends and family and anyone who you think might want to grab a mat and practice together. With the new Referral Scheme, you get £15.99 credit on your account for every new referral and new movers get a whopping 50% off their first subscription! A crazy scheme! All Subscribers can access it, just go below My Subscription and you'll see My Referrals. Please share with everyone who you think would love to have the joy of yoga at home.
We'd really love for you to spread the word about us. Maybe as the sun comes out you'll be taking your favourite teachers to your garden or the park (tip – load the site at home and buffer the video before you head out to a wifi free zone!) and taking your friends with you. In my humble opinion, there's not much better than moving and breathing in the open air, and nothing better than when sharing your practice with friends.
If you're new to the site, you might not know much about us – but just so you know, we're a small, homegrown UK company.  We don't have fancy marketing campaigns or squillions of Venture capitalists' money. It's just us, doing what we do in an authentic, slow-grow way. We really do rely on you to spread your Referrals, so spread your love of MFML far and wide.
We'd also love to introduce you to our first LIVE MFML event on May 13th so we can meet and practice together with our wonderful Lucy McCarthy. Tickets are available now, just click here for more information.   We'd love to meet you and practice together. Please get in touch with me at kat@movementformodernlife.com and let me know what you think of live events – more? less? UK or beyond?
Do let us know!
---
This article was written on 3 April 2016 by Movement for Modern Life's fabulous founder, Kat Farrants.