We in the UK are currently going through a period of uncertainty. I know that now is a fairly tumultuous time for many of us – those with friends and loved ones in the European Union and small businesses like mine who work closely with countries of the EU. We just don't know what will happen next.
And as in many times of life, when there is uncertainty, many emotions rise to the surface.  Maybe there are feelings of overwhelm, of anger, disappointment, sadness or grief.
I have found in my life that yoga has helped me through so many challenging times. A large part of my mission is helping people through the tough times in life by being able to access practices which maybe they couldn't access otherwise.
Yoga For Any Emotion
This is why the site has Yoga For Emotions as a searchable feature. We have classes which are tailored to help you reach your equanimity. You can search by classes to move you into Calm, and for Anger, Heartbreak, Confidence and Happiness.
Over the weekend I've been using these searches more than ever. Our new Yin class with Norman Blair, Quiet Time 3: Feel Your Breath is amazing for when you're feeling overwhelmed. Just feeling the breath can be incredibly comforting and liberating. There is nothing more than can be done, so just relax into the feelings and the breath.
I have also been practicing to Naomi's Morning Espresso Class as it is sometimes brilliant to get moving to help you move through the negative feelings caused by uncertainty. And this class has some beautiful practices for clearing and calming, as well as being fast-moving enough for us to keep focus.
So no matter how you're feeling, remember that all emotions are temporary, and are voluntary. If you just move, breathe and keep your focus, you will be of better service to yourself and others.
---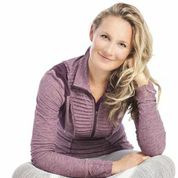 This post was written by Movement For Modern Life's fabulous founder, Kat Farrants.