Want to take some time to relax and focus on your health and wellbeing? Wellbeing Escapes, The UK's leading spa holiday and wellness experts, are offering Movement for Modern Life subscribers an exclusive £50 off* any of their escapes with the special offer code MFML50. As the UK's leading spa holiday and wellness experts, with their finger on the pulse of what's hot in the world of wellness. Pioneering new types of wellness packages, and often advising resorts as to the trends in the market, they know what makes an authentic escape that really works – without a faddy diet or gimmicky treatment in sight.
Wellbeing Escapes are about much more than just providing spa holidays. They provide wellness experiences that give you a chance to relax and focus on your health and wellbeing.  This could be for a few days close to home or an extended period in an exotic location – whatever is right for you at that time. It's this dedication, and a decade of experience, that has got them recognised as the UK's leading spa holiday and wellness experts featured in many excellent media outlets such as Vogue, Tatler, CNN, Grazia, and many more besides.
From yoga to pampering, fitness to detox, their range of wellbeing holidays has something for everyone. Whatever your fitness or health goal they're able to deliver exactly the experience you are looking for. Their £50 discount offer is off any escape in their portfolio, but you might want to peruse their own Offer of the Month too as a starter, The Villa Padierna Thermas, to make the most of some excellent savings.
More accessible, more affordable wellness.
As people are more aware of preventative health they want new experiences that make them healthy and feel good. People are choosing to take more frequent short breaks to get an energising health kick. Our range of short Wellbeing Booster™ holidays are extremely popular. Getting away can bring a much needed change of scene, fresh air, healthy food, relaxation, fitness, and often the luxury of a few nights' decent sleep! It's also a more affordable and accessible wellness option for a lot of people to take shorter boosters over a long escape somewhere far flung. We love the thermal waters of Villa Padierna in Spain for a therapeutic soak, and the treatments in the gorgeous glassy and light seafront spa at Almyra in Cyprus.
Get Connected
We are social animals and connection with others is an integral part of wellbeing. With the rising technology overload, the increase of single households and long hours at work, people, particularly in urban areas, are feeling more disconnected and sometimes lonely. When it comes to their wellness break they want to travel independently, but also come together with like-minded people. We having been including more group activities like cooking classes, as well as shared dining tables to satisfy this growing need. Our social set date retreats are also ideal for meeting other travellers who share similar interests. But if you want more time to yourself but want to connect with others in the evening, sharing tables at places like Kamalaya Wellness Sanctuary in Thailand, Vana Malsi Estate in India, and Ananda in The Himalayas, will bring you together or get group active with fun classes at Phuket Cleanse, Thailand. These all offer sharing without sacrificing your precious 'me-time'!
Fitness Goes Outdoors and Experiential

There are so many ways to kick start fitness and discover the beauty of the local area that beat pounding the treadmill in the resort gym. Our Flexible Fitness™ packages pioneered this in our industry by giving guests a choice of daily fitness activities that gets them outdoors.  Taking fitness holidays in the Alps is on the up. With magnificent mountains and big blue lakes, it's a joy to be out there in the open air. A study by the London School of Economics also found that people's happiness is greater in natural environments. Plus the altitude is really effective for boosting workouts so you get more fit in less time! For an alpine endorphin hit try Schloss Pichlarn in Austria, or explore the pure and refreshing beauty of the Finnish countryside with our Summer Activity & Wilderness Group Tour.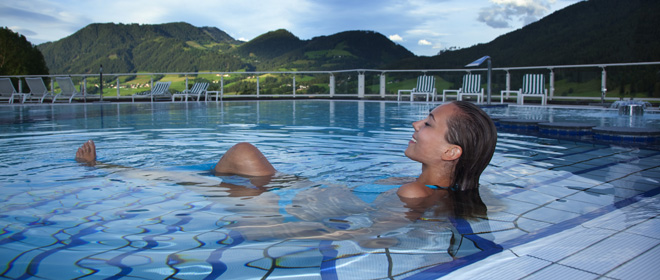 The Art of Ayurveda
India's ancient health care system is becoming big news in the wellness world. Ayurveda offers a holistic approach to wellbeing so it looks at mind, body and soul. It believes that no problem in the body exists in isolation; everything you interact with, your diet, family, work and relationships all have an effect on your health and wellbeing. It's also a highly personalised approach. To become an Ayurvedic doctor requires many years of training, more so than conventional western medicine – so you can be sure the practitioners on our Ayurvedic spa holidays really know their stuff. Plus the warm oil massages are divine – once you have one you're hooked! For Ayurveda closer to home we love Kempinski San Lawrenz in Malta and Schloss Pichlarn in Austria. Otherwise go for a really authentic experience in Kerala, the home of Ayurveda itself with a trip to Manaltheeram Ayurveda Beach Resort, or the super luxurious Carnoustie.
Bringing the Mind Onboard
From MPs doing it in parliament, high-powered executives citing it for their success in the City, and celebrities like High Jackman tweeting 'It changed my life' – there's no denying it, meditation and mindfulness have hit the mainstream. Mindfulness is a fantastic tool that helps you get more out of your everyday life. From what you choose to eat, how you are at work, how you relax, more and more people are asking themselves if they are noticing what really fulfils them? More and more retreats are including meditation or mindfulness options from the simple to the down right spectuacular. Star gazing meditation at Spa Villa Tembok Bali is a real must, as are the sunrise meditation sessions overlooking the OM shaped beach at SwaSwara, southern India.
*T's & C's:
Offer to be redeemed by Telephone (0207 644 611) or online (
www.wellbeingescapes.com
) with the code
MFML50.
May not be combined with any other discount vouchers or codes. Offers are non transferable and cannot be exchanged for cash.