Us humans appear to be somewhat obsessed with the notion of progression. Well I certainly am! I love to think that I'm progressing and achieving goals, and I think I'm not alone in this.
But the idea of goals is a tad troublesome when it comes to yoga. As you know, yoga is, in it's nature non-competitive. We're not meant to compete with each other, or ourselves. But humans being humans love to compete with ourselves and we love to 'progress' our practice. And usually, that progression is taken to be the ability to perform ever more tricky poses.
You'll have seen we have Beginners, Improvers and Advanced classes on the site. And it'd be logical to think that we 'progress' through these phases. But it ain't necessarily so! Some bodies will never be destined for some poses. And other bodies manage to slip, fairly easily into the knots required for Intermediate/Advanced, but these folks are fairly new to yoga. These bodies might be more fit and limber, with proportions that help yoga poses, or maybe the practitioner has a gymnastics or dancing background so can more easily find the poses. But we must remember that, wonderful that these poses are to look at, and tempting as it is to imitate these bodies, that isn't yoga!
So what is yoga, then, if it's not the ability to bend, stretch and flex?
Well, yoga is a little different to gymnastics or cirque de soleil. Yoga is a search for unity. It's when on a physical level, the body, breath and mind quiet and work as one, and on a spiritual level, when you realise the existential truth that we are all one and that separation doesn't exist. That is yoga. And advancement is really, purely on the basis of your spiritual practice towards that goal. If advancement in yoga were in the attainment of poses, we would just be collecting gymnastics awards.
So here's my conundrum which I'd like to share with you:
How to guide people through the site, making it clear that beginners to yoga would be unsafe to try trickier poses if their bodies aren't used to moving with the breath, whilst enabling those who are fitter and stronger to be able to challenge their physicality.
But I've been pondering these categories of 'Beginner/Improvers/Advanced' for a while and the more I ponder, the more I dislike them. After all, when I was new to yoga as an 18 year old, I could do many 'advanced' poses – my body was naturally bendy, long limbed and willowy, of course an ashtanga practice called, and almost seemed easy.
Now that the decades have rolled on, I appreciate a 'beginners' class!
I love to move with a much more refined breath and slower pace. I feel that with a slower yoga class, I am able to achieve my 'yoga' much more easily than a faster paced vinyasa flow. But yes, some days I find something feisty is called for, that my body is just longing to stretch. But I wouldn't call my shapes advanced, it's just that the pace and shapes are what's needed when I'm feeling more feisty. I don't know about you, but I tend to recoil at teachers who say 'if you practice you'll achieve x pose'. Well, why is it always a good idea for my body to achieve x pose? Not all poses are suitable for my body. My body holds past injuries and has a history and I just don't want to push into certain poses. But that's just me, my body, today.
And in any event, the teacher may be wrong that your body may not 'advance' in the way that they think, simply because this flesh and blood is very fragile and anything can happen along the way! Whereas the spirit the mind – well that really can progress, no matter if we are caught in a car crash tomorrow, that yoga practice can continue.
And that's the point of it all. All of our bodies are quite different and have very different needs. If you practice more gentle yoga, it may be a sign of an advanced, not a beginner practice. And those who need to practice yoga as a workout have more of a beginner's mind. It's all a bit topsy turvey. It has to be said, I think that practicing Yin Yoga is a sign of a very advanced practice!
What I'd love to do would be to re-define our categories in a way that folks can understand that beginners classes aren't for beginners and advanced classes aren't for the advanced.
But the question is – would a complete beginner understand beginners by any other name?
Intermediate is good for those who want to up the ante a little. And I think that Level 3 or Advanced classes are for those who are looking for something feisty on that day and whose bodies are injury free, strong, healthy and are used to practicing yoga for a few years or more. But the conundrum of the human need for classification continues. Just remember not to take them too seriously.
We'd love to know your thoughts!
What should we call our categories? Share your ideas and suggestions in the comments box below…
---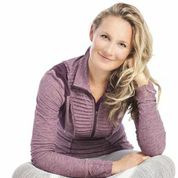 This post was written by our fabulous founder, Kat Farrants.