What would you like to ask your favourite yoga teacher? We caught up with
Naomi Absalom
at the
Yoga Garden Party
this summer and quizzed her for a few life hacks and tips on yoga!  Read on to find out more about her smorgasboard of yoga styles and why yoga should always be hard!
What's the most important thing in yoga?
The role of the breath in the practice is everything.  Without breath there isn't anything at all, it's just a positioning of the body into certain places.
The breath will take you into areas of fear, tension and rigidity.  It will free up any kind of held emotion in the body.  It will make you feel gloriously alive.  It will make you scared and emotional and that's all part of the practice of yoga.
Without breath there isn't any healing, there isn't any prana, there isn't any life.  It's just a body.  Any you want to fill the body with life when you practice yoga.  You want to fill the body with as much prana, as much life as possible.  The breath is the most important thing.
>>Try a Yoga Class to 
Get Breathing
with Naomi>>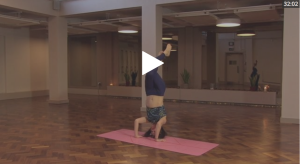 >>Vinyasa For Breath And Balance>>
What style of yoga does Naomi teach?
Naomi started out as a vinyasa teacher which is the movement linked to the breath.  Over the years it has become a much slower, much more alignment based flow with elements of yin and restorative yoga and a big emphasis on pranayama (breathing techniques).
Naomi describes it as greedy yoga!  Vinyasa mixed with anusara . . . and yin . . . and ashtanga!!!  A big hot jam of everything.  
People need a bit of everything, they need fire, they need water and they need that earth element too on different days.  
What sort of people love Naomi's classes?
Philosophical people but also quite wild people too!
They're quite sassy, they like to have a little bit of fun, they honour the fact that there's lightness and playfulness in life and they want to explore that.
But people who come to Naomi's classes also recognize that most of us have big fat dark shadows and that is part of life and part of being a human being.  They really honour that part of themselves and want to investigate and explore it and free themselves up from aspects of that shadow that are limiting and conditioning.
Naomi's advice for when yoga gets hard
Yoga is tough and it's not going to get easier!
And that's exactly as it should be.
It never gets easier and if it does then something's not right in the mix.  You're constantly moving through layers of conditioning and layers of your history and parts of the body that are rigid.  
As you get deeper into those layers it requires more attention, more focus,more courage to get into those places.  
Even savasana (corpse pose).  If you stay in savasana for long enough even that gets hard because stuff starts to come up.  
It doesn't really matter what type of yoga you practice, it's going to take you into those weak areas of your body and mind and it should do because in order to heal you need to go there.
Naomi's tips for moving more
Take 5 minutes for your core:  

If you can't do a full practice and you want to do something physical try really slow work on your core.  This maintains strength in your system so when you do go back to doing a full practice you don't feel like you've not practiced.  

You can just do 5 minutes

– then you won't get so lost when you start to practise again.

Just lie down:

If you don't want to move but you do have time, just lie on the floor!  On the mat or wood or earth or grass.  Just let your bones sink into the ground.

Do one of the 2 every day – that makes such a huge difference!
>>Try a
Core Class
with Naomi?>>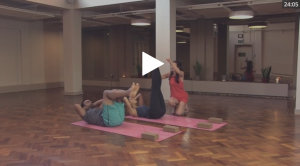 ---
This blog was extracted from an interview with Naomi Absalom at The Yoga Garden Party.  This fabulous annual charity event raises funds for The Hope Foundation and gives yoga lovers an opportunity to get together and share their practice.
---