This is the perfect time of year for reviewing the good, the bad and the ugly of 2016 from a personal, and of course, a Movement for Modern Life perspective (as we're pretty much the same thing!)
2016 was MFML's third year, which in itself is a massive YAY!
I founded MFML when, 3 years ago, I was stuck at home in the remote countryside looking for some yoga to help me get through some really tough challenges that I was dealing with. And I didn't like the online yoga that I found. I found a whole ton of teachers who were clearly great at marketing, but I just didn't think that they were as good as those who had trained me to be a teacher all those years ago, or those who I went out of my way to practice with.
I just wanted to make the very best teachers accessible to folks wherever they lived and with whatever was going on in their lives. I wanted the benefits of the practice to be highlighted, not just the fact of 'doing yoga'. I'm a sucker for finding tools that help us to thrive through the challenges that life throws at us, and for me, the practices of mindful moving and conscious breathing have been a game-changer and a life saver.
So that's a potted history of why one woman with zero knowledge of running a business and no background in tech, marketing, websites, video – or anything that you'd have thought would be useful to know – started up MFML.
But I did have a vision, I did have resilience to ignore those who said it couldn't be done and resilience to get through some pretty dark moments, I had a ton of determination and energy and I also had a whole lot of luck. But that's another story.
2016, I feel that my baby, MFML, which I've been guarding fiercely, is starting to walk on its own and develop it's own style, sense of direction, personality and is walking into and out of trouble every day, all of the time – in fact, is behaving like any good toddler should do. In short, in 2016 Movement for Modern Life has MOVED ON!
2016 was a pretty tough year for many of us. But the Movement for Modern Life team were so lucky to get by pretty much unscathed, in fact – THRIVING through all that 2016 threw at us.
Here are some of my highlights from the year!
1. Co-Creating The Site With You!
I feel that the site has been co-created with you, our community and our teachers and of course the team. You have been requesting classes, our teachers have been getting inspired, prepared and making requests of their students, so that we can create our videos. This co-creation has resulted in 250 new classes on the site in 2016, 60 blog posts and 6 new challenges. Now that's a LOT of content and information to keep you moving and inspired day after day.
2. 250 New Classes
We filmed 250 new classes! YAY! Most of these were filmed in the studio which we put up 2 years ago in the back of my garden in the countryside. Which means that on every shoot I've been able to welcome the teachers, cook something a little tasty (usually my own-recipe vegan Dhal), and have a giggle before, during the lunch break and after class. So it's been a really fun process for me getting these classes on the site. I'd love to know your favourites!
3. New Teachers
Well, this year we've turned down applications from around 100 lovely teachers who got in touch to teach on the site. What a wonderful, affirming position to be in, and aren't we so lucky to be able to pick and choose our teachers? So many of these teachers look so fabulous, they've put in so much energy and good intentions to their work, we wish them the very best of luck, but we just don't have the room to take on so many new teachers. Isn't it great that we've co-created something that folks want to be a part of?
Our plan and intention has been to deepen the content we have with the game-changing, most senior, most serious teachers. When we've been contacted by teachers who tell us what a cult following they have, how many instagram followers they have, I admire their marketing techniques, goodness knows, we've needed some of that savvy. But can I, hand on heart, tell my folks that these are the very best teachers? No, not necessarily. So, no, this year we haven't got lots of new teachers on the site but have deepened our content with our existing ones. Yes, we have reached out to a few teachers who have been doing amazing things in different spaces and we have welcomed, for example, Vidya Heisel, on the site. She's been a yoga teacher for nearly 40 years, is Founder of Frog Lotus Yoga, runs Suryalila, and is a real game-changer when it comes to yoga. And you'll be able to meet some more power-houses of yoga in 2017!
4. New Marketing Maven
In the summer we advertised for a marketing maven and had 80 applications! It was so wonderful to see so much enthusiasm for our community. We hired Rosie Blake, who's revolutionising this little online yoga revolution with her savvy and creativity. Rosie, you rock!! We're so grateful for your hard work, creativity and inspiration for ways to get the Movement moving!
5. Creating an App
Last year we held a survey and asked you what feature you wanted. You told us that you wanted an iOS App, so I'm having such a lot of fun creating this over Christmas and the New Year. I'm hoping it'll be ready for you to test out in the first few months of 2017. Eeeeek, how exciting is that?!
I was really chuffed to have been appointed a Contributing Editor of my favourite glossy, Psychologies Magazine. It really showed me that at MFML we must be doing something right, as this is the magazine dedicated to how women feel, not how they look. That's a perfect synergy for us.
7. New Monthly feature in Om Yoga Mag.
I'm pleased as punch that OM yoga magazine have asked Movement for Modern Life to showcase their monthly yoga @ home feature, showing we're the leading online yoga provider for yoga @ home.
We've been featured in countless publications this year, including OM Yoga Magazine, Psychologies, Red, Elle and the The Independent.
8. Our Online Community
We've now started our very own community for folks to meet other MFML Movers. It's your place to chat to each other, share your top tips, share recipes, inspiration, feedback and ask questions from our resident yoga teacher, Kirsty Norton. And we met our Movers at key yoga events, the London OM Yoga Show, plus Yoga shows in Glasgow and Manchester.
9. The MFML Retreat
We've started our very own Transformational Retreat. Our first retreat has been sold out for a while. It'll be an annual pilgrimage into ourselves and create a real-life community from our online community. You'll hear more about how the retreat went in January!
And You?
I hope that you're able to look back on your 2016 and see the light, as well as the shadows, and that you are able to build and grow these for the next year.
---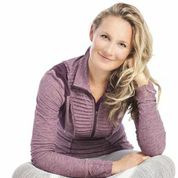 This post was written with love by our fabulous founder, Kat Farrants.