There has been a monumental conflict between inversions (or in some cases even yoga) and feminine menstruation for many years now.
Some yoga teachers promote no inversion practice during the female period for one reason or another. Sometimes it's because they follow a very old yoga tradition, other times they may think it's better to be safe than sorry. Some follow the more scientific approach and reject this theory altogether. It's interesting to find out what modern women really think about it, or whether they even know that there are yogis out there disputing what is right and wrong.
I decided to put social media to good use and present females with a simple survey. As a result, over 60 women responded with their views. It was interesting to see that 34% didn't actually know about the idea of inversions being the nemesis. A similar percentage of women said that they don't practice inversions during their menstrual cycles as it doesn't feel good and they are really glad they don't have to do it. Simple as that.
It's also noteworthy that half of the 64% of women who said that they do practice inversions during their moon cycles were almost appalled that this is still being discussed and argued. Quoting one of the responses: 'period is not going to rule my life'.
From the medical point of view, there isn't much modern day science to support the old theory. But Google the topic and you will find multiple articles quoting complex and scary verbs and phrases such as retrograde menstruation, endometriosis, Ayurvedic apana, the worlds end (you get the idea!).
If you choose to share with any Iyengar teacher that you're on your cycle, you will receive special treatment. Pattabhi Jois used to encourage women to take a day off practice altogether. Same with a few other hatha yoga regimes.
There's also a group of teachers who either don't mention it at all or advise you to tune into your own body.  Ana Forrest's words still ring in my head – when asked what she thinks about this theory, she boldly responded: 'bullshit'. This strong modern-day heroine promotes the idea of listening to your body rather than to old men's tales.
Kathryn Budig, even though she clearly doesn't believe in the scary endometriosis stories, is a great promoter of ladies' holiday (Jane Austen novels and also an 'artillery of spoons ready to attack a fresh mint and chocolate chip gelato' – yum!).
Unless we are born in a family of gymnasts, we probably aren't holding inversions much longer than a tampon commercial. Most likely, there are hundred other things that will make us ill or unwell faster, such as everlasting stress or London smog! But the bottom line is that yoga is full of contradictions, leaving each of us ultimately responsible for our own choices.
Nevertheless, we often feel the need to justify and seek approval. Females tend to experience a lot of annoyance and feminist skepticism when someone says we need to follow a 'special' routine. As human beings living in 21st century – where performance and results are measured on a daily basis – some feel that taking time off would be a sign of weakness; it's easy to feel as if our value is linked to our productivity.
A friend of mine describes today's people as 'perpetual doers', and I'm guilty as charged. Most of our lives are filled with stimuli. It can seem nearly impossible to sit still and do less, let go and actually rest in that child's pose. To me, this entire epic battle is simply a matter of consciously allowing yourself to do less without needing a justification. Why not find ways to say thank you and appreciate what the body is doing for us every day, keeping us alive and strong. This may mean finding time, whether it is your menstruation or not, and allowing yourself to take a very personal holiday that doesn't require your boss' signature.
One of the superhero females who participated in my survey wrote: 'I used to overtrain and always take the hardest option. Yoga has taught me that you don't always have to do everything at 1000%'. After all this is what yoga teaches us.
---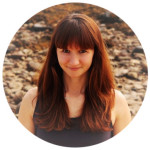 This post was written by Daria Wall, who began her yoga journey in 2008. She quickly became interested in Forrest Yoga and travelled across the world to train with Ana Forrest and completed the Forrest Yoga Foundation Teacher Training in Hong Kong. Her curiosity and fascination with anatomy and biomechanics of the human body sent her to Thailand where she begun her journey with an international yoga teacher, author, acupuncturist and health & wellness specialist, Tiffany Cruikshank, with whom she is completing the 500 hour certification. Daria is trained in full body massage, myofascial release, Thai massage and Chinese medicine. She completed the Professional Thai Massage 150 Hour training at the Thai Massage School of Chiang Mai, Thailand. She is also a certified Open Water Diver and runs a company called DP Wellbeing that delivers fitness, yoga, massage and nutrition guidance, classes, workshops and treatments across Dundee and Broughty Ferry in Scotland.