LIVE ONLINE CLASSES – Join us for this series of four yoga classes to motivate and inspire your morning
Mondays 25th Sept – 16th Oct // 07:30-08:15 (GMT)
We all know how difficult it can be stay inspired on our yoga mat, especially at home alone! Rolling out of bed can be harder if you're not accountable, and for some of us it can help to have a class in real time to show up, even if that class is online. So this September show up weekly with the community and we can roll out of bed and onto our mats together!
Signing up for a weekly class keeps us accountable and motivated and this is especially useful after the summer holidays! Plus, it's fun to move and breathe together, sharing the joy of an inclusive, welcoming community.
Brand New! Starting on 25th September, this four week series works to progressively refine our flow and build confidence in our morning yoga practice.
These morning classes focus on the connection between breath and movement and creating grace, ease and flow in mind, body and spirit.
You will come away from this series with a clearer understanding of how to dance between form (alignment) and flow. As well as gaining a deeper embodied understanding of the principles behind many of the key groups of poses. All this will invite a greater sense of sustainability, longevity and ultimately sweetness in our personal practice.
---
Who are the classes for:
These classes are open to all levels of experience from newcomers to old-time movers and are recommended for anyone who wants to build a regular yoga practice into their days. Even if Vinyasa Yoga is tricky for you, because of mobility issues, you are welcome to just show up, and even just adopt child's pose for 45 minutes each morning. That practice is just perfect too. Show up exactly where you're at, and do the practice that's right for your body, but breathing and supported by your Movement for Modern Life community.
The classes are perfect for you to get motivated and accountable in your daily yoga routine and for breathing and moving alongside others.
---
The Schedule
The classes are 45 minute and will run every Monday at 7:30am (GMT) for four weeks from 25th September 2023
The four week series will progressively build up. Each week we will focus on a specific group of postures to hone our understanding of its alignment and its benefits.
Week 1: Monday 25th September
Breath led Movement- The Art of the Breath as the Conductor.
Week 2: Monday 2nd October
Side Facing poses- Exploring standing poses that open the hips and connect us to earth.
Week 3: Monday 9th October
Front facing poses- Exploring standing poses like Warrior 1 that require precision and presence to unpack their gifts.
Week 4: Monday 16th September
Back bending- exploring the delight of working on foundational alignment principles for backbends to create freedom in the lower back and expansion and ease in the chest and heart.
---
About Lucy: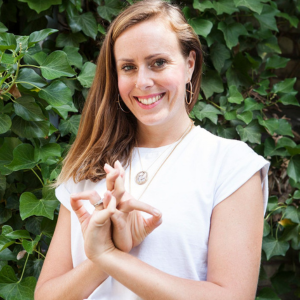 Lucy accidentally began her Yoga journey while on tour in India. What she loved most was the clarity and calm in her mind after class and how light and bright her body felt. Since that day she has continued to follow her passion finding her teachers along the path and immersing herself deeply in all things yoga. Lucy teaches mindful, heart felt Vinyasa flow, as well as Yoga Nidra and restorative yoga.
---
Cost
We know that some of you are facing some real cost-dilemmas and we know that sometimes our wellbeing practices are the first to suffer when life gets hard.
We want you to know that we are there for you.
Therefore, we are trialing a 'Pay As You Can' for our MFML workshops and courses.
There is a suggested price, which we ask you to pay, if you have the means. The suggested price is the 'true cost' of running the series of 4 classes, and this is £60.
If finances might get in the way of you joining, you can pay what you can afford, and therefore you are still able to join. This is based on the Buddhist system of Dana. Having said that, the minimum that we can accept is £10, because like you, we are also struggling and have costs to cover.
Those of you do have the means, please do feel free to pay more than the suggested price. We want so much to continue to support you for years to come with online workshops and community gatherings. However, we can only do that if we continue to have your support through tougher times.
Please do get in touch if you have any queries whatsoever about the workshop, about payment, or any concerns at all. We really love to hear from you.
---
Can't make it live?
We will be offering a on-demand playback of the course for 14 days afterwards, so you don't have to miss out!
---
Questions?
If you have any questions about these sessions, drop us a message on support@movementformodernlife.com
---
---
Terms & Conditions
The live online classes are for your education and your enjoyment only. You are participating in the live classes at your own risk. You are encouraged to to take breaks when needed and/or when in doubt, don't do sequences that you are even a little concerned about. If you have any health condition, please seek medical advice before taking any form of exercise. If you have any concerns, please let us know before the class starts.
If you feel unwell in any way or if you experience any discomfort during class, please stop the class and consult your health practitioner immediately. Remember that yoga is mostly a journey off the mat and into life, and it is a journey about taking responsibility for our own actions and cultivating self-knowledge. Only choose exercises which will nurture and support you, and please take responsibility for yourself and your current abilities during your practice. Remember that each day is different, and even if yesterday you were able to perform a movement, that is no indicator that the same exercise is possible today. Please move within your comfortable limits and if you're in any doubt whatsoever, please seek medical advice.
We are not medical practitioners and we do not seek to offer medical advice. Please consult your healthcare practitioner before starting any new exercise. This is particularly important if you have any limiting condition or are, pregnant, nursing, regularly taking medications, or have any existing medical conditions. We do not accept any liability whatsoever for any injury or damage, either during or after this event. Your participation in this event is entirely voluntary and at your own risk, and you agree to abide by the T&Cs of Movement for Modern Life.
Your data
By signing up to the online classes, you consent to us adding your name and email address to our marketing database. If you do not wish to receive emails from us outside of this class, please do let us know and we will be sure to remove you from our database.