Can we lead happier, more balanced lives if we practice more self-discipline? Yoga teacher and life coach Tracy Johnson shares her tips on how yoga can help.
If you already practice yoga regularly and have ventured into reading about yoga philosophy, then you will be familiar with the yogic value of 'tapas', or self-discipline, or as Iyengar described it, a "burning desire' to make ourselves pure and healthy". Tapas is one of the Niyamas, or observances, in the Eight Limbs of Ashtanga Yoga.
The concept of discipline may sound intimidating, but I have always felt personal satisfaction when applying some restraint to my life. At 43 years of age, I have a strong, lean body thanks to regular exercise and a healthy diet. I hold qualifications as a yoga teaching, in nutrition, a PhD and have started my own business. I make yoga a daily part of my life, whether that means teaching my students, rolling out my own mat, meditating or just trying to be compassionate on a day when I feel unforgiving. II've only been able to get to where I am by dedicating my spare time to developing my mind and my career. It's all about finding a balance and appreciating the short-term successes.
In Bringing Yoga to Life, Donna Farhi writes, "We use the practice of yoga, not to correct or punish ourselves for who we are not, but to see who we actually are." Through both the discipline of practice and through 'svadyaya', or self-study and development, we can gain the opportunity to get to know ourselves better. We do so by burning away all the non-essentials and all the storytelling that gets in the way of our being honest about what we are capable of, what makes us tick and what we need to be happy.
Here are some tools to help you bring tapas off the mat and work toward a more balanced, disciplined life.
1. Discipline Your Diet
Maintaining self-discipline around food can be one of life's biggest challenges. I've always envied people who see food purely as fuel; eating has been a personal source of pleasure and one taken to excess. By studying nutrition, my mind was opened to what a pure and finely calibrated machine the human body is. It wants clean, unprocessed food only when it is hungry. As food writer Michael Pollan puts so simply: "Eat food. Not too much. Mostly plants."
Being disciplined around food doesn't mean starving ourselves or ruling out the foods we love. It's about eating delicious foods from a wide range of natural sources and tuning back into our bodies' rhythms. We can start by avoiding to eat in front of the TV, for example. We can apply more focus on each meal by sitting at a table, savouring every mouthful and being thankful for what's on our plate. We should stop when we are pleasantly satisfied, and save treats for special occasions or weekends– they should remain 'treats' rather than surplus to your body's needs.
Authors such as Madeleine Shaw and Amelia Freer offer plenty of nutritious, balanced ideas if you need some inspiration to recalibrate your diet.
2. Discipline Your Practice
When we get busy and tired, rolling out the mat can start to feel as much as a chore as having to do the dishes. We should do it anyway. When starting a practice, stop for a moment and take a deep breath to help find stillness. This can help us remember how good it feels to step out of everyday busy life and bring calm to the mind and body. Setting a specific and non-negotiable time each day for an asana practice can be helpful, too. Plugging it into a calendar makes it official. After all, scheduling time for yourself is just as important as the rest.
Cultivating discipline requires building routines and motivation. If we leave things to chance, opportunities slip by or we can talk ourselves out of things. When rolling out a mat, establishing rituals such as lighting a candle or practicing in a designated space can help to build a habit. Starting the practice with some calming pranayama or by reading a passage from an inspirational book can help to set the right mindset. If you're really struggling, it can help to think of three ways in which yoga helps you feel better.
3. Discipline Your Mind
Meditation, or 'Dyhana', is the seventh of the Eight Limbs of Yoga. When we can't find the time or space to explore asana on the mat, spending time in meditation can be the yoga practice for the day. An increasing body of evidence-based research demonstrates how regular meditation changes the physical structure of the brain, making us less prone to behave aggressively or to overreact to certain situations.
Using tapas in terms of applying discipline to the mind can bring much more contentment in life when stepping off the mat. It can teach us to check the endless rumination about what other people may think of us or what the possible outcomes of a decision might be, or even just help us stop worrying about what next week holds. We have no control over other people's thoughts or actions, nor can we see into the future.
Using the discipline of meditation, we can learn to stop needless and harmful speculation and comparison, and learn to still the mind no matter where we are. As Iyengar says in The Tree of Yoga, "I meditate, not sitting in a corner, but in every movement of my life, in every position I perform, in every asana."
When the mind is racing, stop for a moment to breathe and be still. By looking at where we're working to excess, we can identify where we need to do less or apply some restraint. By cultivating tapas, we allowing ourselves to become more calm, disciplined and prepared for areas of your life off the yoga mat.
Find more tips for keeping up motivation and a daily yoga practice
---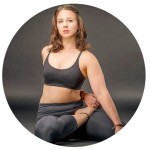 This post was written by Tracy Johnson, the founder of Brainbox Coaching and Empower Yoga Bristol. She trained under Sally Parkes and is a 200 hour RYT with Yoga Alliance. Tracy blends her yoga teaching with confidence coaching and stress management to create a holistic practice, and runs her classes with warmth and humour. She is the author of a careers guide, Working in Science, co-author of The Coaching Gurus, and writes for publications such as OM Yoga Magazine, Globe of Love, Happiness+Wellbeing, MindBodyGreen and has been featured in the Guardian, Body Fit magazine, the Bristol Post and Cardiff Life. She is also a self-defence instructor, an Integrative Nutrition Health Coach and is currently studying to become a personal trainer. Follow Tracy on Twitter.