This guest post is part of our Conscious Living content series and written by our friend Patricia Afonso – CMO of Planty. Planty and MFML have teamed up to help you explore more conscious food and movement choices to support more sustainable and healthier lifestyles.
Get more plants into your meals without much effort or FOMO! From wholesome breakfasts, easy lunches and satisfying dinners, the pressure is off this year!
Planty's Head Chef & Development Joe comes to the rescue with an easy plant-based meal plan and pro tips for those short in time, energy or creativity.
MONDAY
Beat the blues with meals that feel like sunshine and some mindful movement.
Breakfast: Mood-boosting Dark Chocolate Granola – with coconut milk
Lunch: BBQ Banana Blossom Burrito by Planty (served naked)
Dinner: Homemade Beetroot & Crumbled Cheese Tart with a green side salad
Tips: Prep your granola the night before and make some extra if you fancy having it another morning during the week. While your Cheesy Beetroot tart bakes at dinner time, prepare your overnight oats for Tuesday morning.
---
TUESDAY
A proper energy boost with high protein, fibre and iron to get you in the rhythm today
Breakfast: Overnight oats
Lunch: Hearty Jackfruit Chowder by Planty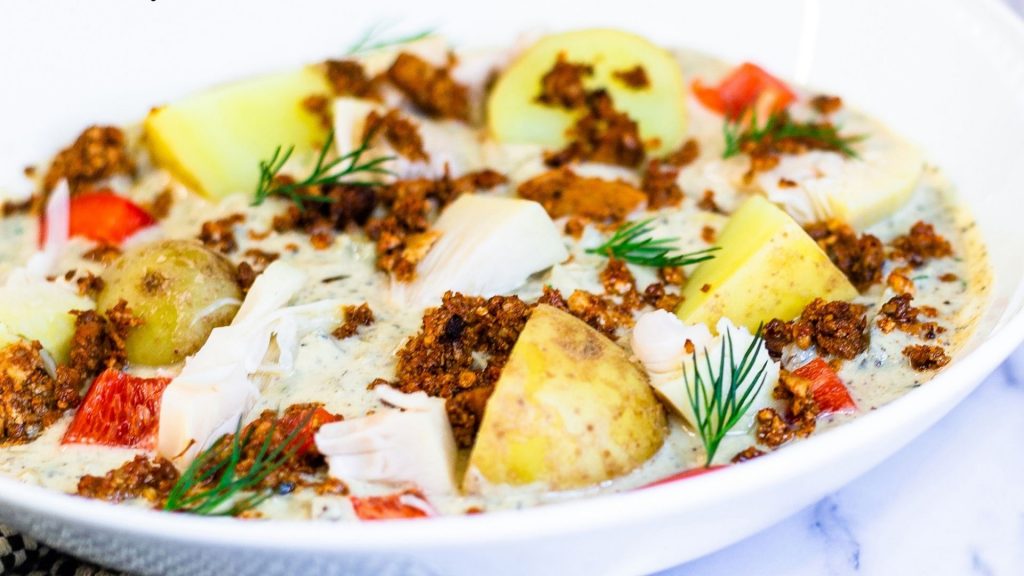 Dinner: Zesty XinXim by Planty or if you're in the mood for cooking, homemade Xinxim with Grilled Aubergine
Tip: Prep your crumble ingredients in a jar for your Wednesday breakfast
---
WEDNESDAY
Keep the momentum going with high protein, fibre & magnesium for a mid-week boost
Breakfast: Baked banana breakfast crumble
Lunch: Polpette Alfedo by Planty
Dinner: Homemade Loaded Butternut Squash with a side of guacamole
---
THURSDAY
The best Middle Eastern & Asian flavours and textures to keep things fresh & exciting
Breakfast: Cinnamon & apple porridge with oat milk
Lunch: Planty award-winning Yaki Miso Udon Noodles
Dinner: Crowd-Pleasing Plant-based Shawarma
---
FRIDAY
You made it through the work week – take it easy with some tasty treats
Breakfast: Avocado on toast with vegan scramble (Loveoggs are a favourite)
Lunch: Mac No Cheese by Planty
Dinner: Not-A-Chiken Tikka Masala by Planty
---
SATURDAY
Best spent it with friends over brunch, afternoon tea, sharing plates or a hearty dinner
Brunch: Savoury Pancakes with slow-roasted tomatoes & mushrooms
Afternoon tea: Beetroot Velvet Cake by Planty – served with tea (we like Pukka's range)
Sharing plates: Healthy Smokey Nduja dip, Hummus & Cheesy Pizza Twist
Dinner: Homemade Vegan Lasagne Al Forno or One Planet Pizza
---
SUNDAY
Laid-back top-notch breakfast bites followed by comforting British classics
Breakfast: Cheesy breakfast burrito bites with vegan bacon
Lunch: Golden Crispy Toad In The Hole with homemade gravy & side salad, Planty Sticky Date Pudding
Dinner: Sherpherdless Pie by Planty
---
DESSERTS
Apple slices & peanut butter
Mixed fruit salad with Coconut Yoghurt
Planty Beetroot Velvet Cake
Planty Chocolate & Hazelnut Fondant
Planty Sticky Date Pudding
---
Pro tips to make things even easier:
Make the most of different plant-based milk options on the market today
Keep healthy snacks handy like hummus, fresh fruit, nuts, edamame beans
Get 5-a-day easily with Planty meals (min 2 of your 5) and fruit for dessert or snack
Get 30% off Planty meals thanks to MFML for when you're short on time or energy
Replace homemade breakfasts by getting oat bowls from Blend My Day
Use the time saved from having to cook at lunchtime for a mood-boosting activity such as a class with MFML or outdoor walk for fresh air and natural daylights
The weekday dinner recipes Joe suggested are easy and satisfying, but also a great mindful activity to unwind after work (when you have time and energy to cook)
Get all the iron, calcium, Vitamin B12 you need from plants
Mix and match items on our meal plan as weeks go on for something exciting to eat every day (life is too short for average food).
Need a pep talk to motivate you to eat more plants in 2022? We list 7 Reasons Why You Should Eat More Plants In 2022 which also helps us stay on track at Planty.
---
---