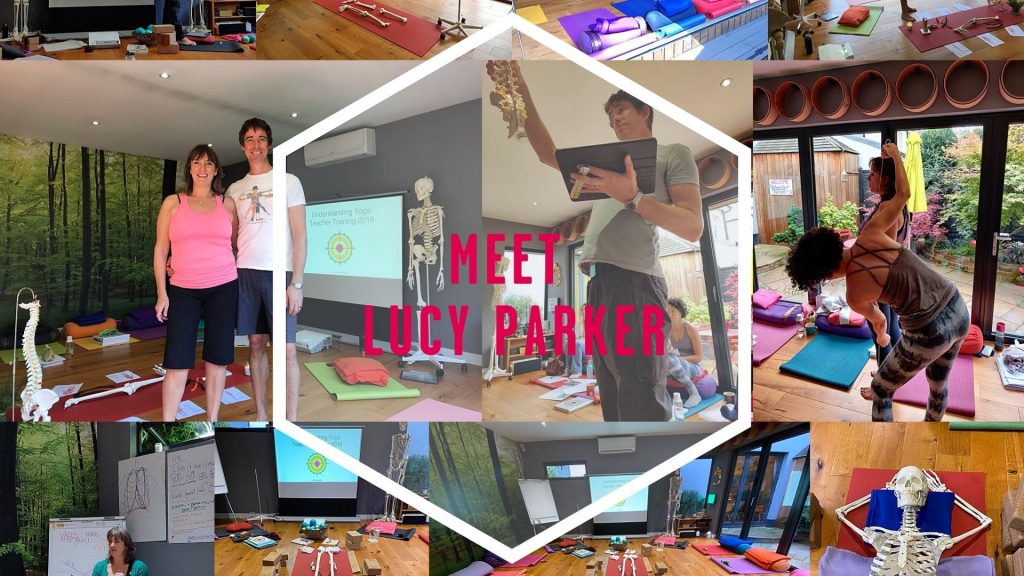 Lucy Parker is a senior yoga teacher and together with her husband Ben, co-founded Flow Tunbridge Wells. Ben and Lucy offer insights into understanding anatomy for daily life and for yoga practice.
Lucy is a well loved senior yoga teacher, we wanted to know what she teaches and why?
My enthusiasm for and commitment to yoga started during my university days. I was terribly stressed in the first year and found the whole experience pretty overwhelming. During a weekly telephone conversation with my mum she recommended that I try a yoga class. I can honestly say that I've never looked back and that was over 30 years ago!
At the age of 30 life again took me on a pretty challenging ride which resulted in my then husband being diagnosed with a brain tumour. Over the 5 remaining years we had together we learnt a lot about life which is such a profound paradox. After Alastair's death I knew things needed to change. We had two very young children and I wanted to be sure they grew up with me, as their only parent, close to them. I quit my job in London and retrained as a yoga teacher!
It turned out to have been a brilliant decision as I could become the master of my own diary and literally fitted my daily class schedule around my boys. When they were at school I taught; when they were in bed I taught; when they wanted to play I was there for them. Yoga once again saved the day! Things are a little more formal now as what started out as a way to be the best parent I could be whilst still paying the bills has turned out to become a robust and successful business. We've even won Best Yoga Studio in Kent for two years running! I count myself as extremely blessed to have found love twice in one lifetime as Ben entered our lives at just the right time. He also has two boys and now the 6 of us have become a great team.
Why do you teach?
I don't like to be told what to do. I'm a terrible rebel and have always been. When I was at school I was that annoying child in the back constantly asking 'WHY?" I still ask why now, all the time and about pretty much everything. I once asked an Ashtanga yoga teacher why she taught '5 A's, followed by 5 B's' (meaning Sun Salutations) at the start of each class? She told me 'she just did', so I politely left after the class and didn't return. I need to know why. This is why I teach, to encourage others to question, to be curious, to poke at things until they understand and appreciate what their role is and what can be learned by the lessons life gives us.
Teaching and practicing as an enquiry
Every class I teach is an enquiry, an exploration into what is presented in that day for each individual. Having taught for over 10 years now I mainly teach privately as I love exploring the edges of the questions with my clients. Many questions are far beyond the limitations of the body. So much can be learned about our hearts and minds through our yoga practice and both Ben and I are committed to the principles of yoga as a Biopsychosocial model of teaching.
I also focus a lot on developing Flow as a centre of excellence for learning. We run our own teacher training called Understanding Yoga Teacher Training with some amazing experienced teachers including Liz Lark, Alexander Filmer Lorch and Laurent Roure. We're also running an advanced applied anatomy course. My favourite teaching days are when Ben and I are teaching a group together. We love to explore the complications of anatomy with interested students keen to find answers to their questions. There's lots of banter and we're always pleased when we hear that magic question, WHY?
What motivates you?
Our studio has steadily evolved over the past 10 years from a studio simply offering daily yoga classes into a wonderful haven and centre for learning and self discovery. I love nothing more than creatively exploring ways to support our students to learn and deepened their understanding of themselves and their world. We've created a vibrant timetable of workshops and events as well as retreats and trainings.
What is your favourite way to unwind?
Other than meditation I love a good bath, especially as the weather gets cooler. I also enjoy regressing a bit to my youth and indulging in a wonderful bath bomb from Lush. I still find the unfolding effervescing colours and smells a stunning assault on the senses! I've also found a new found love of growing my own veg over lockdown and am super proud of my tomatoes!
Which living teachers / thinkers most inspire you and why?
I feel blessed and privileged to have Alexander Filmer-Lorch as my mentor and guide. Alexander is the most humble and insightful man I know and his wisdom and generosity of support is a continuous tonic and reassurance to me.
Recommend your favourite books ( 1 – 3 titles)
The Tao of Pooh
The Book of Joy
The Poetry Pharmacy (book 1 and 2)
Which daily practice would make us feel better?
I meditate daily and encourage others to make an appointment to sit with themselves daily too. Teaching meditation is a joy for me. It somehow feels a little at odds with the anatomy teaching I also enjoy but there are connections. Meditation, like anatomy, is not a 'one size fits all practice'. It should not be prescriptive and regimented. We are all individuals and we all need to learn and honour what works for us and how best to nourish and support our minds as well as our bodies.
Beach or Mountain
Beach, I do so love the sea. My mother always told me to try to find a horizon to stare at each day, (pretty tricky in the city). Nothing beats a good sea horizon to readdress your priorities.
Cat or Dog
Sadly, I'm really allergic to both! My children were desperate for a pet when they were younger so we ended up with a bearded dragon!
Rural or Urban
Rural for me. After living in London for over 10 years it's the Kentish countryside that has my heart now.
Sunrise or Sunset
Sunset, ideally over water.
Spring or Autumn
I so love the anticipation that comes from a long winter as we eagerly await the Spring. There is so much hope in those young shoots and delicate daffodils.
Which is your favourite food?
I'm extremely fortunate that Ben is a brilliant cook and manages to juggle the many vagaries of our families dietary needs. Amongst the 6 of us we currently have 2 pescatarians, 3 vegetarians and a vegan. Ben makes everything super delicious and I can honestly say we all have a wonderful, healthy and varied home cooked diet. Lucky us!