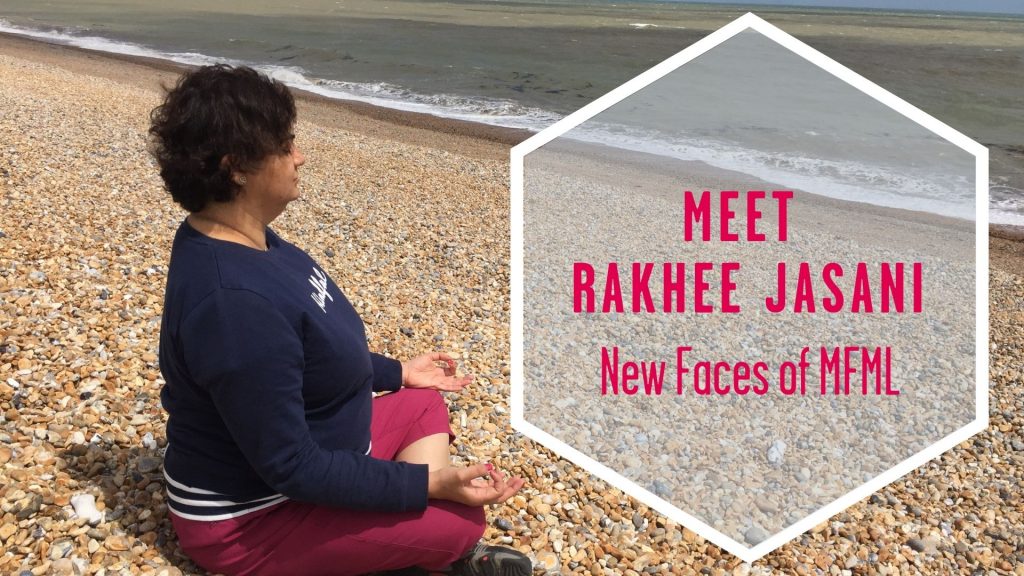 Meet Rakhee Jasani! You may know Rakhee from the MFML Blog and courses, but Rakhee also teaches dynamic breath-led yoga infused with practices from Qigong and mindfulness. She shares what inspires her.
What do you teach?
In terms of movement practices, I teach dynamic, breath-led yoga blended with qigong and restorative yoga and infused with mindfulness and meditation techniques. In reality though, I hope that I also help people to discover tools which can support them with challenges that they are facing and to awaken their spirit. I draw my inspiration from the world around us: from art, literature, nature, culture and philosophy: all the things that reflect my experience.
What brought you to this practice?
I first stumbled across modern postural yoga at university and my first encounter with it was something called 'Chinese Yoga.' I'd been brought up in a Hindu family and as a child I used to love spending time with my grandmother helping with the rituals I now see reflected in yoga practice.
After I graduated, yoga kept drawing me back. I couldn't define why, but it made me feel better: taller, softer, more… myself. I slowly built a regular practice. At this time, I had also co-founded an arts and education charity, so life was busy, but yoga offered me physical, emotional and mental space and clarity. My practice and what I teach is still rooted in these early days: my yoga is dynamic; I weave through the elements I'd found within Chinese Yoga from Buddhism and Taoism and my grandmother's teachings are never far from my thoughts. I also continue to work with young people as I teach yoga to teens and tweens too! Most of all though, I have come to see that what I do is a 'practice' not an end in itself, and I practice to understand more clearly what it is to be human.
Why do you teach?
Vanda Scaravelli said "To teach is an act of love. To teach yoga is also a responsibility". I deferred my yoga teacher training until I was ready to teach. I have a deep and abiding respect and love of yoga and before my teacher training, I took lots of courses and studied deeply to find out more, but teaching is its own practice and I can truly say that I learn alongside my students. As well as adults, I continue to teach children and young people. I love the resourcefulness, creativity and energy of young people. They remind me to stay present and stay curious!
What motivates you?
Making the world a better place.
What is your favourite way to unwind?
I love walking, spending time outdoors, but also reading, watching films, talking to friends and I absolutely love cooking and eating. I also love to travel: I studied languages at university and that curiosity to unlock and understand other cultures and ways of seeing the world remains with me.
Recommend your favourite books ( 1 – 3 titles)
Ha! This question is way too hard. I'd be swearing under my breath at whoever set this, if it wasn't me. So, I'll say this, I asked this question because I love reading and am always curious about what others read. I read to learn and immerse myself in stories that help me to understand the world and to see it in new ways. The honest truth is that I couldn't possibly boil down my favourite books to 3, but that I could certainly tell you the ones I enjoyed the most recently:
Wilding by Isabella Tree
Americanah by Chimamanda Ngozi Adichie
And, I've recently re-read Brunizem by Sujata Bhatt
Which daily practice would make us feel better?
Meditation alongside at least five minutes of breathing and moving! I'd suggest more than five minutes, but five minutes to get you started and when you're short of time.
Beach or Mountain
Beach just! I have more experience of being on a beach, although I love the steadiness of mountains, but if I could magic myself to one of those right now, it'd have to be a beach!
Cat or Dog
Both.
Rural or Urban
Rural. I say this as a Londoner but I feel a strong pull towards less of a city buzz these days.
Sunrise or Sunset
Sunset.
Spring or Autumn
Autumn.
Which is your favourite food?
I love food, so I'm not sure I can narrow it down, but I love spicy food. All spicy food, not limited to any particular cuisine and I love cakes! As a child during the holidays, I used to have lunch every day with my grandmother. And every day she used to cook up an absolute storm! She would cook a full Gujarati feast on a daily basis (always vegetarian) which would involve: some sort of Indian bread: chapattis, parathas, puris alongside two vegetable dishes and some lentils or pulses; rice, pickles, something sweet and generally something fun or fried: a samosa or a kachori. I didn't really appreciate it at the time, thinking I'd much rather have fish and chips! If only I could have that feast daily now!
When I was at school, sometimes on a Saturday I would head to China Town with friends – there was a whole rag tag of us but we all loved Dim Sum and this became the flavour of my teen years and still I never miss an opportunity to tuck into dumplings slathered in chilli sauce. I love the clean taste of Japanese food. I spent a year in Spain and tapas culture, going from bar to bar to nibble a delicacy was a revelation. The thing is though, all of my food stories have a common thread: love, friends and family. So my favourite food is whatever is shared with love and with people I care about.
---
More about Rakhee Jasani:
If you want to read more about Rakhee, you can connect with her through her website, or why not try visit her teacher's page and try out one of her classes.