In our lives we're all asked to face so many challenges, life can seem so overwhelming. And that's just getting through our busy 'things to do' list. Sometimes the big tasks, the things that we mean to do, well, they just don't get done – and life can get derailed with the unplanned tasks that crop up.
These big things could be following our dreams – finding a job that we love, finding love,  taking that trip abroad or perhaps even starting our own business. I spoke to one very courageous person who started her own yoga retreat centre in a different country, lovely Vidya setting up Suryalila, and when I asked her her tips for how she went about setting up her retreat – she said
'Just go for it, don't think about it too much, just do it!' 
I love that advice. I think that many of us can get stuck in the detail of life and forget to see that the big picture is what matters and sometimes you don't need the answer to every little thing, you just need to roll up your sleeves and do it.
Other times we need a different kind of courage. Like when we are faced with illness, injury, grief or perhaps we are helping a loved one who is going through these things. That requires another kind of strength and resilience, but you do certainly need courage to get through these times too.
Courage
I have found that courage to deal with uncertainty, courage to leave my comfortable job in the city and start my own business, courage to take a step into the unknown and start something I knew nothing about, courage to deal with the terror of a car accident – they've all been essential to me thriving through life. Maybe you've found the same thing?
Yoga For Challenging Times
I know that so many of us are going through tricky times, and times that require us to step up right now. And with that in mind, as a conjunct to our current Take Heart Course (especially for Cancer Survivors and those recovering from illness), we have also created our Build Courage and Resilience Course, which is ideal for carers and those of us needing to improve our resilience and courage to thrive through life.
And don't forget that October is a great month to sign up to MFML or renew your membership as we're donating 5% of every sale to Breast Cancer awareness charity, CoppaFeel!
With love
Kat and team MFML
22nd October 2018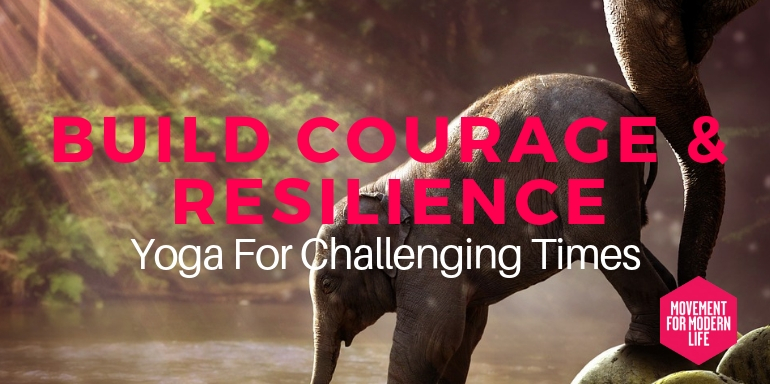 ---