A rare chance to join us live! Join us at our yoga retreat in beautiful Andalusia with Lucy McCarthy for some winter warmth. Thursday 15th – Monday 19th November 2018.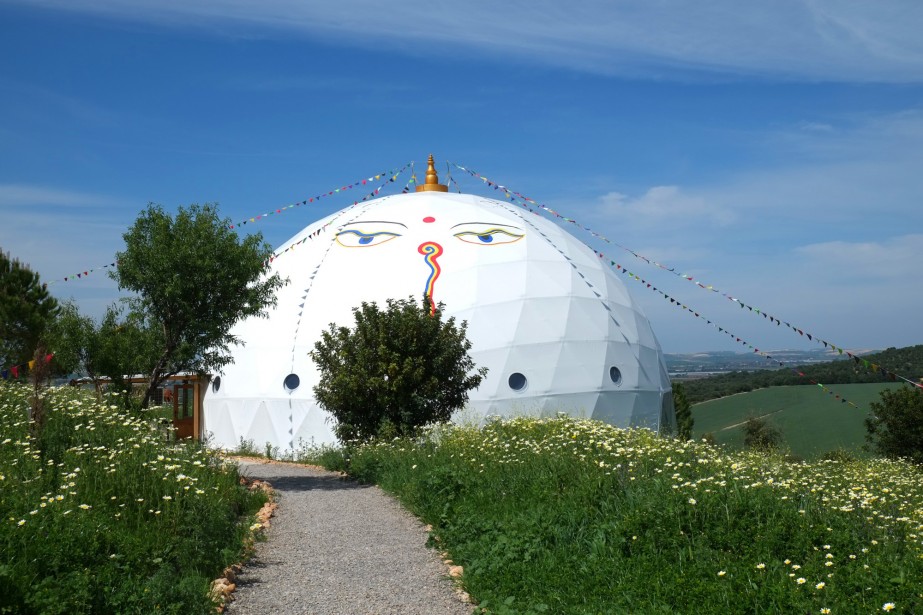 Movement for Modern Life are delighted to run a one-off retreat for our community to meet and share the joy of yoga together as we practice with the MFML team and one of our most popular teachers, Lucy McCarthy. We are offering a precious five day retreat in which to leave the world behind and deeply honour and nourish yourself.
This will be an intimate retreat, with a maximum of 12 movers invited to join us.
About Suryalila
We have decided to come to magical retreat centre, Suryalila for an intimate, joyful gathering of yoga.  Our founder, Kat, visited Suryalila at the start of the year and experienced the beauty and transformative power of Suryalila in winter. This retreat space really has a beautiful soul to it, a feeling of the power of community.
The Retreat Programme
This transformational four day retreat will, through the potent mix of daily meditation, breath work and postures, prepare mind, body and heart for the oncoming winter season. Create freedom and power in the body, spaciousness and calm in the mind, and courage and joy in the heart. Each day will begin with a deep, nourishing practice of meditation and breath work followed by a dynamic, revitalising vinyasa flow practice.
In the afternoon we will bask in sumptuous restorative yoga and yoga nidra to restore and rejuvenate mind and body. This retreat will give you the opportunity to deepen your practice, experience a broad spectrum of yogic tools beyond merely the physical postures and allow for transformation and profound growth to take place.
All levels and experience are welcomed.
You will experience the natural beauty and spaciousness of the retreat centre, to reflect your new found freedom in movement and spaciousness in your mind. You will have the tools to go into the winter months full of joy, energy and comforted in spirit.
We will practice in Suryalila's magnificent dome yoga shala, a stunning space with immense views of the surrounding hills.

---
Delicious Vegetarian Food
When Kat visited Suryalila earlier this year, she was particularly impressed with the food. The food is the freshest, most delicious and plentiful vegetarian menu. A hearty, breakfast, lunch and dinner are served, using one the freshest, seasonal and locally-sourced organic fruit and vegetables.
---
Other Activities
Between classes there is plenty of time to explore the natural beauty of Suryalila or relax, enjoying the sunshine by the pool.
In the evenings there is use of the wonderful sauna for two evenings.
Essential to our growth, we will also be enjoying laughs and the joy of community as we change our usual home practice space for the joy of practicing with a small group undergoing transformation.
In the evenings, we will have fireside discussions on the theme of transformation with Founder of Movement for Modern Life, Kat Farrants. There will also be the opportunity to take part in a flamenco class during the retreat and if you want, some uplifting yoga related movies.
---
Things to Do
There will be time set aside each day to take in the stunning beauty of the surroundings. Perfect for long walks, guided hikes or riding on horses from Suryalila's very own stable. Massage treatments are also available at Suryalila in their treatment rooms with local therapists.
All amidst the great beauty of southern Spain with like minded community around you to share in your experience.
---
How To Book
To reserve your space, just send an email to namaste@movementformodernlife.com
You will be asked to pay a £100 deposit and the full price is payable 60 days beforehand (15 September).
Accommodation and Costs
Deluxe double room with private bathroom (4 Nights)
Price per person for single occupancy – £799
Price per person for 2 people sharing – £695
Superior double with shared bathroom
Price per person for single occupancy – £750
Price per person for 2 people sharing – £650
Twin room shared bathroom
Price per person for 2 people sharing – £599
Includes:
Accommodation
Three delicious vegetarian meals each day
Free tea, coffee, fruit and drinking water throughout the day
Daily meditation and yoga classes
Sauna
Evening discussions on Transformation with Kat Farrants
All other trips, activities, treatments and wine with your evening meal are at an additional cost.
---
Travel Arrangements – Flights
Several airlines fly to Seville or Malaga. Suryalila can be reached in just one hour from the airport in Seville. Malaga airport is two and a half hours away.
Both Easyjet and Ryanair fly from London to Seville and offer low cost airfares, particularly if you book early.  Also try Skyscanner and BA.
We suggest taking the EasyJet Flight EZY8175 from London Gatwick to Seville departs 9.25am, arrives 13.15 Thursday 15th November and EZY8175 depart Seville to Gatwick on Monday 19th at 14.00, arriving Gatwick at 15.40.

---
Transfers
Transfers cost €70 one way for a taxi from Jerez de la Frontera or €90 from Seville for up to 4 persons. These will be arranged for you and people will be grouped together where possible to share the cost.
---
❤️ We hope to see you there! ❤️